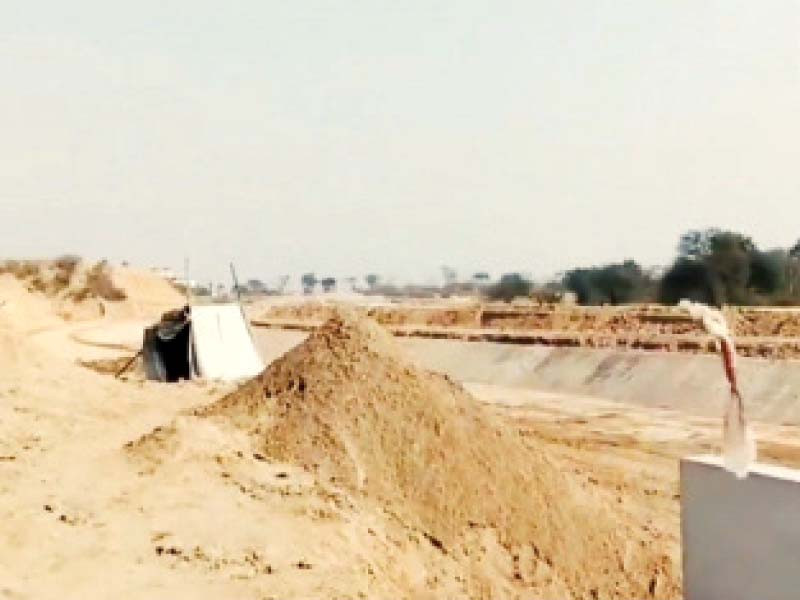 ---
KHUSHAB:
The Jalalpur Canal will irrigate 177,000 acres of land in 80 villages of Jhelum and Khushab and also provide clean drinking water to at least 26 villages.
The mega project will cost Rs50 billion and the canal will be completed in four years. Project Director Khalid Hussain told The Express Tribune that Jalalpur Canal is being constructed on the site of Rasool Barrage on Jhelum river at a cost of Rs50 billion. "This project will irrigate the area of about 80 villages of Pind Dadan Khan, Jhelum and Khushab tehsils."
The 117km-long canal discharges 1,200 cusecs of water. Rasool Barrage will be paved up to 3km while the rest will be unpaved. The project director further said that this canal will irrigate the area of Pothohar. Reportedly, work on the project is under way. The Jalalpur to Kandowal canal is a major project, after Taunsa Barrage was constructed in 1964, which will irrigate millions of acres of land.
More than 50 watercourses will be constructed and 26 villages will be provided 40 cusecs of clean drinking water. The paved canal is divided into three phases, which will be completed soon. The project will be completed by 2025.
Read LUMS students develop tourism app 'Lahori Khoji'
A local landowner, Dr Malik Rabb Nawaz Awan, expressed hope that the project will bring prosperity to owners of small fields in the rain-fed areas along the Pind Dadan Khan and Khushab hills.
Agriculture and water management expert Malik Farooq Awan said Pakistan wastes 20 million acre feet of water in the sea annually, which is worth billions of rupees.
Khushab Agriculture Department Assistant Director Munir Bashir said that barren land of a total of 129 villages will be irrigated through the Jalalpur Canal project while 10 villages of Khushab district will benefit from it. The level of water will rise because of the canal and the area will become fertile, he added. "Due to its proximity to the salt mountains, there is saltwater. The salt particles will settle down through this canal."
The provincial government in collaboration with the Asian Development Bank was providing a Rs90,000 grant for orchards under a command and development programme, he further said. "Farmers are being guided to plant vegetable gardens and other plants for which they are provided machinery and spraying equipment at 50 per cent subsidy."
The government is fully cooperating with the farmers to make the canal beneficial for farmers so that the landowners of the area can fully benefit from the Jalalpur Canal, he concluded.
Published in The Express Tribune, April 27th, 2021.