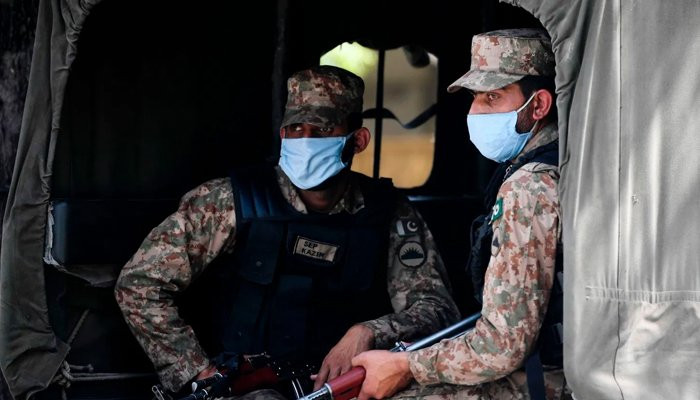 ---
In line with Prime Minister Imran Khan's directives, Pakistan Army was mobilised in different areas of the federal capital and Rawalpindi to enforce the Covid-19 standard operating procedures (SOPs). The soldiers, along with the district administration officials and local police, took pictures of the people who were violating the precautionary measures – neither wearing face masks nor adhering to social distancing.
In Islamabad on Saturday, they visited various areas and shopping stores, directing customers and shopkeepers to implement the SOPs. Premier Imran called out the army on Friday to aid the civil administration in ensuring implementation of precautionary measures against the novel coronavirus in a bid to avoid imposing lockdowns in major cities as it would eventually make the poor – labourers and the daily-wagers in particular – suffer the most. "I appeal to you to follow the SOPs so that we don't have to take steps that India is taking: sending cities into lockdowns. Half the problem is solved when you wear facemasks," the prime minister said in a televised address following a crucial meeting of the National Coordination Committee in Islamabad on Friday.
Read Pakistan records highest single-day Covid-19 death toll since start of pandemic
In addition, the Punjab government has also sought the help of Pakistan Army in enforcing the precautionary measures. According to sources, the Punjab Home Department has sought the services of five companies of Pakistan Army so that the soldiers could work with the district administration to implement the SOPs. A letter has been written to the Federal Ministry of Interior seeking the services of Pakistan Army. The ministry has accorded approval. The troops will be deployed in five districts including Lahore, Rawalpindi and Gujranwala.
On Friday, the premier regretted growing disregard for the SOPs which, if followed in letter and spirit, would help the government contain the highly contagious virus. He called upon the nation to show the same resilience, commitment and sense of responsibility that it had shown during the first wave of the pandemic.
COMMENTS
Comments are moderated and generally will be posted if they are on-topic and not abusive.
For more information, please see our Comments FAQ