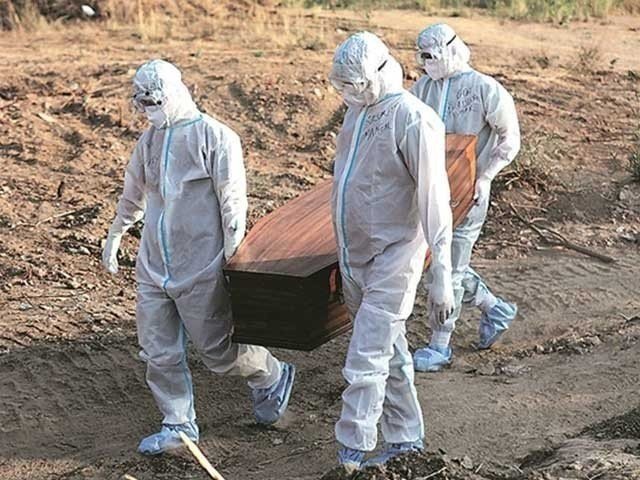 ---
Pakistan records highest single-day Covid-19 death toll since start of pandemic
Asad Umar announces the opening of walk-in vaccination for those between the ages of 60 and 64
---
ISLAMABAD:
Pakistan recorded its highest single-day Covid-19 death toll on Saturday with 157 fatalities registered over the previous 24-hour period. The previous high, 153 deaths, was recorded on June 20 last year.
According to the National Command and Operations Centre (NCOC), the country recorded at least 5,908 new coronavirus cases during the same time period, taking the country's Covid-19 tally to 790,016.
The country is witnessing a surge in Coid-19 cases as it grapples with the third wave of the pandemic, fueled by the UK strain of the virus.
Federal Minister for planning Asad Umar, who also heads the country's nerve centre on Covid-19 response, has announced that from April 25, walk-in vaccination for those who are between the ages of 60 and 64 will also be started.
All those falling in this age group, who are already registered with the 1166 service, can visit their vaccination centre for the vaccine.
Starting tomorrow, Sunday, walk in vaccination for those who are between 60 to 64 years old will be started. Walk in for 65 and above has already been open. All those 60 and above who are registered go to your vaccination center and get vaccinated. Vaccination open on sunday also

— Asad Umar (@Asad_Umar) April 24, 2021
Earlier the government had opened the walk-in facility for those above the age of 65. Umar added that the vaccination centres will also be open on Sundays. Around 1.3 million people in Pakistan have either received their first or both vaccine doses.
According to the NCOC, the country's death toll climbed to 16,999, with most deaths occurring in Punjab followed by Khyber Pakhtunkhwa (K-P).
Meanwhile, the total number of patients recovered from the deadly disease rose to 686,488. The total active Covid-19 cases across the country were reported to be 86,529.
The highest ventilator occupancy rate in the country is in Gujranwala at 88 per cent, followed by Multan with 85 per cent occupancy, Lahore at 83 per cent and Mardan at 60 per cent.
Read more: 728 patients beat Covid-19 in Punjab
The NCOC further reported that the highest oxygen bed occupancy was also witnessed in Gujranwala at 85 per cent followed by Peshawar at 77 per cent, Swabi at 71 per cent and Mardan at 68 per cent.
About 52,402 Covid-19 tests were conducted in the last 24 hours out of which 12,786 were conducted in Sindh, 23,590 in Punjab, 8,344 in K-P, 5,308 in Islamabad, 1,024 in Balochistan, 378 in G-B and 972 tests were conducted in AJK.
Covid-19 deaths by province
Out of the total 16,999 reported deaths, there have been at least 4,587 deaths in Sindh, 7,897 in Punjab, 3066 in K-P, 657 in Islamabad.
About 230 deaths were reported in Balochistan, 104 in G-B and 458 in AJK.
There are around 633 hospitals with Covid-19 facilities across Pakistan with more than 5,561 patients admitted, added the NCOC.
A day earlier, Prime Minister Imran Khan said the Pakistan Army has been called out in aid of civil administration to ensure implementation of precautionary measures and he warned the government might impose lockdown in major cities if the spread of the deadly contagion is not contained.
The ominous warning came as Covid-19 appears to have spiralled out of control in India where the healthcare system is staggering amid a shortage of oxygen and medicines while crematoriums are being overwhelmed with deluges of bodies.
"I appeal to you to follow the SOPs so that we don't have to take steps that India is taking: sending cities into lockdowns. Half the problem is solved when you wear facemasks," the prime minister said in a televised address
On the oxygen supply in Pakistan, Asad Umar said around 90pc of the country's oxygen capacity was being used. Of which, 80pc was being utilised by the health sector.
SAPM Dr Faisal Sultan endorsed Asad Umar, saying Pakistan's oxygen capacity was under stress. He added that the healthcare system was under stress during the first wave when around 3,500 patients were on oxygen. "Now the number is above 4,600," he said. "The positivity rate, meanwhile, is consistently hovering at 10% which shows how widespread the disease is."