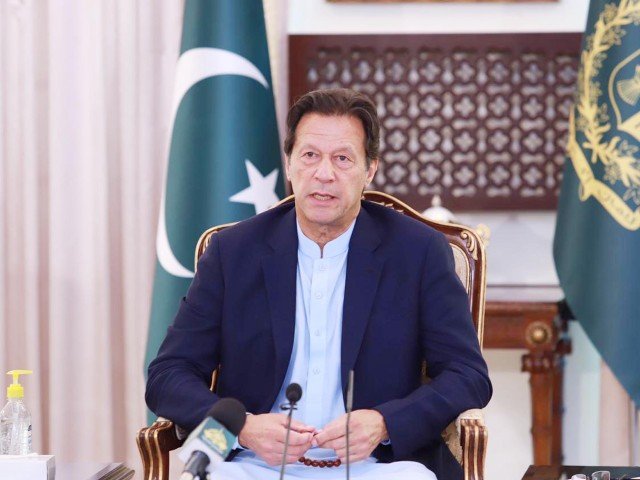 ---
KARACHI:
Pakistan Army has been called out in aid of civil administration to ensure implementation of precautionary measures against the rampaging novel coronavirus as the prime minister warned the government might impose lockdown in major cities if the spread of the deadly contagion is not contained.
The ominous warning came as Covid-19 – the deadly respiratory disease caused by the novel coronavirus – appears to have spiraled out of control in India where the healthcare system is staggering amid shortage of oxygen and medicines while crematoriums are being overwhelmed with deluges of bodies.
"I appeal to you to follow the SOPs so that we don't have to take steps that India is taking: sending cities into lockdowns. Half the problem is solved when you wear facemasks," the prime minister said in a televised address following a crucial meeting of the National Coordination Committee (NCC) in Islamabad on Friday.
India is currently grappling with a super storm of the deadly viral infections as the country recorded the world's highest daily tally of 314,835 Covid-19 cases on Thursday. The massive spurt is being blamed on the government for lowering guard after prematurely claiming victory against the pandemic during the previous wave.
Also read: Pakistani Twitter rallies for India as Covid-19 situation becomes worse
"If the situation worsens here like it has worsened in India, then we will have to impose lockdowns in cities – something we do not want and cannot afford because, in that case the poor – labourers and the daily-wagers – will suffer the most," Premier Khan said. He added that he has been resisting calls from his aides who advised him to immediately impose lockdowns, at least in major cities.
The premier regretted growing disregard for the SOPs which, if followed in letter and spirit, would help the government contain the highly contagious virus. He called upon the nation to show the same resilience, commitment and sense of responsibility that it had shown during the first wave of the pandemic.
"I can understand the Covid-19 fatigue, but we cannot afford complacency and lowering guard," he said. "The nation has to come together to stem the tide of the deadly virus," he added. "For how long the pandemic lasts will depend on people's cooperation."
The prime minister said Pakistan was the only country which had not shut mosques during last Ramazan. I was proud of how our clerics, prayer leaders and religious scholars spread awareness among people about Covid SOPs," he added.
Since people are becoming complacent, the prime minister he directed Pakistan Army to assist the civilian law enforcement agencies in enforcing SOPs compliance. He hoped the infection rate would drop as soon as the nation started following the SOPs. "Until we face this together, we will not be able to win," he added.
Read more: Indian coronavirus cases surge again as health system founders
A phased vaccination drive, which was launched in February, has been hamstrung by supply issues. "We have requested China, but their domestic demand is also enormous. There is a shortage of shots elsewhere in the world," Premier Khan said.
The United States, home to production units of three main Covid vaccines – Pfizer, Moderna, and Johnson & Johnson, has imposed an unannounced ban on vaccine exports. India, China and Russia are the three other major vaccine producers.
India has halted production due to the worsening pandemic situation. Pakistan has so far received shipments of Sinopharm, CanSinoBio, Sputnik V vaccines from China and Russia and inoculated more than 1.3 million people – including frontline health workers and senior citizens – which is just a fraction of its 220 million-plus population.
But vaccine is no magic wand. Even if Pakistan receives the required doses of vaccine and starts mass vaccination today, the impact would show up at least after a year, according to Premier Khan. "In this situation, the best way out of the pandemic is SOPs compliance," he said while renewing his call for the nation to at least wear facemasks which, according to him, solves half the problem.
Top prime ministerial aides Asad Umar, Fawad Chaudhry and Dr Faisal Sultan were also present at the post-NCC briefing. Planning Minister Asad Umar, who also oversees the National Command and Operation Centre, spoke about the new restrictions imposed by the NCC.
Schools in districts with a positivity rate of 5% or more will be closed down till Eid, he said, adding that this included grades 9 to 12. "Markets will remain open till 6pm, while essential services (to be identified by NCOC) will be allowed to operate past 6pm," he added.
Also read: Faisal Edhi offers help to India as country reels from devastating Covid-19 surge
Restrictions are already in place on indoor dining. Outdoor dining will be restricted until Eid while only takeaway will be allowed, the minister said, adding that indoor gyms would also remain shut.
He said that 50% work-from-home policy would be enforced again. "Office timings have been limited to 2pm because shops are open till 6pm and we want that people have enough time to visit markets," he said while urging those shopping for Eid to visit markets during the day as shops will be closed after Iftar.
India's spike is pushing its healthcare system to the brink - from the country's richest cities to its remotest corners, according to the BBC. Maharashtra and Gujarat in the west, Haryana in the north, and Madhya Pradesh in central India are all facing an oxygen shortage. In Uttar Pradesh, some hospitals have put "oxygen out of stock" boards outside, and in the state capital Lucknow hospitals have asked patients to move elsewhere. Smaller hospitals and nursing homes in Delhi are doing the same.
On the oxygen supply in Pakistan, Asad Umar said around 90pc of the country's oxygen capacity was being used. Of which, 80pc was being utilised by the health sector. "The government is working on improving the situation and will import, if needed," he added.
کرونا کی انتہائ تیزی سے بگڑتی صورتحال کے پیش نظر وزیراعظم نے شہروں میں فوج طلب کر لی ہے تا کہ SOP's پر مکمل عملدرآمد کرایا جا سکے، عمومی معمولات متاثر ہوں گے، ہم آکسیجن کے استعمال کی 90 فیصد صلاحیت پر پہنچ گئے ہیں لاہور بدترین متاثر ہے احتیاط کریں اور کوئ چارہ نہیں۔ #coronavirus

— Ch Fawad Hussain (@fawadchaudhry) April 23, 2021
SAPM Dr Faisal Sultan endorsed Asad Umar, saying Pakistan's oxygen capacity was under stress. He added that the healthcare system was under stress during the first wave when around 3,500 patients were on oxygen. "Now the number is above 4,600," he said. "The positivity rate, meanwhile, is consistently hovering at 10% which shows how widespread the disease is."
COMMENTS
Comments are moderated and generally will be posted if they are on-topic and not abusive.
For more information, please see our Comments FAQ