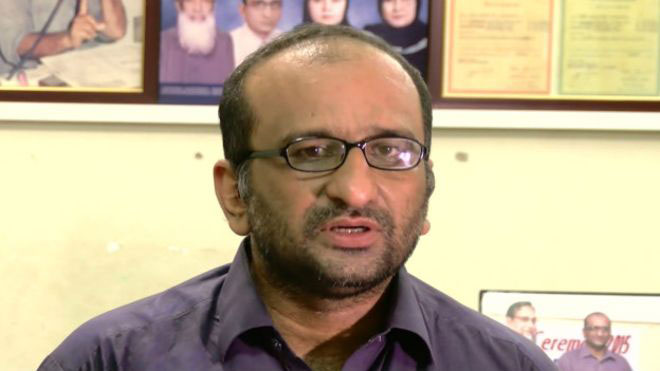 ---
Faisal Edhi, son of celebrated philanthropist Abdul Sattar Edhi and chairman of the foundation, offered help to Indian Prime Minister Narendra Modi as India reels from a devastating second wave of Covid-19.
India reported the world's highest daily tally of coronavirus cases for the second day on Friday, surpassing 330,000 new cases, as it struggles with a health system overwhelmed by patients and plagued by accidents.
Deaths in the past 24 hours also jumped to a record 2,263, the health ministry said, while officials across northern and western India, including the capital, New Delhi, warned most hospitals were full and running out of oxygen.
Confirming the letters to the Indian government and Pakistan's Foreign Office, Faisal told The Express Tribune, that his team was ready and waiting for approval by both governments. "We will be ready in two days to reach India," he said.
"I also request the Indian government to make a flexible visa policy for the teams," Faisal said and added that his team has significant international experience of helping people during natural calamities. "We just need the approval of both governments," Edhi said.
"We, at the Edhi Foundation, have been closely following the current impact that the Covid-19 crisis has had on the people of India." Edhi wrote in his letter.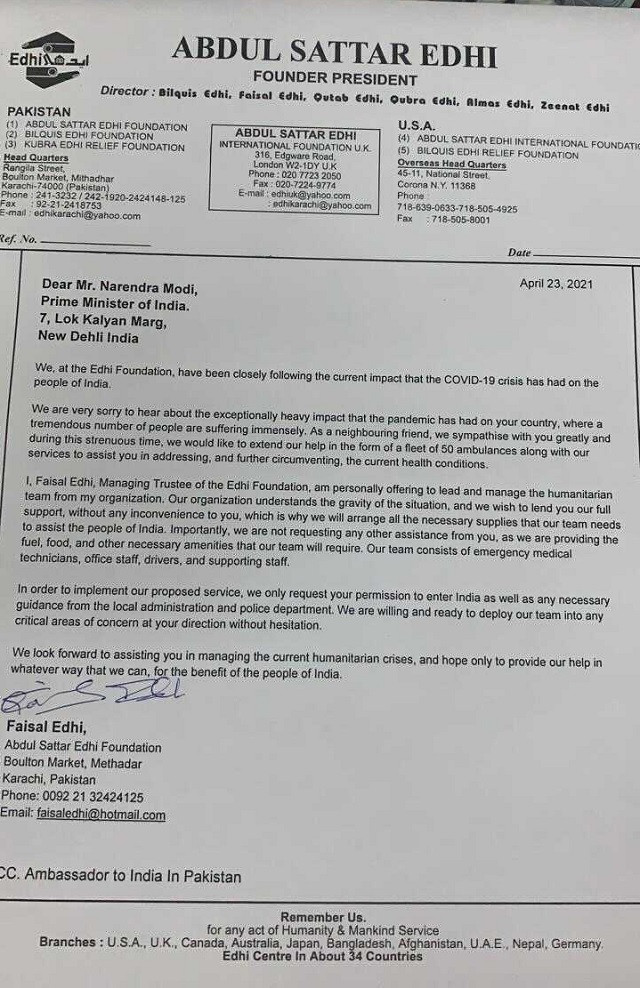 He added, "We are very sorry to hear about the exceptionally heavy impact that the pandemic has had on your country, where a tremendous number of people are suffering immensely."
In his letter, the philanthropist offered a fleet of 50 ambulances along with other services that may help the Indian people in curbing the spread of the coronavirus disease and improve current health conditions.
"I, Faisal Edhi … am personally offering to lead and manage the humanitarian team from my organization," he maintained, adding that his organisation understood just how grave the situation is and "we wish to lend you our full support, without any inconvenience to you, which is why we will arrange all the necessary supplies that our team needs to assist the people of India".
Edhi said his organisation will not be requesting any other form of assistance from the Indian government, such as fuel, food, and other necessary amenities, as they will be provided by the Edhi foundation.
He also added that the Edhi team will consist of emergency medical technicians, office staff, drivers, and supporting staff.
"In order to implement the proposed service, we only request your permission to enter India as well as any necessary guidance from local administration and the police department," he wrote.
"We are willing and ready to deploy our team into any critical areas of concern at your direction without hesitation," he said.
"We look forward to assisting you in managing the current humanitarian crises, and hope only to provide our help in whatever way that we can, for the benefit of the people of India," the letter concluded.
A press release from the organisation added that Faisal would depart with his team of volunteers as soon as he receives permission.
Pakistan's Edhi Foundation, founded by the late great Abdul Sattar Edhi, has done what most of the world's richest governments have declined to do: Extend an offer of assistance to an Indian nation deeply in need. This is the example that must be set, and that the world must see.

— Michael Kugelman (@MichaelKugelman) April 23, 2021
South Asia senior associate The Wilson Center Michael Kugelman also appreciated the move by the philanthropist and said Edhi has done "what most of the world's richest government have declined to do".
Daily infections hit 332,730 on Friday, up from 314,835 the previous day when India set a new record, surpassing one set by the United States in January of 297,430 new cases.
Delhi reported more than 26,000 new cases and 306 deaths, or about one fatality every five minutes, the fastest since the pandemic began.
Medical oxygen and beds have become scarce, with major hospitals putting up notices saying they have no room for any more patients and police being deployed to secure oxygen supplies.