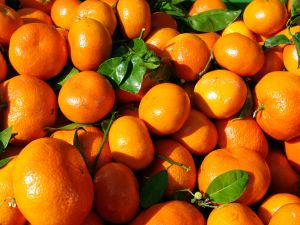 ---
KARACHI:
After nine years, Iran has lifted restrictions on the import of Pakistani kinnow.
Taking to his official Twitter handle, Minister of Foreign Affairs Shah Mehmood Qureshi tweeted, "I am pleased to share some good news for our citrus farmers. Following discussions, (I am) happy to announce that Iran has lifted restrictions on the import of Pakistan's kinnow."
Qureshi met with Iranian President Hassan Rouhani at the presidential palace on Tuesday. He also met with Pakistani diplomats in Tehran to discuss ways of strengthening economic and trade relations between Pakistan and Iran.
"After nine years, Iran's market will be open for kinnow season of 2021-2022," said All Pakistan Fruit and Vegetable Exporters and Importers Association (PFVA) Patron-in-Chief Waheed Ahmed. Federation of Pakistan Chambers of Commerce and Industry (FPCCI) former chief of horticulture exports Ahmad Jawad said that it was great news for the kinnow export industry that finally Iran had lifted its longstanding ban, which had been placed in 2012.
"Economic diplomacy is a beneficial tool precisely for Pakistan's horticulture sector and dividends are very high," he added.
"Iran is one of the largest markets for kinnow; after this announcement, export of the fruit will increase substantially in the coming season and it is a good omen for farmers too."
Iran had a market for 80,000-90,000 tons of Pakistani kinnow, which was the biggest after Russia, Ahmed said, adding that a ton of citrus fruit was valued at around $500. "Accordingly, our neighbouring country's market is worth around $45 million."
Iran could be the number one market again as it was a border-sharing country while Russia was a distant country so trade with the latter involved logistic challenges, Ahmed pointed out. However, he added that trade with Iran faced the challenge of smuggling.
"Iran had banned Pakistani kinnow to protect its local market, but I think looking at the demand it has allowed the Pakistani fruit again as demand on Nauroz (Iran's New Year) soars manifold," he believed.
Iran celebrates Nauroz on March 20 or 21 every year while its citrus season culminates in mid-February. Meanwhile, Pakistan's citrus season remains in place as exporters save the fruit with the help of cold storages.
"However, Pakistan is losing this edge with time as its citrus varieties are wearing out due to climate change and insufficient research and development (R&D) work," lamented Ahmed.
"After every 25 years, our country needs to introduce new varieties as old varieties are exhausted," the expert stressed.
"Pakistan should focus on research and develop early-season and late-season varieties along with other varieties, which are in demand."
After the 18th Amendment to the Constitution, provinces are responsible for promoting their agricultural activities. Most of the citrus fruit is grown in Punjab. Hence, the province should invest in growing kinnow and other citrus fruits to increase exports. "If we produce four to five varieties of kinnow, we can fetch around $1 billion in foreign exchange through citrus fruit only." Pakistan should focus on increasing per-hectare production along with looking for new varieties, he said.
Projecting that in the 2021-22 season, kinnow exports will touch 400,000 tons if all goes well, Jawad urged Pakistani exporters to effectively utilise the opportunity with product packing and presentation in line with international standards, which the country lacked previously.
He also asked the Ministry of Commerce to establish controlled atmosphere (CA) storages through public-private partnership along the Pak-Iran border so that Irani buyers could be facilitated.
The Plant Protection Ordinance of Iran requires cold treatment against fruit flies. It also requires cold treatment to a certain degree for 10 days before the loading of a consignment.
Similarly, the Department of Plant Protection (DPP) of Pakistan must play a vigilant role before issuing phytosanitary certificates to exporters as before the ban Iran had conveyed its concerns to Pakistan.
"Exporters are not complying with the agreed procedures for the export of produce," he said.
Published in The Express Tribune, April 22nd, 2021.
Like Business on Facebook, follow @TribuneBiz on Twitter to stay informed and join in the conversation.