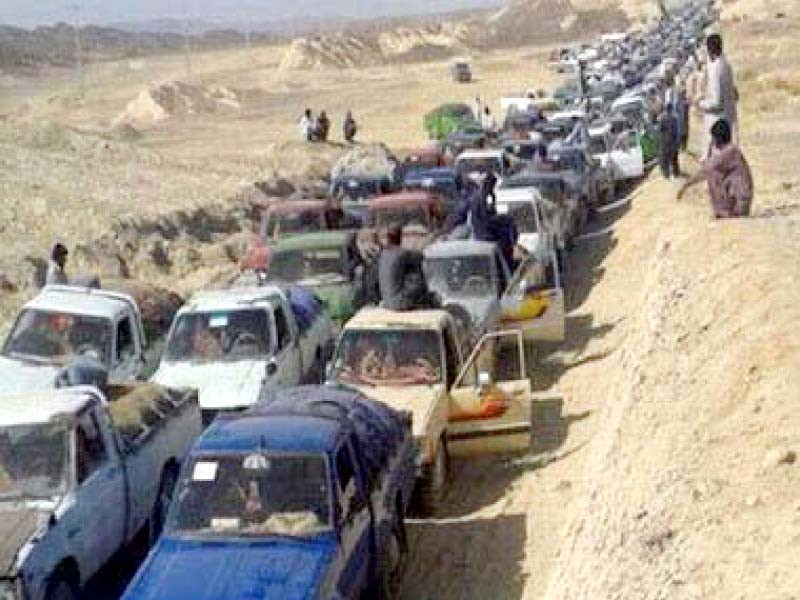 ---
QUETTA:
The Border Trade Union of Balochistan has threatened to hold a sit-in from April 24 after four oil traders died of hunger and thirst due to non-availability of food and water because of the Pak-Iran border closure since more than 25 days.
Addressing a press conference in Turbat earlier, the Border Trade Union President Aslam Baloch condemned the border restrictions as hundreds of pickups and other vehicles loaded with petrol and diesel were stuck in the border areas of Makran division. He was accompanied by General Secretary Gulzar Dost and other officials.
Baloch warned that if the issue was not resolved then an economic catastrophe would spread in Makran.
"Newly elected officials of the Border Trade Union added that in the past there was no travel and trade restrictions on people but in the last few months travel and trade restrictions have been imposed by erecting fences at the border which has worsened the situation," he said. "The people trapped there are dying of hunger, thirst and heat. We have buried four bodies so far."
Baloch added that they cannot afford to carry more bodies. "If the situation at the border remains the same then our situation will be similar to that of Sudan and Somalia as economic misery will spread rapidly throughout Balochistan," he said.
Read Govt identifies site for market at Pakistan-Iran border
The border trade union president further said, "For the last several decades, the people of Makran used to make a living from trade with Iran as before the Goldsmith Line, the entire region used to be Balochistan when people used to freely visit each other. There were no restrictions. The contracts were based in terms of relationships, culture and language."
The largest source of livelihood in Balochistan especially in Makran is the border trade with Iran which has been running the economic wheel of the society.
Most of the people hailing from Awaran, Khuzdar, Lasbela, Jhalawan, Sarawan and Mashkel also rely on this trade, because there are no employment opportunities.
Representatives of the border trade union appealed to the authorities to make public access to the border possible so that the business community and the working class could earn a living and support their children. "If the issue is not resolved, a series of protests will begin," they said.
On the other hand, the Balochistan Bar Council expressed concern over the closure the border. In a statement on Tuesday, they said the sources of employment in Balochistan are already scarce and border closure has made it worse.
Published in The Express Tribune, April 21st, 2021.
COMMENTS
Comments are moderated and generally will be posted if they are on-topic and not abusive.
For more information, please see our Comments FAQ