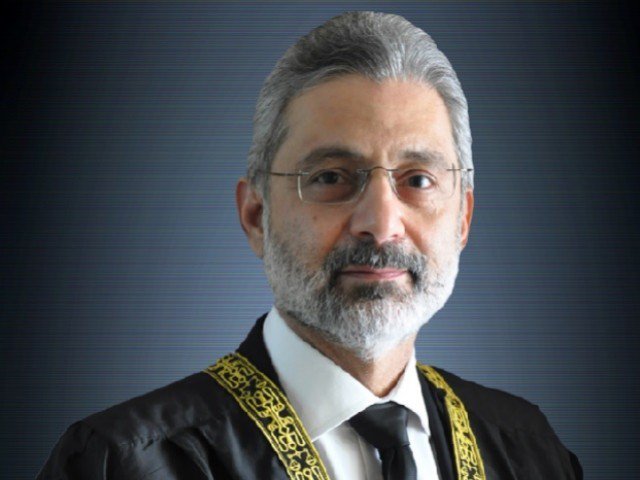 ---
ISLAMABAD:
The presiding judge of a 10-member bench – hearing a slew of review petitions against the Supreme Court's June 19, 2020 order – has asked Justice Qazi Faez Isa to explain why he should not be linked with his family members' assets.
"You should explain that you have no link with your wife Sarina Isa's accounts and transfer of money through these accounts after your appointment as the Balochistan High Court (BHC) chief justice," Justice Umar Ata Bandial told Justice Isa on Tuesday.
While quashing a presidential reference that claimed that Justice Isa committed misconduct by not disclosing his family members' foreign assets in his wealth statement, the SC in a split verdict on June 19, 2020 ordered the Federal Board of Revenue (FBR) to launch a probe into Isa family's assets.
A number of petitioners including Justice Isa and his wife Sarina challenged the order. Resuming hearing of the review petition on Tuesday, Justice Bandial told Justice Isa that "You are clean but we decide cases in accordance with law. The court does not decide cases on emotions."
The situation in the courtroom remained tense even on Tuesday with some members of the bench indirectly remarking against each other and Justice Isa getting emotional while defending himself.
At the onset, Sarina Isa requested the bench not to make public the FBR report submitted in the Supreme Judicial Council (SJC) – the constitutional forum that can hold superior court judges accountable – as she does not "want it to be abused".
She said that the tax record of any individual is always confidential and no other can access it. She requested the bench not to consider the FBR's "biased report". Justice Maqbool Baqar consistently urged both Justice Isa and his wife to highlight the grounds on the basis of which they challenged the June 19 order.
When Sarina stated that the June 19 order was passed without giving her an opportunity of hearing, Justice Munib Akhtar asked her to read the statement which she gave before the court on June 18, 2020 through video link.
Justice Syed Mansoor Ali Shah said the statement was never relied upon in the June 19 order. Justice Akhtar wondered as to why he is being interrupted. "I am also a member of the bench and should be allowed to ask questions," he added.
Justice Maqbool Baqar said the court's scope is limited in review jurisdiction. He once again asked Sarina Isa to highlight illegalities in the order.
When Sarina Isa was highlighting the FBR's alleged errors in its inquiry and report related to her properties, Justice Syed Mansoor Ali Shah said: "These things are the outcome of the June 19 order."
He urged Sarina Isa to highlight errors in the judgment.
After the conclusion of her arguments, Justice Isa came to the rostrum and raised several points to establish malice in fact in his case. He noted that if malice in facts could not be proved in this matter then it could never be proved in any case.
While arguing the case, Justice Isa got emotional and said that may God destroy him if he is doing this just for his survival. He said he is fighting for the institution and will fight till the end.
He also declared Minister for Law Dr Farogh Naseem, former attorney general for Pakistan Anwar Mansoor Khan and the complainant Abdul Waheed Dogar a liar. "Pakistan was disintegrated due to corrupt generals," he said.
The SC judge said the government functionaries acted against the religion by spying on judges.
Justice Bandial said he could not express in word the love and respect he felt for Justice Isa. "However, the court decides cases in accordance with law rather than emotions," he added.
The bench later adjourned the hearing till today (Wednesday). It is expected that the federal government would be asked to present its stance on the review petitions.
COMMENTS
Comments are moderated and generally will be posted if they are on-topic and not abusive.
For more information, please see our Comments FAQ