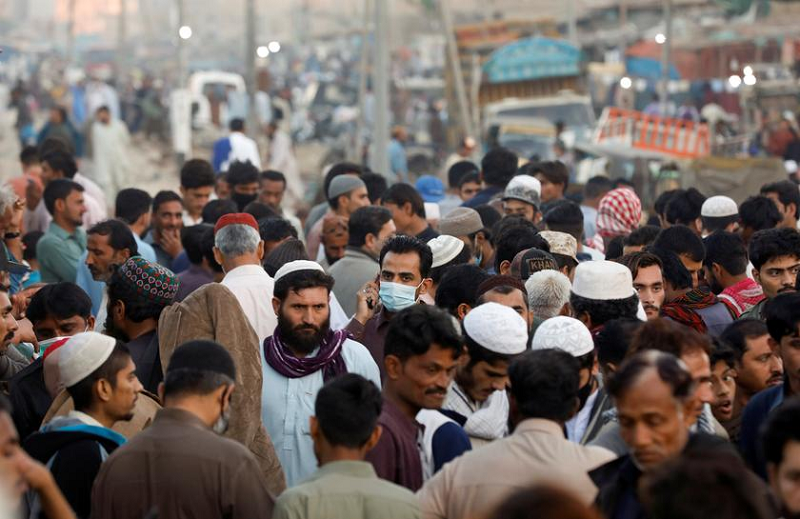 ---
ISLAMABAD:
Pakistan recorded 5,152 new coronavirus cases in the last 24 hours, taking the country's Covid-19 tally to 761,437.
According to the National Command and Operation Centre (NCOC), the country's death toll climbed to 16,316 after 73 people succumbed to the deadly disease during the last 24 hours. Most deaths occurred in Khyber Pakhtunkhwa (K-P) followed by Punjab.
Meanwhile, 3,362 patients recovered from the deadly disease in a day taking total recoveries to 662,845.
According to NCOC, total active Covid-19 cases across the country were reported to be 82,276.
The highest number of ventilators occupied in the country was found to be in Nowshera with 100 per cent occupancy, followed by Gujranwala with 88 per cent occupancy, followed by Multan at 81 per cent, Lahore at 81 per cent.
Read more: Pakistanis aged 50-59 to get Covid-19 shots from next week
The NCOC further reported that the highest number of oxygen bed occupancy in the country was in Gujranwala at 85 per cent followed Mardan at 77 per cent, Peshawar at 74 per cent and at 75 per cent and Gujrat at 71 per cent.
About 60,162 Covid-19 tests were conducted in the last 24 hours out of which 11,349 were conducted in Sindh, 34,681 in Punjab, 7,506in K-P, 4,093 in Islamabad, 1,210 in Balochistan, 373 in G-B and 950 tests were conducted in AJK.
Covid-19 related death by province
Out of the total 16,316 reported deaths, there had been about 4,533 deaths in Sindh, 7457 in Punjab, 2899 in K-P, 642 in Islamabad.
About 223 deaths were reported in Balochistan, 103 deaths in G-B and 439 in AJK.
The NCOC also reported that a total of 11,204,529 tests had been conducted since the outbreak of the virus. There are about 630 hospitals with Covid-19 facilities with more than 5,000 patients admitted across the country, it added.