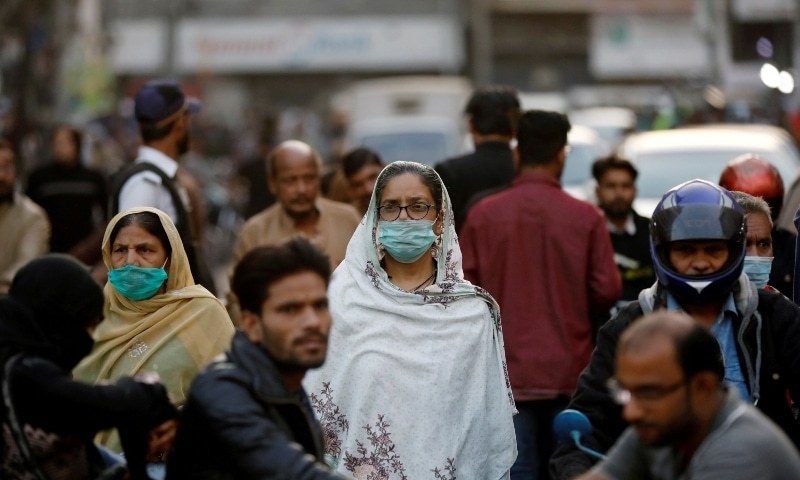 ---
ISLAMABAD:
Pakistan recorded this year's highest Covid-19 death toll on Saturday after a total of 149 fatalities were recorded in the country, as per the National Command and Operation Centre (NCOC).
Moreover, the country also recorded its highest single-day tally of coronavirus cases in 10 months with 6,127 fresh cases reported in a day. The country's tally for confirmed cases has now reached 756,285, whereas the number of total active Covid-19 cases across the country has reached 80,559.
According to the NCOC, Punjab reported the most number of deaths recorded over 24 hours, followed by Khyber Pakhtunkhwa (K-P). It added that out of the 149 fatalities, 131 were reported in hospitals, whereas 18 were recorded outside of hospitals.
Statistics 18 April 21:
Total Tests in Last 24 Hours: 71,836
Positive Cases: 6,127
Positivity % : 8.52%
Deaths : 149

— NCOC (@OfficialNcoc) April 18, 2021
The highest number of ventilators occupied in the country was found to be in Gujranwala with 88 per cent occupancy, followed by Multan at 81 per cent, Lahore at 80 per cent and Mardan at 60 per cent.
The NCOC further reported that the highest number of oxygen-bed occupancy in the country was also in Gujranwala, at 85 per cent, followed by Peshawar at 73 per cent, Gujrat at 71 per cent and Swat at 67 per cent.
About 71,836 Covid-19 tests were conducted in the last 24 hours out of which 12,022 were conducted in Sindh; 44,626 in Punjab; 7,382 in K-P; 5,507 in Islamabad, 641 in Balochistan, 390 in Gilgit-Baltistan (G-B) and 1,268 tests were conducted in Azad Jammu and Kashmir (AJK).
Read: Covid-19 infections among children in Islamabad cross 7,000 mark
Out of the total 16,243 deaths reported in the country so far, there have been about 4,551 deaths in Sindh, 7,430 in Punjab, 2,867 in K-P, 636 in Islamabad, 223 in Balochistan, 103 in G-B and 433 in AJK.
The NCOC also reported that a total of 11,144,367 tests have been conducted since the outbreak of the virus. There are about 630 hospitals with Covid-19 facilities with more than 5,285 patients admitted across the country, it added.
Read more: Eight more die of Covid-19 in Sindh