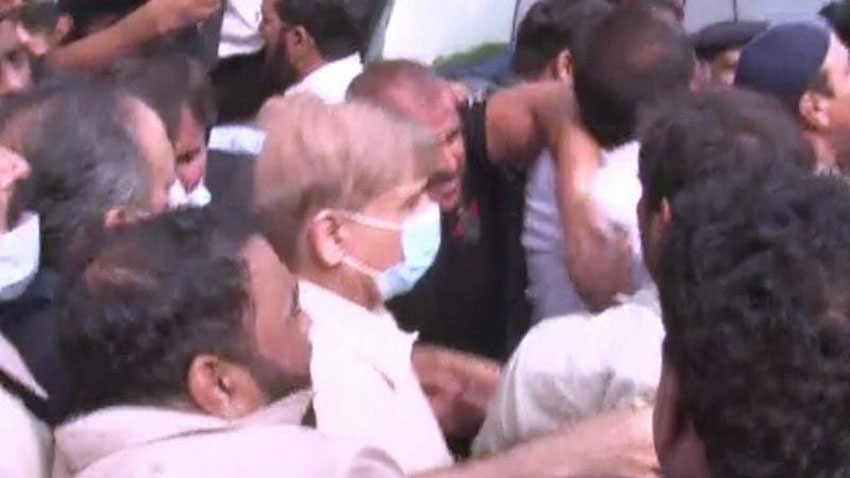 ---
LAHORE:
The PML-N was quick to celebrate the bail relief allegedly granted by a Lahore High Court (LHC) division bench to the party president, Shehbaz Sharif, on Wednesday.
However, neither the court staff nor the LHC's concerned department dealing with the media nor the counsels of the National Accountability Bureau (NAB) and Shehbaz are aware whether the second member of the bench Justice Asjad Javed Ghural has signed the bail order or written dissenting note.
Interestingly, the LHC computer system still shows the status of the bail as "allowed".
Shehbaz who is facing a NAB case had applied for a post-arrest bail and an LHC division bench comprising Justice Sardar Muhammad Sarfraz Dogar and Asjad Javed Ghural on April 14 briefly reserved the judgment after hearing arguments of both the parties.
While counsels for Shehbaz and the PML-N workers and leaders were waiting for the bench to unveil its order, the bells of the judges' chamber rang. Later, the court staff emerging from the chamber announced that "the bail is allowed".
Read Back at PML-N helm, Shehbaz likely to adopt conciliatory tone
After the announcement, the PML-N leaders and workers went into a celebratory mode, with some even throwing currency notes in the air. Some PML-N leaders had later addressed the media and came down hard on the PTI led government and NAB.
However, lawyers of Shehbaz Sharif failed to get the court's written order both on April 14 and April 15. Now they have come to know that one member Justice Asjad Javed Ghural has not signed the bail order.
According to sources, both the bench members will now forward their separate judgments to LHC Chief Justice Muhammad Qasim Khan. The CJ will nominate a third judge whose judgment will determine whether Shehbaz can come out of prison or not. The third judge may even hear the parties once again.
Interestingly, the division bench has already been dissolved and both the judges have been transferred to the LHC benches in other districts.
COMMENTS
Comments are moderated and generally will be posted if they are on-topic and not abusive.
For more information, please see our Comments FAQ