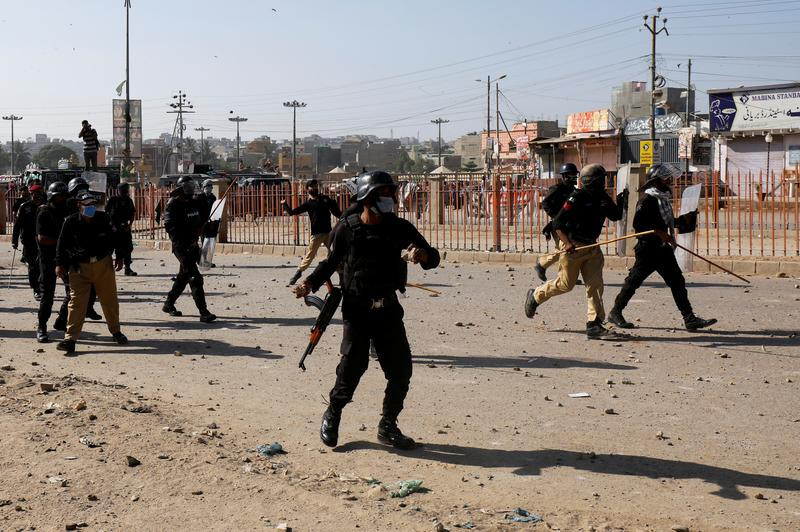 ---
QUETTA/PESHAWAR:
At least one person was killed, three policemen severely injured and over 35 workers belonging to the right wing party, Tehreek-e-Labbaik Pakistan (TLP), were arrested throughout Khyber-Pakhtunkhwa and Balochistan on Tuesday.
The protests erupted after 26-year-old TLP Chief Sahibzada Saad Hussain Rizvi was arrested by Punjab police on Monday in the middle of the road while he was on his way to attend a funeral.
The protest in Peshawar turned into a battlefield with protestors carrying stones, nail sticks and slingshots as they faced off with the police.
The police resorted to shelling after repeated failures of reaching a negotiation with TLP workers that had blocked all major roads and highways connecting to the city.
Read 68 injured as rioting protesters clash with police
Acting SSP Pperations Peshawar, Abbas Majeed Marwat said they repeatedly requested the protesters to open the blocked road but failure to do so compelled the police to take action.
In Balochistan, hundreds of TLP workers and supporters blocked the Quetta-Karachi highway in Khuzdar district. They stormed the streets of Kalat division soon after hearing about the arrest of their party's chief.
The violent protestors burnt tyres and placed heavy boulders to block the main highway before resorting to pelting stones on the police.
Police used tear gas and aerial firing to disperse the protestors and open the blocked roads. One person identified as Hafiz Saleem Zehri received a bullet injury whereas others were wounded by police. Later, Zehri succumbed to his injuries at a local hospital.
Published in The Express Tribune, April 14th, 2021.