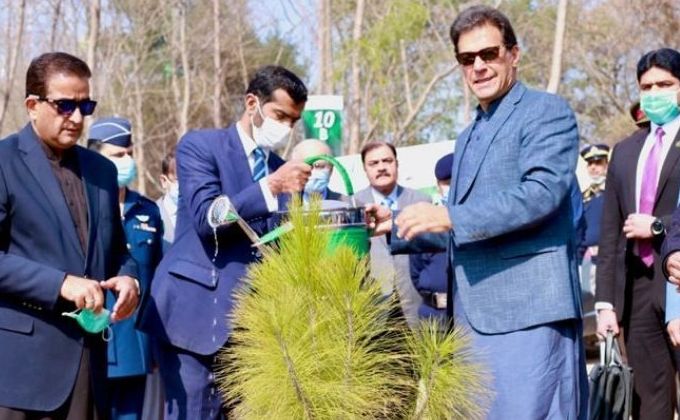 ---
ISLAMABAD:
It is a well-known fact that Pakistan ranks among the top countries most affected by climate change and the govt is trying to tackle the issue on a war footing. The sooner the country transforms into a greener and cleaner land the better for posterity.
The Miyawaki afforestation is one such scheme that the govt has introduced and in this context, the first phase is in the final stages with 17 such forests which have been established at different populated locations of the federal capital in line with 'Clean Green Pakistan' initiative of Prime Minister Imran Khan. Capital Development Authority (CDA) Director General (DG) Environment Naveed Tareen confirmed the development in a video message posted by the civic agency on its Twitter account.
The DG environment said the CDA was in process of growing 23 Miyawaki forests at various populated places of the capital city under the first phase. The two-minute-long video also mentioned as many as 17 locations, where the Miyawaki forests had been established, including Lotus Park, F-7 Markaz, Shakar Parihian opposite Kulsum Hospital, Allah Wali Market Sector F-8/1, F-9 Park, 10th avenue I-10/4, F-7/4 opposite o Jubilee Park, F-6 opposite Shell PetrolPump, Trail 5, F-7/1 Faisal Market and others. According to an Environmental Expert Dr Sohail Yousaf, plants under the Miyawaki forests grow ten times faster and 30 times denser as compared to conventional plantation techniques.
Read PM launches urban forestry on lines of Miyawaki method to fight pollution
Husail Jamil, a resident of the capital city, said in the video that he was delighted that the civic agency was ensuring forestation through such unique techniques. It may be mentioned here that Prime Minister Imran Khan inaugurated the first Miyawaki forest in February. Meanwhile, the Capital Development Authority is continuing to carry out the plantation of Miyawaki trees across the capital under Billion Tree Tsunami and Clean and Green Pakistan campaign. According to CDA officials, the authority has planted Miyawaki saplings at 18 different locations in the federal capital including Shakarpariyan, Blue Area, Fatima Jinnah Park, etc.
The officials said that under the project, the saplings would be planted at 23 different locations across Islamabad. In the next phase, CDA will plant Miyawki saplings in Sector G-10, I-9, and other sectors. They added that the civic authority was committed to making the atmosphere clean and healthy. Therefore, the CDA is planting Miyawaki forests on major highways, roads, avenues, roundabouts, green belts, parks, and other places for the past few months. Similarly, the authority is also planting flowers and fruit trees. CDA officials said they were making special arrangements for the protection of the Miyawaki forest. Miyawaki trees prove to very effective in eliminating environmental pollution.
COMMENTS
Comments are moderated and generally will be posted if they are on-topic and not abusive.
For more information, please see our Comments FAQ