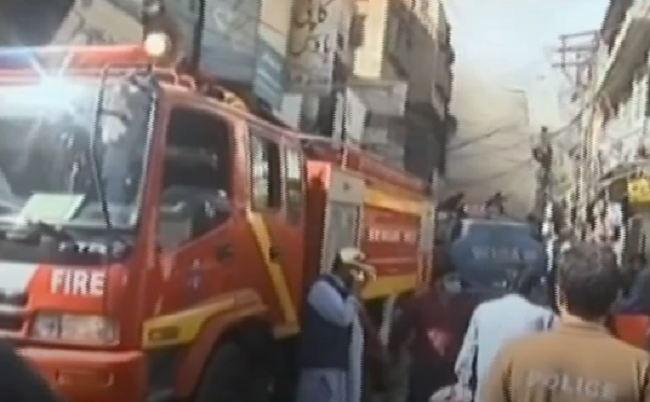 ---
KARACHI:
A fire broke out in the two-story building of a garments factory near Bilal Chowrangi in Korangi Industrial Area on Monday morning.
Merchandise, factory equipment, and furniture were gutted in the blaze as the extinguishing operation lasted for around five hours. Fire officials said the narrow windows and entry points at the factory caused extreme inconvenience in putting out the blaze, which was doused using six fire tenders and eight water tankers.
Speaking to The Express Tribune, Korangi Fire Station In-charge Muhammad Ishtiaq said that the fire initially broke out on the ground floor of the hosiery factory, where the stitching department was located.
The security guard was asleep on the factory's roof when the blaze erupted and the flames soon engulfed the entire building, added Ishtaiq. No one else was present on the site and the fire department was not informed of the incident till the sleeping guard was roused awake by the intensifying blaze, said Ishtiaq.
He added that the conflagration could have been contained if the fire department had been informed in time. When fire officials reached the site, they had to seek assistance and more fire tenders from the Karachi Water and Sewerage Board (KWSB) as the fire had intensified by then.
The fire officer further said that boilers and LPG cylinders were present on the site and it was possible that the boilers or cylinders had caught fire, leading to the blaze.
However, the actual cause of fire and the losses incurred by the owners could not be ascertained till the filing of this report.