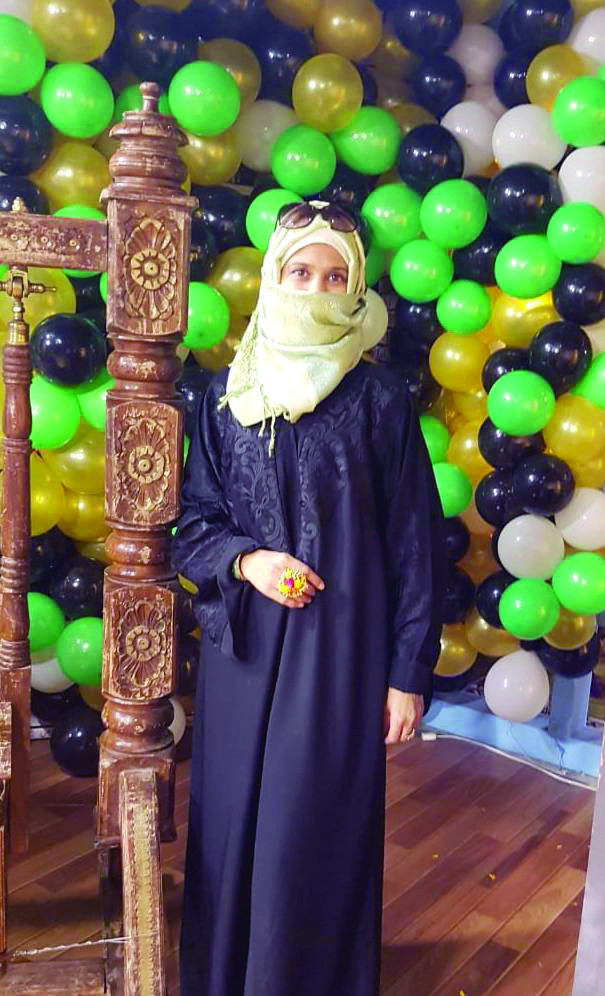 ---
KARACHI:
When life throws curve balls there are many who find it difficult to keep going in the face of adversity.
And yet, there are some of us who simply refuse to bow down to the challenges that life brings for them. Being disheartened is rarely an option for such individuals and instead, they look at hardships as means to help them realise what they are capable of.
Asifa Khanum is one such woman. When tragedy hit, she did not need anyone to look after her. Instead, she took on the role of being both - the breadwinner and the caregiver. She is the backbone of her family of two sisters and two brothers. The siblings, who lost their mother at a very young age were brought up by their grandmother in a joint family, and it is to Khanum they turned to for strength and support.
Dreams interrupted
With both her father and grandfather being civilian officials in the Pakistan Air Force, Khanum too found her way to a job within the ranks of the armed forces. Chasing her dream to be an educationalist, Khanum became affiliated with an educational institution running under the Pakistan Navy, as soon as she completed her university, where she did her masters in Business Administration and textile designing.
Khanum had the honour to contribute in creating the academic system of this institution on the basis of having a BEd degree. However, she had to abandon her eight-year-long career as an educationalist after her brother met with a terrible accident in 2016.
Read more: First female US vice president Harris congratulates Tanzania's first woman president Hassan
Major head-injuries left Khanum's brother paralysed and she, along with her sister, took on the responsibility of looking after him. She quit her job and moved with her family to the city's centre, only to make the trips to the hospital and back home easier for her brother. Earlier, she had lived near her school, which was located in Hawkesbay area, but circumstances were such that travelling to and fro from home to her job had become unfeasible.
Khanum dedicated her life solely to her brother, who underwent four head surgeries during these four years.
Wearied down but not beaten
Yet, Khanum did not abandon her dreams even as she cared for her brother. She found an advertising company, Magni D'Zyne, based in Rawalpindi and started working for it remotely while being based in Karachi.
Alongside working for the company, she started a business of customised art and jewelry pieces made with gems, jute and Himalayan Salt. Khanam launched her business online and put her study of business administration and textile-fashion designing to test.
However, life became difficult once again when the coronavirus hit the world and Khanum's small business began declining just as it had started to flourish.
Marching on
This did not keep Khanum down either though. Shifting gears once again, she saw the pandemic-induced lockdowns as an opportunity and tried her hand at selling home-made food online. Khanum says she went through difficulties just like anyone else who launches a business. However, she believes that the obstacles are a notch higher when one is a woman.
Khanum said that the communities on social media and online business platforms helped her see the task through. She even became a source of helping out other women, who faced tough times during the pandemic. Alongside her own venture, she managed to support over 200 families through a non-governmental organisation.
According to Khanum, the biggest barrier in running an online business is the lack of trust, which is experienced by those on both ends.
She believes that there is a dire need to help people adjust to online businesses in the current circumstances, when the pandemic has badly impacted the economy. Every kind of business and profession has been affected and the people are trying to continue earning through online platforms.
Khanum hopes to use Facebook effectively to assist women who dream of becoming entrepreneurs. She is soon introducing an entrepreneur launch-pad which will create a community of women who want to earn and support their families financially while staying at home. .
Khanum's launch-pad will be available for both male and female entrepreneurs as well as small and medium scale business owners.
This story is part of a weekly series that seeks to bring to light the unsung heroes of Karachi - the hawkers, traders, doctors, teachers, engineers, lawyers and daily-wage labourers. It is they who make Karachi the city of lights.
Published in The Express Tribune, April 12th, 2021.
COMMENTS
Comments are moderated and generally will be posted if they are on-topic and not abusive.
For more information, please see our Comments FAQ