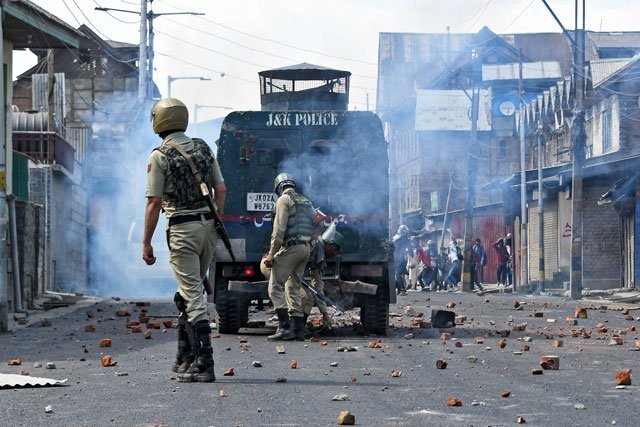 ---
Pakistan has strongly condemned indiscriminate firing of heavy weapons and grenades on a mosque in Shopian in Indian Illegally Occupied Jammu and Kashmir (IIOJK) on Friday, a statement issued by the Foreign Office said on Saturday.
"Desecration and damage caused to the mosque during so-called 'cordon-and-search operation', and repeated incidence of extra-judicial killings in various places in IIOJK, are manifestations of the unabated state-terrorism to which Kashmiris are subjected in the occupied territory," FO spokesperson Zahid Hafeez Chaudhri said.
He said that the inhuman conduct of Indian forces is reflective of their moral bankruptcy as well as the prevalent culture of impunity in IIOJK. "Targeting the faith and cultural identity of the people of occupied territory is in clear violation of basic human norms and fundamental precepts of international law."
Read more: Indian troops shoot dead four in fresh election bloodshed
The spokesperson said that history is witness that the use of brutal and indiscriminate force against the Kashmiris and targeting of their religious places has not succeeded in breaking their will. "Such attempts will not succeed in the future as well."
The government and people of Pakistan, Zahid said, will continue to stand by the Kashmiri people in their just and legitimate struggle for the right to self-determination as enshrined in the relevant UNSC resolutions.
In IIOJK, political analysts and experts have said that Indian troops are applying every brutal method to suppress the Kashmiris' freedom sentiment and hurt their religious sentiments to punish them for demanding freedom from India.
Read more: Pakistan and India on the cusp of peace?
A Kashmir Media Service (KMS) report, quoting political experts and analysts, said besides killing innocent youth in IIOJK, the troops are continuously hurting the religious sentiments and feelings of the Kashmiri people.
They said that the latest of such incidents occurred in Jan Mohalla area of Shopian when the troops damaged and desecrated a mosque and the Holy Quran during a cordon and search operation.
They said the desecration of the Holy Quran and mosque by the troops in Shopian is intolerable for the Kashmiri Muslims.
The political experts and analysts said Indian troops have been involved in the desecration of Quran, mosques and religious centres in IIOJK for the last over seven decades.
"The burning down of Charar-i-Sharief Shrine in May 1995, desecration of Dargah Hazratbal during the worst military siege in November 1993 and violation of the sanctity of Jamia Masjid Srinagar during a military operation in August 1989 and at several other occasions are blot on the secular face of India," they said.
The political experts and analysts pointed out that Hindutva forces have planned to destroy Islamic centres in IIOJK. "Modi intends to replicate episodes like Babri Masjid in entire India and particularly in IIOJK. Modi brigade has announced to bring back a pre-Islamic era and impose Hindu culture in the occupied territory. BJP and RSS leaders have openly said that fifty thousand temples will be built in Kashmir," they said.
However, they maintained that the communal BJP and RSS are destined to fail in intimidating the Kashmiri Muslims.