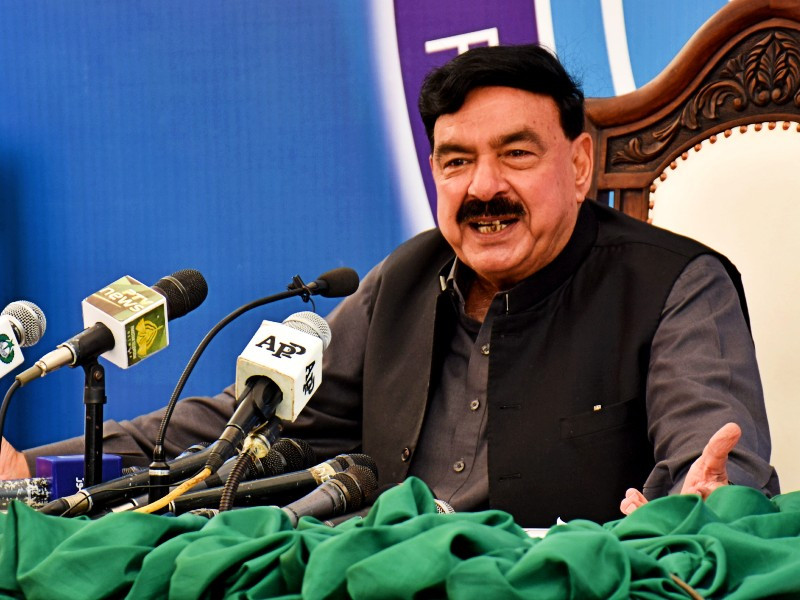 ---
KARACHI:
The country's top security czar has said the PML-N – the biggest opposition party – will have to pay a price for spewing venom on the armed forces of the country.
"The PPP has a positive approach while the PML-N is creating problems for itself due to its narrative," Federal Minister for Interior Sheikh Rashid said on Friday while addressing a news conference at the Federal Investigation Agency's (FIA) zonal office in Sindh's provincial capital.
Referring to the growing rift between the two major opposition parties – the PML-N and the PPP – Rashid said he did not see any conspiracy succeeding against Prime Minister Imran Khan.
"Imran Khan will not only complete his five-year constitutional term but will also contest the next general election as a major political power," he said.
To a query, Rashid said the opposition is no more a challenge to Premier Imran.
"The real challenge for the premier is to control inflation. However, Prime Minister Imran Khan is committed to controlling the inflation," he said, while also referring to the groundbreaking of low-cost housing units in Lahore.
To a query about PML-N supreme leader Nawaz Sharif's passport, Rashid said if Sharif expresses any desire to return to the country, the interior ministry will issue him travel documents within 24 hours.
Nawaz Sharif's passport expired on February 16, sparking speculations about the possible options available to the three-time former prime minister to extend his stay in the United Kingdom, where he has been residing since November 2019.
The name of the PML-N supreme leader is on the Exit Control List (ECL) and according to the law a person whose name is on the ECL cannot apply for the renewal of his passport. However, Nawaz Sharif can return to the country anytime.
The interior minister in December last year announced that the PTI government would not renew Sharif's existing passport in an apparent attempt to compel the convicted PML-N leader to return home.
"We have decided to cancel Nawaz Sharif's passport on February 16," Rashid said on December 30.
Nawaz Sharif, serving a seven-year prison term after his conviction in December 2018, was given a rare permission in October 2019 to get medical treatment abroad in view of a debilitating health condition.
The Islamabad High Court (IHC), however, declared him a proclaimed offender on December 2, 2020 as the former premier failed to appear before a bench – originally formed to hear his appeals against his convictions – despite various notices.
According to a report published in October 2020 in London-based Financial Times newspaper, Pakistan also asked the British government to repatriate Nawaz Sharif through a letter that Adviser to the PM on Accountability Mirza Shehzad Akbar wrote to British Home Secretary Priti Patel.
E-Passport
Sheikh Rashid said the process of issuing E-passports will commence from June, adding that a German company has been awarded the contract in this regard. He said the validity of passport has been increased to 10 years and its fee has also been reduced to half.
"The entire visa process has been made online and about 300,000 visas have been issued while only 12,000 visas applications have been rejected during my tenure as the interior minister. Citizens of 192 countries can get Pakistani visas within 30-day time subject to a security clearance," he added.
The minister said the FIA and the National Accountability Bureau (NAB) have taken stern action against many mafias, including money launderers and sugar hoarders.
"The FIA has arrested as many as 10 people involved in hiking sugar prices. It has also issued notices to 31 sugar mills while seizing 57 bank accounts including 19 benami accounts," he added.
WITH INPUT FROM APP