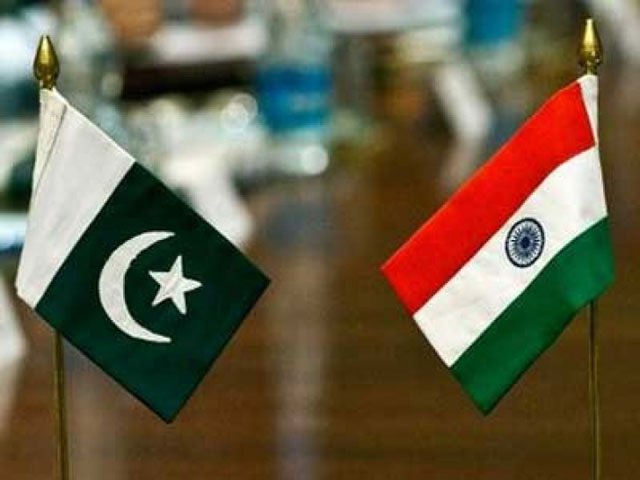 ---
ISLAMABAD:
For the first time the Foreign Office has publicly acknowledged that Pakistan and India were in contact with each other despite tensions.
"States have their ways and means to communicate which remain available even during wars. Therefore, whether any talks are taking place between Pakistan and India is not important," Foreign Office spokesperson Zahid Hafeez Chaudhri told his weekly news briefing on Friday.
"What is important is: one, whether Pakistan should talk to India; two, what should be discussed between the two sides; and three, what constitutes conducive environment for a meaningful and result-oriented dialogue," Chaudhri explained
He was responding to a series of questions regarding any talks taking place between Pakistan and India. Russian Foreign Minister Sergey Lavrov during his visit to Islamabad gave the impression that dialogue between the two countries had been resumed. This raised many eyebrows since India and Pakistan never formally admitted they were holding talks.
When asked the spokesperson did not opt for categorically denying the talks. Instead his answer gave an impression that the two countries were in touch with each other. The spokesperson did not specify which mode of communication the two countries were using.
Observers believe that Feb 25 understanding between the DGMOs on the ceasefire could be the result of back channel efforts.
Also read: Army top brass reviews LoC situation post India-Pakistan ceasefire
There has also been a visible change in the tone and tenor of India and Pakistan against each other.
The recent exchange of letter between the Indian and Pakistani Prime Ministers was also seen as a sign of thaw.
"As for talks, Pakistan has never shied away from talks with India and has always maintained for the need of a 'meaningful dialogue' and peaceful resolution of all outstanding disputes, including Jammu and Kashmir dispute," he said.
"We believe durable peace, security and development in the region hinge on peaceful resolution of the long-standing Jammu and Kashmir dispute," the spokesperson said.
Hafiz said India had vitiated the atmosphere, and the onus was on India to create an enabling and conducive environment for talks between the two countries.
To another question, the spokesperson said as for the appointment of high commissioners was concerned, no such decision had taken place as yet.
He said Pakistan was ready to host the Saarc summit the moment "artificial barriers" were removed when asked if Indian Prime Minister Narendra Modi would visit Islamabad for the regional conference later this year.
On the statement of the US that Pakistan and India should hold direct talks to resolve all outstanding issues, the spokesperson said the international community had an important role to play in ensuing peace and stability in the region.
"As for the role of third parties including the US is concerned, we believe that the international community has an important role to play in averting risks to peace and stability in the region and facilitating a just and lasting solution to the Jammu & Kashmir dispute in accordance with the UN Security Council Resolutions."
Also read: 'India desires cordial ties with Pakistan', Modi tells Imran on National Day
As for the withdrawal of the US troops, the spokesperson said Pakistan supported 'orderly' and 'responsible' withdrawal of foreign troops from Afghanistan as "we believe that a precipitous withdrawal would create a vacuum for spoilers."
"The Afghan peace process made significant progress last year. We believe that it is critical that the progress made in the peace process is maintained and further built upon in order to achieve its stated objectives of a peaceful political settlement in Afghanistan."
"All parties must work together for an inclusive, broad-based and comprehensive political settlement," the spokesperson said.
COMMENTS
Comments are moderated and generally will be posted if they are on-topic and not abusive.
For more information, please see our Comments FAQ