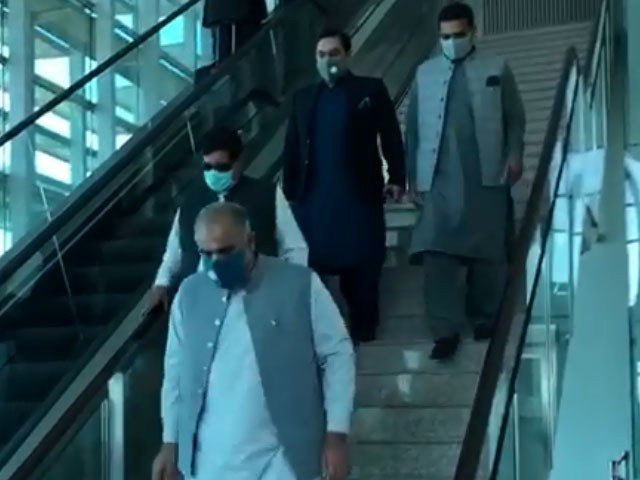 ---
ISLAMABAD:
The parliamentary delegation's visit to Afghanistan has been postponed due to security reasons, it emerged on Thursday.
The delegation, headed by Speaker National Assembly Asad Qaiser, was to embark on a three-day visit to the country from today.
Speaker's visit to Kabul postponed as airport was closed due to security threat. The plane was about to descent when the control tower informed of the closure of airport. New dates for the visit will be decided after mutual consultations.

— Mohammad Sadiq (@AmbassadorSadiq) April 8, 2021
Pakistan's ambassador, Mohammad Sadiq, said Kabul Airport was closed due to a security threat, causing the postponement of the scheduled visit.
"New dates for the visit will be decided after mutual consultations," he added.
سیکورٹی وجوہات کی بنا پر کابل انٹرنیشنل ائیرپورٹ بند ہونے کی وجہ سے پارلیمانی وفد کا دورہ افغانستان ملتوی ہوگیا

— Asad Qaiser (@AsadQaiserPTI) April 8, 2021
Pakistan's Ambassador in Kabul Mansoor Ahmad Khan, while quoting officials of Operation Resolute Support, said that a digging crew found undetonated explosive material that appears to have been buried there for some time during construction work at Hamid Karzai International Airport.
He said that the Turkish military experts conducted a controlled detonation to render the device safe, adding that flight operations resumed shortly thereafter.
Meanwhile, Pakistan International Airlines (PIA) also confirmed that its Kabul-bound PK-249 flight has returned to Islamabad. According to the national flag carrier, the flight was not allowed to land at Kabul airport over security reasons
Earlier, in an informal talk with media persons prior to the visit, Qaiser said that Pakistan wanted to boost people to people contacts with Kabul to further cement bilateral ties.
Also read Pakistan reaches out to regional players in Afghan peace
He informed that the delegation-level talks would revolve around the subjects of trade and investment. The delegation was also scheduled to call upon Afghan President Ashraf Ghani and Foreign Minister Muhammad Hanif during its visit.