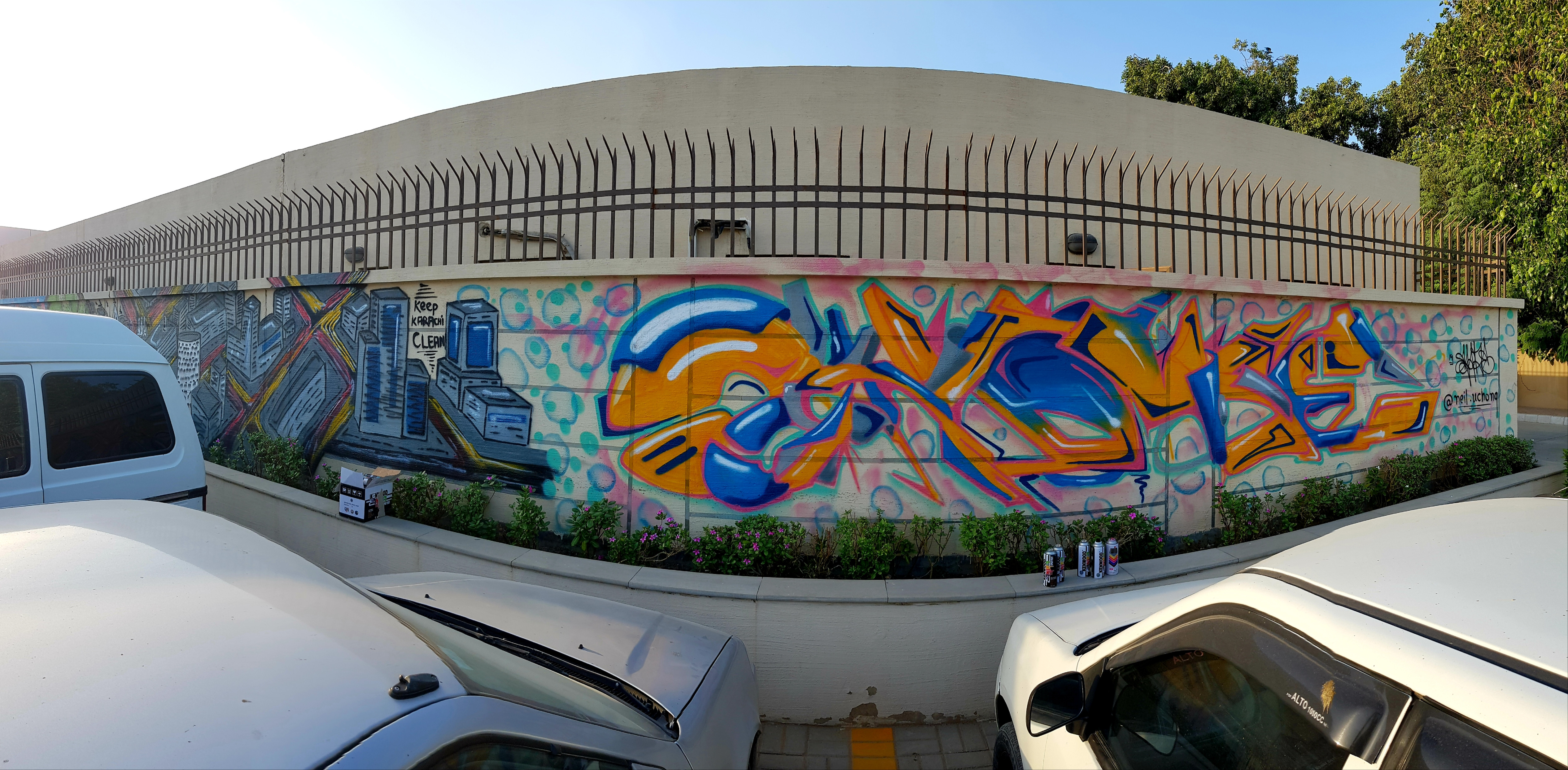 ---
KARACHI:
The art of graffiti is evolving in Pakistan. For most Pakistanis, the word still is synonymous with wall chalking, often of political or religious slogans, advertisements or even hate speech. A handful of artists, however, have taken it upon themselves to reclaim the walls and use graffiti to beautify our urban landscapes.
Neil Unchong, who goes by the name Mr Shade is known for his Mahira Khan graffiti. One of his murals, as a backdrop, is seen in the song Gangster Guriya of the film Baaji. He is quick to distance the art he has picked up from wall chalking used to mark political territory or peddle 'alternate' cures.
"The concept of vandalism in the west is very different from that in Pakistan," he said. "In Pakistan, wall chalking – which I wouldn't even call graffiti – is actually vandalism."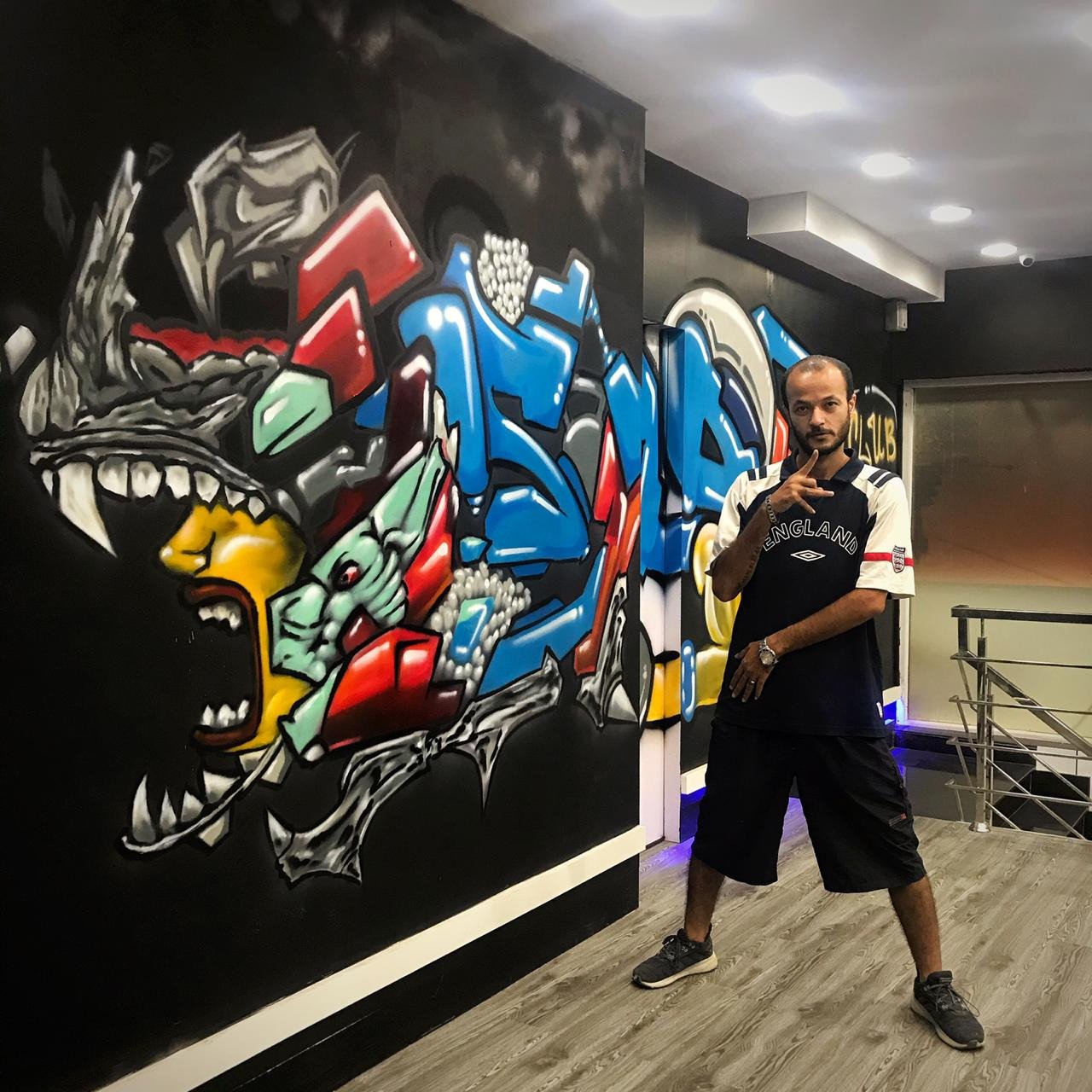 Mr Shade aka Neil Unchong with his art. PHOTO: Neil Uchong/Quratulain Ejaz
Graffiti and vandalism have an uneasy relationship all over the world. In many places, the art form is still seen legally as defacing public property. Even so, in recent years, many critics have come to embrace the art form as a positive addition to the urban landscape that, if done right, can enhance the aesthetic appeal of city life.
Sanki King, also known as Abdullah Ahmed Khan, who is said to be the pioneer of graffiti art in Pakistan, said, "It has a bigger appeal, and for me, I have no fear of being caught. I have painted something in the smallest and the biggest cities without fear because I knew it would get exposure."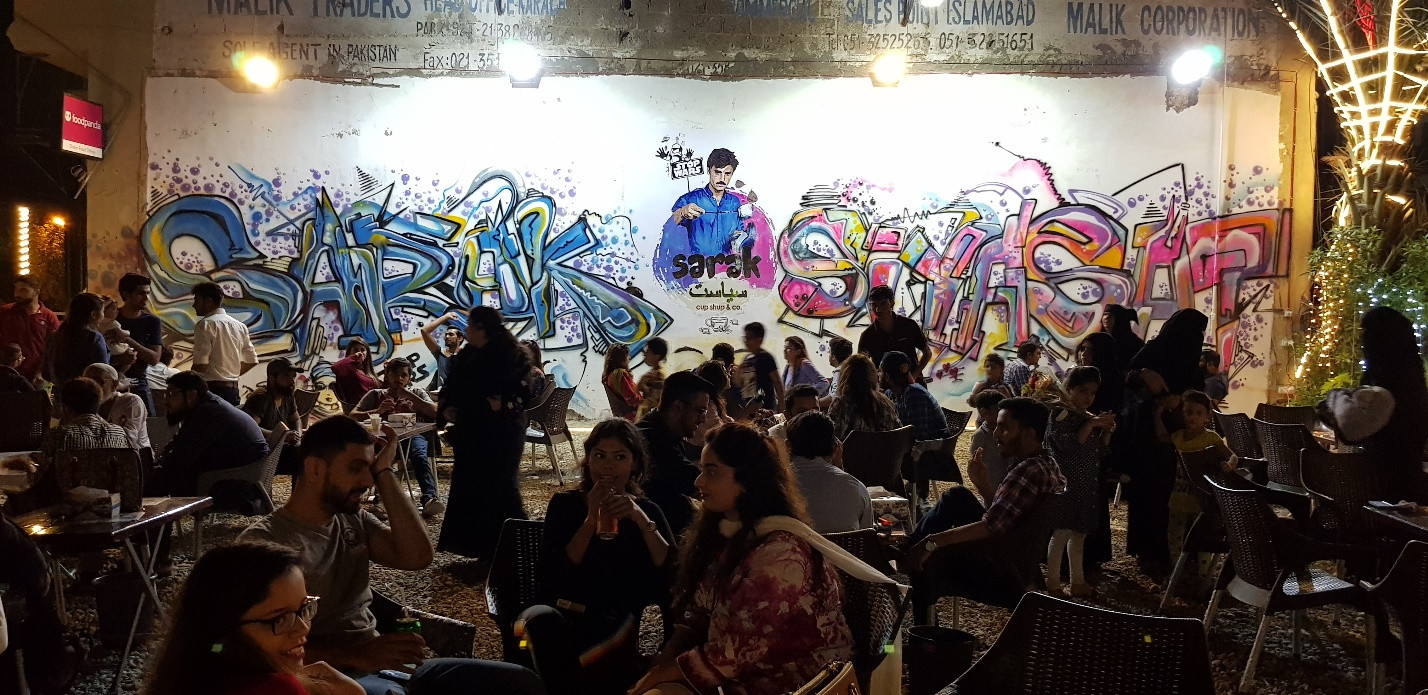 Chai with a view – Graffiti by Mr Shade. PHOTO: Neil Uchong/Quratulain Ejaz
Not all graffiti is illegal, however, and you need not break the law to practice the art. According to senior advocate Mustafa Lakhani, there are laws that allow property art. "It requires an agreement between the artist and the owner," he said, adding that if the owner allows it, an artist can paint graffiti to their heart's content. "There is a law that bans graffiti in Karachi," he pointed out. "But that is mostly concerned with the wall chalking we see everywhere."
Mudassir Zia, the founder of Street Art Pakistan, which started as a campaign against wall chalking, talked about the legal aspect according to his experience. According to him, legal procedures for graffiti can vary from city to city. "In some cities, it is a long process. One has to take permission from the district government and get a proper NOC, which sometimes can take a month," he said. "In big cities like Lahore, it can take three months too."
"Most of the time, the procedure starts from the beginning because the deputy commissioner changes. The district government, bureaucrats, police and security agencies are involved in the process," he added.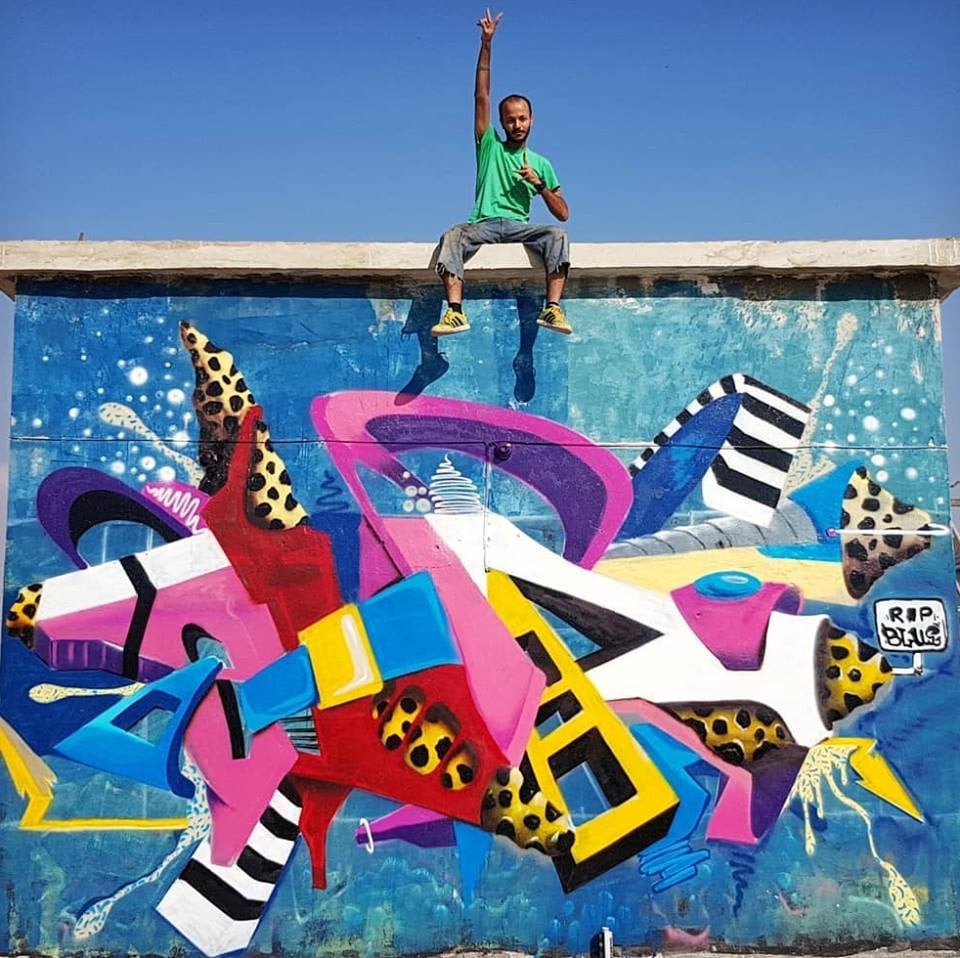 Mr Shade excels in abstract art. PHOTO: Neil Uchong/Quratulain Ejaz
Talking about how graffiti can bring a positive change, Mr Shade shared his experience on one of his projects. "It was near a school and had a lot of kids around. There was a lot of hate-speech on the walls. I painted the entire wall and noticed that the children from the neighborhood took out their cycles, and started playing in that area," he said. "I painted in the morning and by evening, they were all out playing. The older ones took out their phones and started taking pictures. It was very nice to see that."
Mr Shade also recalled a project in Balochistan to illustrate the positivity graffiti can spread. "When I and my team arrived, it was just a village in a completely arid area. There was nothing around but hills, bushes, mud, and cement houses. No gas, no electricity, and no water," he said. According to him, once he and his team were done painting graffiti in the area, they received a lot of appreciation from the locals. "They felt so nice that someone came to their village and added colour. It made a huge difference to them."
Speaking about the mass appeal good graffiti can generate, Sanki King said, "If an artist is working on the street even if it's just sketching in a book, few people would gather around to look at it." The same isn't true for graffiti, which like dance or theatre is a public experience.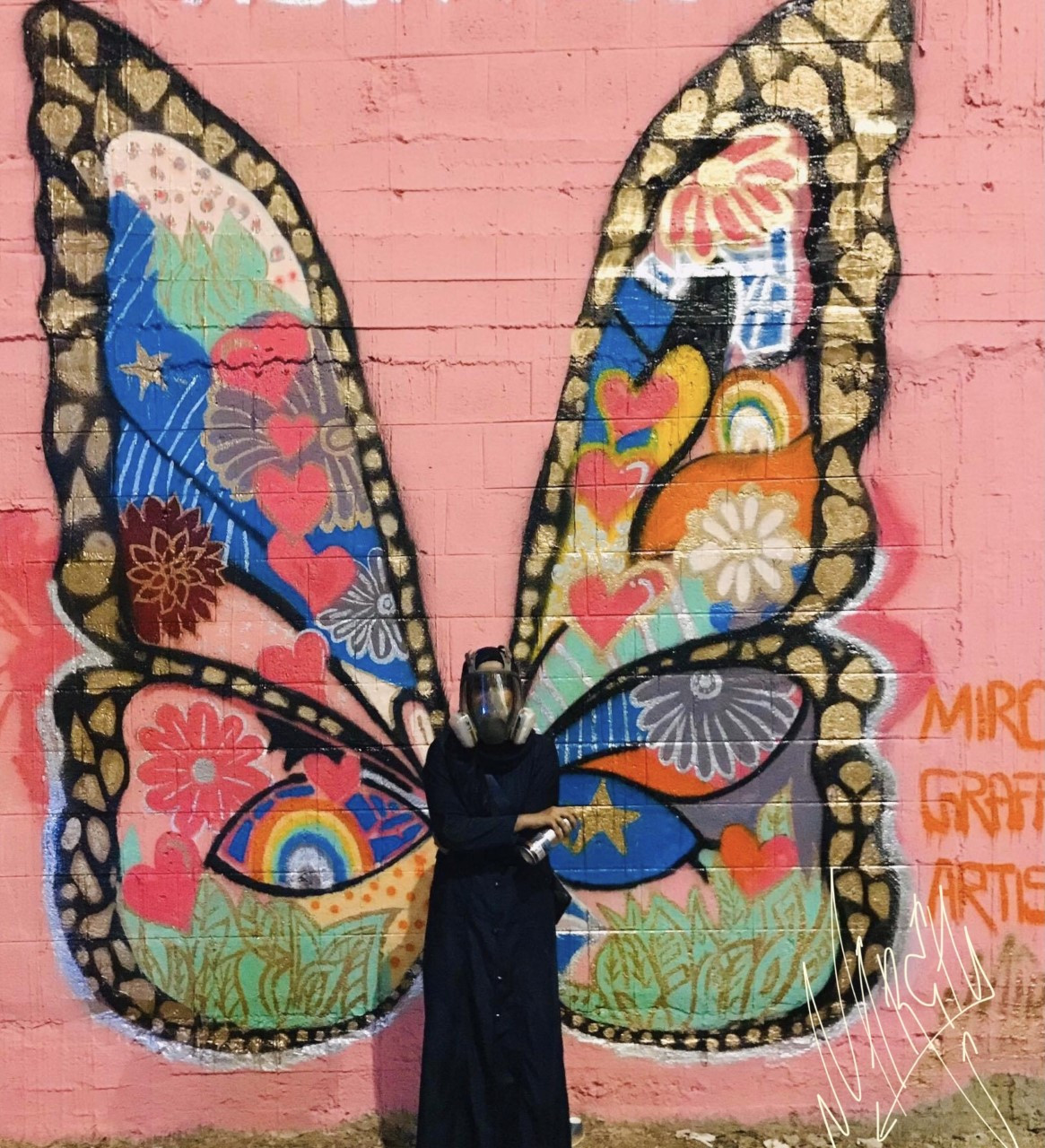 Graffiti artist Mirch with her artwork. PHOTO: Neil Uchong/Quratulain Ejaz
Since it is still evolving in Pakistan, graffiti artists usually go unnoticed and unappreciated for their hard work. Pakistani artists also lack some of the state-of-the-art tools used elsewhere in the world shared Quratulain Ejaz, who paints graffiti under the moniker Mirch. "Because people do not value graffiti, and they are not ready to spend money on it as well."
Highlighting the same issue Mudassir Zia mentioned that doing a particular style of graffiti is tough because we don't have those tools here that are used internationally. "The spray guns we have here can be used for commercial purposes but not for graffiti as their nozzles are not appropriate. Yet there are graffiti artists who are skillful enough to produce good work even from tools present," he said.
Have something to add to the story? Share it in the comments below.