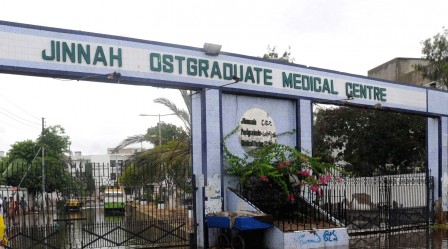 ---
KARACHI:
The Sindh government forbade Jinnah Postgraduate Medical Centre (JPMC) Executive Director Dr Seemin Jamali on Tuesday from attending JPMC's board of governors (BoG) meeting.
The provincial government informed the federal government of the move via a letter, wherein it asked the federal government to call off the BoG meeting and termed the board illegal.
Health is a provincial matter after the 18th Amendment, therefore, the Sindh health department, in its letter to the federal government, said it could not form a BoG for JPMC.
The board and its meeting are illegal, the letter stated.
The Sindh government also barred Dr Jamali from contacting the federal government. Last month, the federal government had notified the takeover of JPMC and announced a BoG to run its affairs.
The centre made the move following a Supreme Court (SC) ruling last year to give the control of the three major hospitals of Karachi, namely the National Institute of Cardiovascular Diseases (NICVD), National Institute of Child Health (NICH) and JPMC, to the federal government.
The letter maintained that JPMC BoG had no legal significance and it was in blatant violation of the SC order. JPMC is part of schedule-I of the Federal Medical Teaching Ordinance 2020, which expired last month.
COMMENTS
Comments are moderated and generally will be posted if they are on-topic and not abusive.
For more information, please see our Comments FAQ