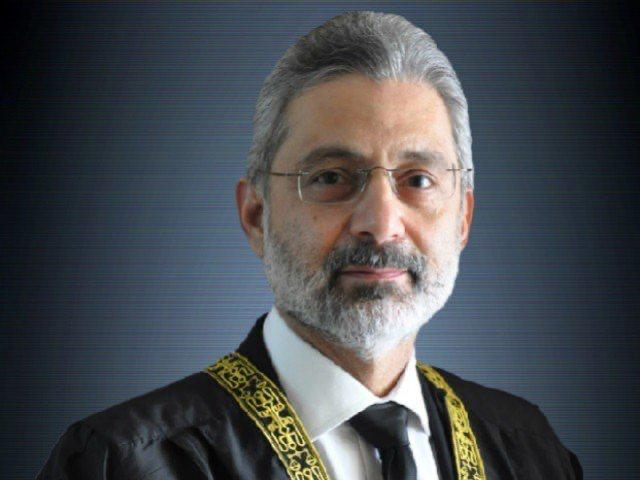 ---
ISLAMABAD:
The Supreme Court Judge Justice Qazi Faez Isa has sought information on costs associated with the Safe City Project. He has sought from the Capital Development Authority chairman details of funds spent on the installation of cameras, construction of walls, watchtowers and barbed wires around the Balochistan House, Sindh House, Khyber-Pakhtunkhwa House, and Minister's Enclave.
Justice Isa further sought information on the cost of painting the kerbsides black and yellow in the federal capital along with the quantity of paint used in the Safe City Project as well as costs pertaining to the number of police officials deployed on duty at official residences.
He remarked that transparency and good governance mandate disclosure of such costs.
"Let me remind you that every individual is entitled to receive information under the Right of Access to Information Act, 2017," he stated in a letter to the authority.
He penned that pedestrians continue to fall into open manholes, trip on uneven pathways and suffer extreme heat because dead trees are not replaced while existing ones are destroyed and new ones are not planted along the pathways.
Photographs were also attached with the letter to show that the situation has exacerbated since his earlier letter on January 26, 2019. In front of the Minister's Enclave, a high and unusable pavement is being constructed through the replanted jacaranda trees, which will destroy them once again. This is not only a waste of public money but also without function since the road alongside it is not a public thoroughfare, he remarked, adding that public resources could have been better utilised.
Justice Isa contended that when CDA has no money to install manhole covers or repair broken ones, these jail-like fortifications around the residences of those elected to serve is another unnecessary feature. What purpose do cameras and thousands of policemen deployed serve if walls are built as high as a fortress, he commented. The height of these walls also exceeds the permissible limits as per CDA's regulations while the building of watchtowers is illegal.
Moreover, he stated that the President House and Parliament Buildings are the nation's pride. Very few citizens get to see the inside of either building but the dilapidation, neglect, and decay on the outside are visible to passersby. The daily injustices I witness include the elderly falling into manholes and people having to cross oncoming traffic because there is no place to cross the road, he lamented.
Justice Isa also commented on traffic being stopped for office holders, blazing past in expensive bulletproof vehicles with tinted windows in a cacophony of blaring sirens, causing noise pollution while routes are cleared for some VIPs; another extravagance not witnessed elsewhere.
He added that the number of land cruisers and other expensive four-wheel vehicles used by the officialdom in the capital is astounding. These vehicles must only be used in remote areas where there are poor or no roads instead of being used for travelling from one's luxurious home to their office, leaving behind a heavy carbon footprint, he expressed disapproval, adding that the taxpayers and the poor pay for these indulgences.