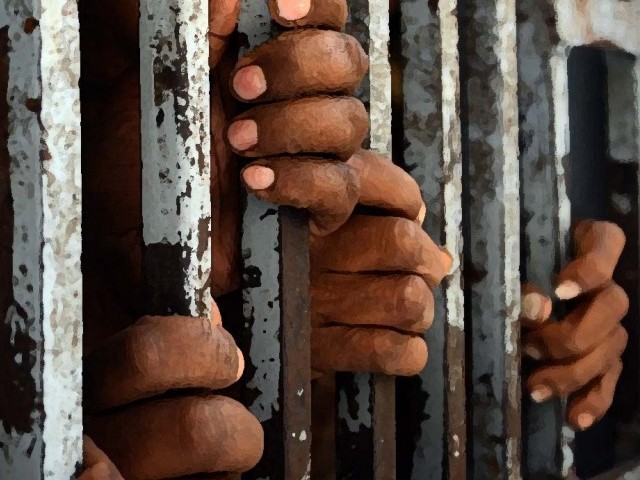 ---
RAWALPINDI:
At least two inmates were injured in a brawl in Adiala Jail on Wednesday in which the prisoners used shaving blades, utensils and sharp tools to inflict injuries on their opponents. Punjab Jails Minister Fayyazul Hasan Chohan has taken notice of the incident and asked for a detailed report from IG Jails, while the inmates who were injured were shifted to the district headquarters hospital (DHQ) after first aid.
Sources told The Express Tribune that a fight broke out in the barracks used to house murder convicts. The row erupted between prisoners identified as Sabahar, Haibatullah, Amir, and others over a petty matter. Sabahat and five to six other prisoners beat Haibatullah and Amir Zaman.
The victims were attacked with shaving blades and makeshift cutters made from spoons causing them serious injuries.
As news of the incident spread in the prison, Adiala Jail Superintendent Chaudhry Aijaz Asghar reached the related barrack with security staff and apprehended the convicts involved in the brawl.
They were moved to another place while the injured were moved to DHQ after they were given first aid.
The jail authorities said that Haibatullah sustained cuts on the face and back while Zaman was wounded in the neck by a sharp tool. The condition of both injured inmates was out of danger.
Adiala Jail superintendent said that the suspects were taken into custody and segregated. He added that a case was being registered against the inmates involved in the fight.
Further, Punjab Jails Minister Fayyazul Hasan Chohan took notice of the incident and summoned a report on the Adyala jail brawl in a day from Punjab Inspector General (IG) Jails Mirza Shahid Saleem Baig. Meanwhile, Punjab IG Jails has sought a detailed report of the incident from Rawalpindi Region Jails DIG Malik Shaukat Feroz.
Published in The Express Tribune, April 1st, 2021.
COMMENTS
Comments are moderated and generally will be posted if they are on-topic and not abusive.
For more information, please see our Comments FAQ