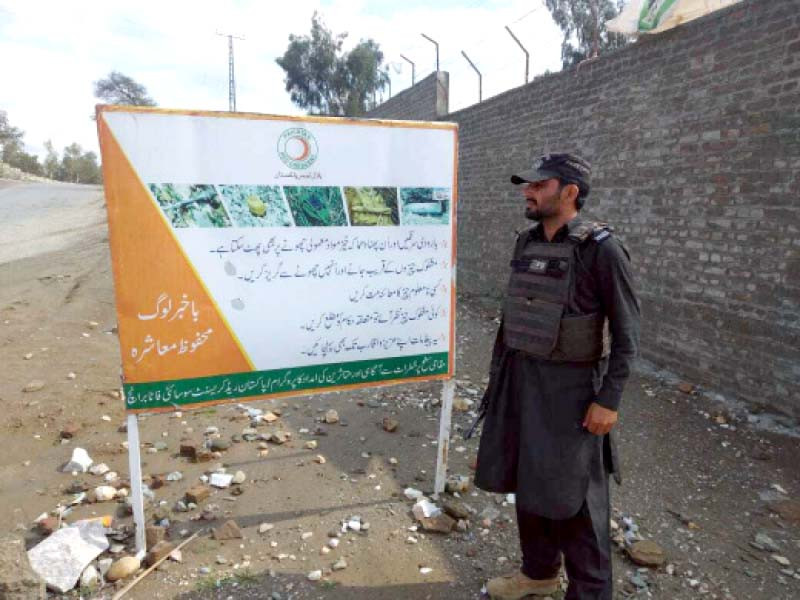 ---
KHAR:
The unpredictability of life takes an eerie meaning in the newly merged districts of Khyber Pakhtunkhwa, where often the only thing separating one from life and death is a hapless stride.
When militants were forced to exit the region under army operations, they left much of what they could riddled with explosive landmines. Today, several years later, residents of Bajaur and neighbouring districts still continue to pay the price of militancy in life and livelihood.
"I was working in the fields just like any other day. I had not the slightest inkling that there could be something so deadly waiting for me just a few steps from where I stood. I don't know at what moment I made that ill-fated stride that triggered the hidden bomb, but all I remember is a loud bang that took away my limb," recalled 45-year old Wara Bibi from district Bajaur, who was victim to a landmine explosion in 2017.
Farhoona Bibi, who is now a 24-year old woman, is another landmine victim from district Bajaur. She had come into contact of an active landmine 19 years ago in 2002, when she was barely five years old. "My sister and I were playing in the fields, unwary of anything that could go wrong. That was until one of us stepped on a mine and it exploded. I lost a leg and my sister lost two of her fingers," she told.
Farhoona Bibi, who now walks on a prosthetic leg, believe that she's been given a second lease on life, though many are not as lucky as her or her sister. "It's mostly women and children in tribal areas who're most susceptible to these silent killers, since they are usually out in the fields all day and it's like you never know when somebody's going to trigger one and lose it all," the blast victim shared.
Due to lack of official figures and a comprehensive data-collection mechanism, the total number casualties owing to landmines in Pakistan is yet unknown. However, according to Monitor, a programme providing research and monitoring for the International Campaign to Ban Landmines, landmines have caused at least 4,342 casualties in the region. Out of which 1,644 resulted in death, 2,605 caused injuries and 93 remain unaccounted for, but the actual overall number could be much higher in all possibility.
The change
As for the newly merged districts alone, per official figures, over 21,215 landmines have so far been defused the area, while many still remain to haunt locals each day. Considering which, Pakistan Red Crescent Society (PRCS), in collaboration with the International Committee of the Red Cross (ICRC), launched a community based Mine Risk Education Awareness programme in high-risk regions.
Resultantly, on June 11 of 2020, when two children from village Tangkhata, Tehsil Khar in the tribal district of Bajaur stumbled upon a peculiar looking object sticking from the ground on their routine haunt, they were quick to sound the alarms. What was later identified as a large-sized Unexploded Ordnance (UXO), was eventually safely extracted by the local bomb disposal forces and no harm to life or property was cased. "It was probably the heavy rains which exposed the UXO. So when the children saw the suspicious object, they were immediately reminded of their Mine Risk Education Awareness session and how this could be a dangerous explosive waiting to be triggered. They rushed back to their trainer's doorstep with the information, who then alerted the police at the nearest check post and the bomb squad was duly summoned," told Shah Khalid, one of the coordinators of the Mine Risk Education programme.
Published in The Express Tribune, March 31st, 2021.
COMMENTS
Comments are moderated and generally will be posted if they are on-topic and not abusive.
For more information, please see our Comments FAQ