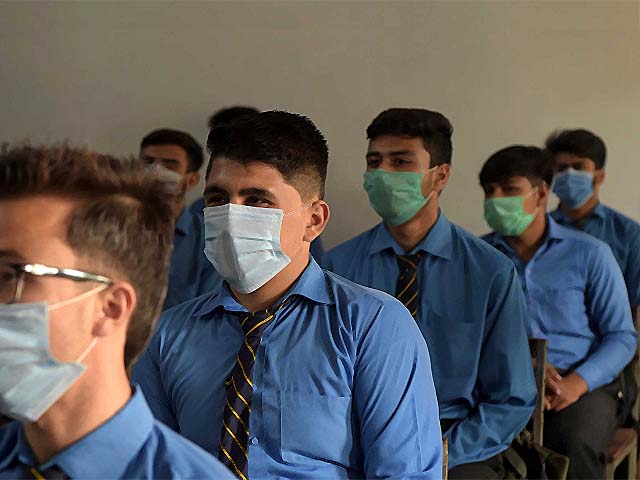 ---
KARACHI:
The third day of the Karachi Literature Festival's (KLF) 12th edition was host to a crucial session on the problems plaguing Pakistan's overall education system, and the policies and efforts required to lift it out of the quagmire of political and social apathy.
The session came in wake of the launch of a book titled the Agents of Change: The Problematic Landscape of Pakistan's K-12 Education and the People Leading the Change. The book has been published by the Oxford University Press (OUP) and discusses the education system starting from kindergarten upto grade 12.
Setting the tone for the conversation to follow, lead author of the book, Amjad Noorani, said, "Education reforms are evolutionary and would require political and social advocacy."
At this, education economist and co-author of the book, Nadeem Hussain - also the session's moderator - asked the former dean of LUMS' School of Humanities and Social Science Dr Anjum Altaf, "If we require social and political advocacy for education reforms in Pakistan?"
Dr Altaf responded that, "Education is a political problem in Pakistan and is not a priority of the state."
Describing the book, Noorani, said, "The Agents of Change is a compilation of thought-provoking insights, opinions, personal stories and suggested actions for change in the K-12 education system in Pakistan. It validates how good schooling can alleviate poverty and advance societal development through equitable opportunity for quality education."
He added that, "Clear and precise proposals are needed for reforms in the Pakistani context. Thoughtful analyses are based on sound research, conversations in the education community, interviews with experts in the field, and first-hand knowledge of the many challenges in the education system."
Read: 'Decolonial thoughts': Experts discuss flipside of progress
In addition, the author said, "There is also a need for a 'Call to Action' for broader public support and civic leadership to oversee the reforms. We argue that it will take greater public participation and strategic political advocacy to chip away at the problems. The case is made that the TCF [The Citizens Foundation] model of quality education and efficient management at a large scale offers a template for improvements in the education system. The TCF is a Pakistani non-profit that operates 1,650 schools, including 300 adopted public schools."
Addressing the problem of lack of enrollment of girl students, educationist Rahila Fatima Shakil observed that, "The Citizens Foundation (TCF) has been able to maintain 50% girls' enrollment by having an all female faculty."
Commenting on the book, Center for Global Development, Washington DC, President Masood Ahmed said, "Agents of Change chronicles the story of TCF that needs to be better known."
"It is a remarkable journey of impact, innovation and integrity in a noble effort to provide quality education to a large number of Pakistani children who would otherwise follow their parents in unrealised potential," Ahmed added.
He observed that, "In the broader context of education policy and reform in Pakistan, the book shows also just how much more needs to be done to provide equitable and quality education to the millions of children still being deprived of it."
An educator, also the author of a chapter in the book, Dr Irfan Muzaffar while sharing his thoughts on the book said, "A good school is never an island of good practice. It is nested in and supported by a complex system. There will not be any good schools without effective institutions that deliver curriculum, teaching and learning materials, teachers and school leaders."
He added that, "There will be none of the above without a vibrant public sphere, including both civil and political actors. In the absence of these elements, a high demand for education will only promote private, not public good."
In Dr Muzaffar's view, the authors went beyond serving their readers a jolting reminder of the dysfunction that mars our civil and political spheres by also suggesting viable remedies to revitalise them. "Read and pay heed!" he suggested.
Nadia Naviwala, Global Fellow - Woodrow Wilson Center for International Scholars, while recommending the book said, "Discussions about education in Pakistan typically focus on the very top-down role of the government and international actors. Agents of Change provides a rare window into Pakistan's vibrant civil society, their efforts to provide quality education in the country that has the world's second largest out-of-school population."
Nadia said that reforms will require leadership from Pakistan's elites, activists, intellectuals, teachers and students.
"This book provides the author's perspectives directly. It outlines the potential for collective action, drawing from local experience, to put Pakistan on a path to positive change," she observed.
Read more 'Ideals of modern nation states deeply connected to racism'
Habib University President Wasif A Rizvi said, "The TCF by all accounts is perhaps the most remarkable story in creating a confluence of providing a fundamental service i.e. primary education, raising the consciousness of an entire society regarding education, mobilising widespread community ownership and philanthropy for a crucial cause and now finally providing incisive insights for comprehensive response and rational policymaking."
Referring to the authors, Rizvi said that, "Amjad and Nadeem cohesively bring forward the scale of the TCF's 25 years of intervention, that provides both qualitative and quantitative basis to decisively shape the direction of primary and secondary education in Pakistan, laying the foundation for development of individuals with civic responsibility and consciousness to address challenges humanity is globally facing."
The book has been dedicated to one of the most celebrated humanitarians of the world, late Abdul Sattar Edhi.
Speaking at the event, his son, Faisal Edhi said, "Agents of Change is a unique effort to initiate debate around the K-12 education reforms. It is a conversation that focuses on 'access to quality education' that can transform lives of the underprivileged and working classes. The authors have reminded our ruling elite that investment in education will set the course for national progress and prosperity."
Later, lawyer and civil right activist Shahab Usto tweeted, "[object File] [object File] Let's hope this very well researched book help bring in the desirable change in our otherwise rotten education system."
[object File] [object File] Let's hope this very well researched book help bring in the desirable change in our otherwise rotten education system. pic.twitter.com/vCJZZ347It

— Shahab Usto (@ShahabUsto) March 28, 2021