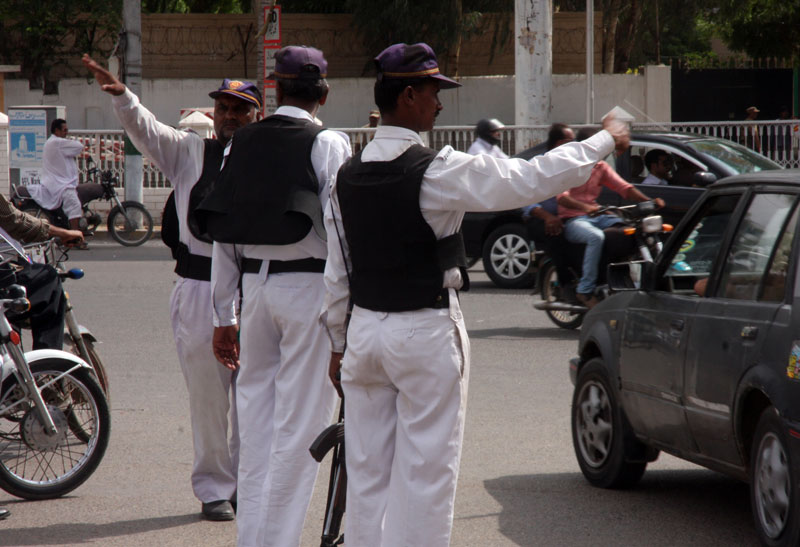 ---
ISLAMABAD:
Two women and a man were arrested on Friday when they allegedly tried to stop the traffic police from lifting their vehicle wrongly parked in front of a private hospital at Car Chowk located within the remits of the Airport police station.
Another man was later apprehended.
In the video shot on the location by a citizen from a cell phone, one of the women is seen trying to get hold of the uniform of a traffic policeman and also complaining that police beat her brother.
Taking action, the police shifted the vehicle to the Airport police station and lodged a case against the two women, including their son, and a man who later arrived at the police station.
According to the city police spokesperson, the vehicle was wrongly parked outside the gate of a private hospital, which was disrupting the flow of ambulances and various other vehicles.
Traffic police called a lifter to remove the vehicle, however, soon the owners arrived and started arguing with the cops. Police alleged that the women verbally abused the traffic cops and grabbed the uniform of a traffic warden for lifting the vehicle.
Police, besides impounding the vehicle, registered a case against the two women and their son and locked them up in the Airport police station.
A man who later came to talk to the Airport police station SHO was also arrested for allegedly trying to take the suspects out of the police station.
Two days ago, another video of a scuffle between a traffic warden and two youths surfaced on the internet since then it has been doing the rounds in the social media groups in Rawalpindi and Islamabad.
The video shows at least four traffic wardens stopping two motorcyclists on violation of one-way on Bank Road.
Four cops started beating the two bikers and then handed them over to the Cantonment police team. Later on, the youngsters were released on verbal apology without any legal action
COMMENTS
Comments are moderated and generally will be posted if they are on-topic and not abusive.
For more information, please see our Comments FAQ