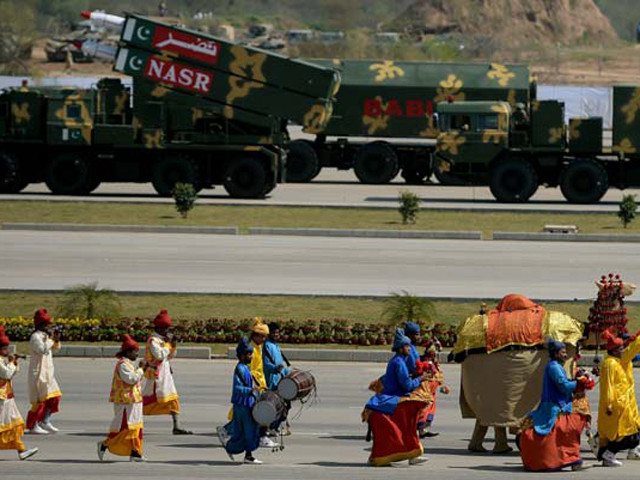 ---
RAWALPINDI:
Cellular service in selected areas of the twin cities will remain suspended from 5am till 12pm as a security measure during the Pakistan Day parade scheduled for Thursday, a spokesperson said on Wednesday.
Commercial flights will also remain suspended, owing to the fly-past of Pakistan Air Force (PAF) fighter jets, the official added.
The Rawalpindi administration has already announced a holiday for March 25 after the parade was rescheduled from March 23 due to inclement weather. According to a notification, all government and private institutions in Rawalpindi will remain closed on Thursday.
Pakistan Day is celebrated on March 23 annually to commemorate the Lahore Resolution of 1940 that eventually led to the creation of Pakistan.
The parade, which is the main feature of the annual national day celebrations, will be held in Islamabad with compliance of all the anti-Covid Standard Operating Procedures (SOPs).
Also read: Pakistan Day Parade rescheduled to March 25 due to inclement weather
More than 1,000 police personnel would be deployed to maintain law and order in Islamabad and Rawalpindi and to control traffic.
Sources told The Express Tribune that kite-flying, aerial firing, and releasing pigeons into the air in the areas around the parade ground have been banned, while residents are also not allowed to come out on the roofs of their houses or building complexes.
Moreover, contingents of army and police will be deployed at Faizabad interchange and nearby areas of the parade ground.
Traffic plan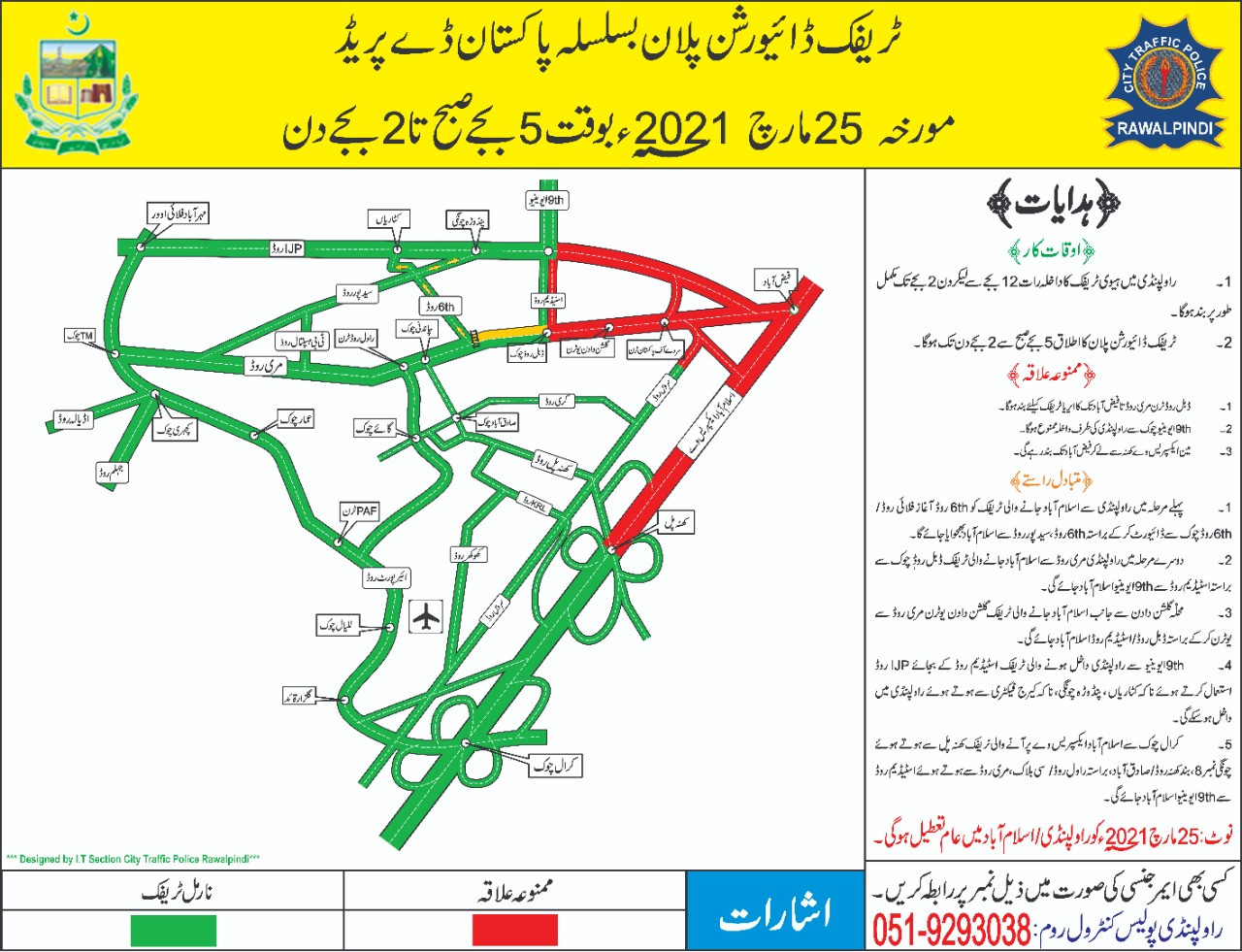 The City Traffic Police (CTP) has issued a traffic plan for the Pakistan Day parade, according to which, nine DSPs, 25 inspectors, 272 wardens, and 69 traffic assistants will be utilised to maintain the flow of traffic in the city, a spokesperson maintained.
The entry of heavy traffic in the precincts of Rawalpindi has been banned from midnight while the routes to Islamabad and Rawalpindi from Faizabad interchange will remain closed until noon on Thursday.
Read more: Pakistan Day parade to be held under SOPs
The traffic coming from Murree Road to Islamabad will be diverted to Islamabad through 9th Avenue via a diversion point from Double Road Chowk while the traffic coming to Islamabad through Koral Chowk will enter Rawalpindi from Chowki No 8 via Khanna Bridge Service Road.
Similarly, vehicles coming from Murree Road to Islamabad will be diverted from 9th Avenue to Stadium Road while the traffic coming to the stadium from 9th Avenue will be diverted to IJP Road where they can enter Rawalpindi from Naka Kataria and Carriage Factory.
Chief Traffic Officer (CTO) Rai Mazhar Iqbal directed all DSPs and in-charges to perform their duties diligently. He added that no lethargy would be tolerated by any officials on the day.