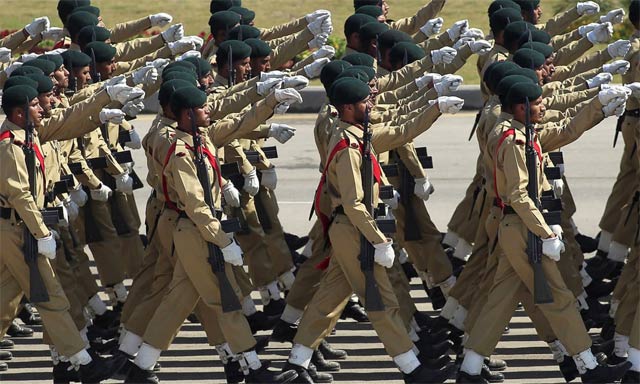 ---
The Inter-Services Public Relations (ISPR) on Monday announced that the Pakistan Day Parade has been rescheduled to March 25 due to inclement weather and rains forecasted over the next two days.
"Due to ongoing inclement weather and rains forecasted over next two days, Pakistan Day parade has been rescheduled."
"The Joint Services Pakistan Day Parade will now be held on 25th March 2021 as per program and timings already specified," the military's media wing added.
Earlier, the Islamabad Traffic Police (ITP) issued a traffic advisory for the convenience of road users ahead of the Pakistan Day Parade that was to be held on March 23.
According to the ITP traffic plan, heavy traffic would not be allowed to enter the federal capital on March 21 and 23 from 12 am to 2 pm.
It was advised that light vehicles coming from Lahore use the route of Rawat T-Cross to reach the motorway after passing through Rawalpindi Saddar Road and Peshawar GT Road.
Read more: Of love and harmony: 'Coke Studio' releases Pakistan Day song
Traffic from the airport will take the Islamabad Expressway and will be diverted from Khanna Bridge.
Commuters may use Lehtrar Road, Captain Naeem Tufail Shaheed Chowk (Taramri Chowk), Park Road, Rawal Dam Chowk or Murree Road to reach Sector G or Kashmir Highway. Those motorists traveling for Murree may turn from Kashmir Chowk and travel towards their destination from Bhara Kahu, the plan outlined.
Those going to the airport or Lahore can take 9th Avenue, Murree Road, or Rawal Road and take a right turn from Koral Flyover. The motorists coming from motorway may use Kashmir Highway to move towards Aabpara, Bhara Kaku and Murree.
Furthermore, Faizabad will remain completely closed for all types of traffic while the Expressway will also be closed from Khanna Bridge to Faizabad for light transport vehicles.
Similarly, Faisal Avenue will be closed from Zero Point to Faizabad, and Murree Road will be blocked from Rawal Dam Chowk to Faizabad on the respective days.
Only those with permission cards with them will be allowed to take these roads. Invitation cards in different colours have been issued to guests coming to attend the parade which also mentions the requisite route, parking lot and sitting area to be taken.
All security and squad vehicles will be parked in the black parking area established on Numaish Road.
Similarly, that coming from Islamabad will reach the parking area via Kashmir Highway, Zero Point Expressway, and Garden Flyover while those coming from Rawalpindi via Murree Road and IJP Road will reach the parking lot through Garden Flyover after crossing Faizabad Flyover.
COMMENTS
Comments are moderated and generally will be posted if they are on-topic and not abusive.
For more information, please see our Comments FAQ