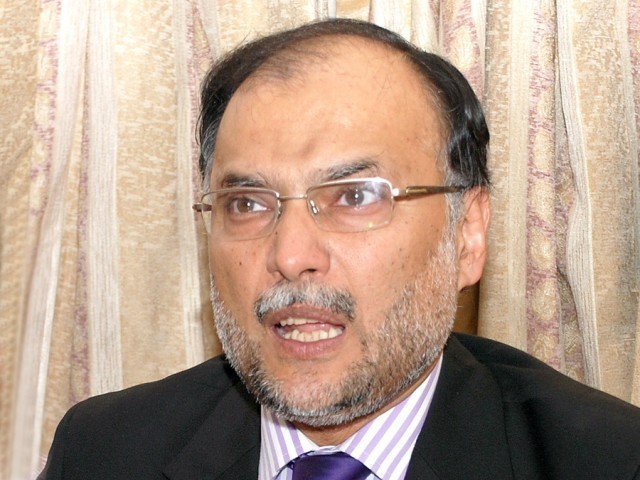 ---
ISLAMABAD:
Pakistan Muslim League-Nawaz (PML-N)'s Secretary General Ahsan Iqbal on Tuesday observed that only the Pakistan Peoples Party (PPP) can tell what it wishes to achieve by attacking the PML-N and its leadership.
He maintained that his party would not respond to the PPP as its target is "Prime Minister Imran Khan and the rigged system".
Days after the ongoing dispute over the issue of resigning en masse from the assemblies and open disagreement over the slot of leader of opposition in Senate, the PML-N stalwart said that PML-N was first attacked by the former president Asif Ali Zardari and later by PPP Chairman Bilawal Bhutto Zardari.
Also read: NAB Lahore declared 'Red Zone' for Maryam's hearing on March 26
He said only PPP can tell why it is attacking PML-N. "PPP can tell what it wants to achieve by its attacks on PML-N first by AAZ [Asif Ali Zardari] and later by BBZ [Bilawal Bhutto Zardari]," Iqbal told The Express Tribune.
"PML-N will not respond as our target is IK [Imran Khan] and the rigged system."
The PML-N's stance seems to be somewhat different from its earlier position when the party leadership declared that its target was not Prime Minister Imran Khan as he was a "pawn" and the real "culprits" were those who had "imposed" him on the nation.
The Pakistan Democratic Movement (PDM) – the 11-party opposition alliance – platform was often used to target the alleged interference of "establishment" in politics but the spat has now shifted to who will get what in parliament.
Stunned by PPP leadership's "attacks", the PML-N leadership has also started asking questions about PPP's motives behind the outburst against PML-N supremo Nawaz Sharif, refusing to resign from the assemblies and favouring a limited long march against the government – while simultaneously posing a threat to the unity of the PDM.
The PDM platform appears to be in tatters within six months of its inception, especially, after Zardari asked Sharif to return from London and lead the anti-government movement and his son Bilawal opposed resigning from assemblies while recalling his slain mother Benazir Bhutto's advice that if there is one thing that he has learned from her, it is to stay in the system and fight.
PML-N and PPP – the two largest opposition parties in parliament – are drifting away from each other as the former reiterated that it was not ready to resign from assemblies because the time was not right for such a move, adding that the option would be used after exhausting all other choices to oust the government.
After deferring the much-touted long march and linking the final decision with PPP's central executive committee, PPP feels that the situation is extremely favourable for moving no-confidence motions in both the National Assembly and Punjab Assembly.
On March 22, Bilawal reminded that PPP has been demanding for three generations what Sharif has asked now — same standards of accountability for all, including generals.
Following a meeting with Jamaat-e-Islami chief Sirajul Haq in Lahore, Bilawal emphasised that the opposition leader in Senate would be from PPP as it is the largest opposition party.
He also spoke about PML-N's past and drew a line by saying that any statement made by opposition party's vice president Maryam Nawaz will be addressed by his party's vice president.
His comments have come after PML-N's de facto chief Maryam made it clear on Sunday that the opposition leader will be from her party as it was decided "in principle" at a PDM huddle.
The disagreement over which the party has claim on the office of the leader of opposition in Senate arose after the PDM's joint candidates, PPP's ex-PM Yousaf Raza Gilani and JUI-F's Abdul Ghafoor Haideri, were defeated by the government-backed candidates in the elections for the post of Senate chairman and deputy chairman.
After PDM's last meeting, political experts said that the debate over resignation and long march has now descended into mud-slinging and name-calling and put PDM in trouble.
PPP is expected to formally announce its decision about resignations and long march after April 4 – Zulfikar Ali Bhutto's anniversary, which is being organised in Rawalpindi this year as opposed to Larkana, Sindh.
COMMENTS
Comments are moderated and generally will be posted if they are on-topic and not abusive.
For more information, please see our Comments FAQ