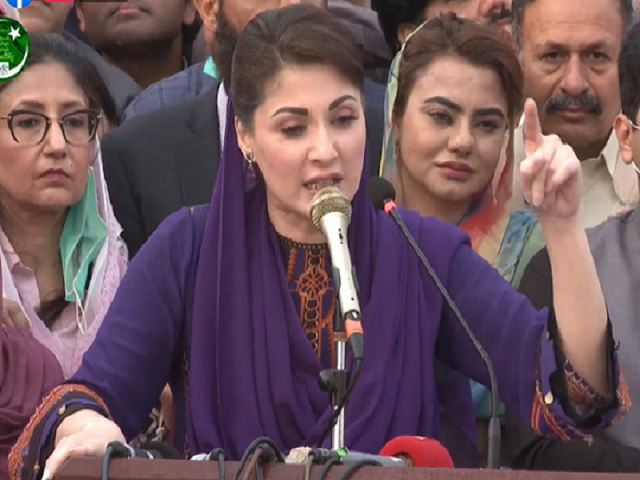 ---
Former prime minister Nawaz Sharif has been receiving threats that his daughter [Maryam] would be eliminated if she does not stop making firery speeches, PML-N Vice-President Maryam Nawaz has claimed.
She made these remarks while addressing a PML-N Youth Convention in Lahore on Sunday. However, she did not reveal as to who issued death threats.
"I told Nawaz Sharif that life and death is in the hands of Allah, not in the hands of NAB [National Accountability Bureau] or the government."
Maryam said that NAB is targeting opposition leaders at the behest of Prime Minister Imran Khan and added that it recently moved to court for her bail cancellation to weaken the opposition anti-government movement – PDM.
Earlier this month, the anti-graft authority moved the Lahore High Court (LHC) seeking the cancellation of Maryam's bail in the Chaudhry Sugar Mills case.
In the petition, filed by the NAB chairman, it was argued that the PML-N vice-president was misusing her bail by attacking state institutions through media, making false accusations and engaging in anti-state propaganda, while refusing to appear before the bureau despite summons.
Maryam responding to NAB's call-up notice said the anti-corruption watchdog has failed to find any corruption evidence against her and it was now asking court to cancel my bail for "maligning state institutions".
"Who has tasked NAB to check statements of politicians," she said, adding that she would appear before the bureau on March 26.
Maryam said those who would say that Nawaz's politics has come to an end "are now scared of him while he is sitting in London".
She said her father Nawaz, three-time former premier, was removed from power in 2017 over false allegations.
A prominent political leader of the country told me that Nawaz was removed from power by "selectors" because he became very popular among masses, Maryam claimed.
Referring to late accountability court judge Arshad Malik, Maryam said he had also admitted that he had announced verdict against Nawaz in assets beyond means case "under duress".
She said now attempts were being made to intimidate PML-N members to change their political loyalties.
The PML-N stalwart went to say that despite all rigging attempts her party had won 2018 general elections but the results were changed to "install" PM Imran into power.
Earlier in the day, Pakistan Democratic Movement (PDM) chief Fazlur Rehman said that workers of the 11-party opposition alliance would accompany Maryam during her hearing at NAB on March 26.
"The reasons stated for the hearing have actually unveiled the true face of NAB… We have always held the stance that it is an authority that doesn't act on its own," the PDM chief said while addressing the media following a meeting held with PML-N leaders, including Maryam, at Jati Umra.
"During the hearing on March 26, millions of PDM workers will be there with Maryam," Fazl added.
COMMENTS
Comments are moderated and generally will be posted if they are on-topic and not abusive.
For more information, please see our Comments FAQ