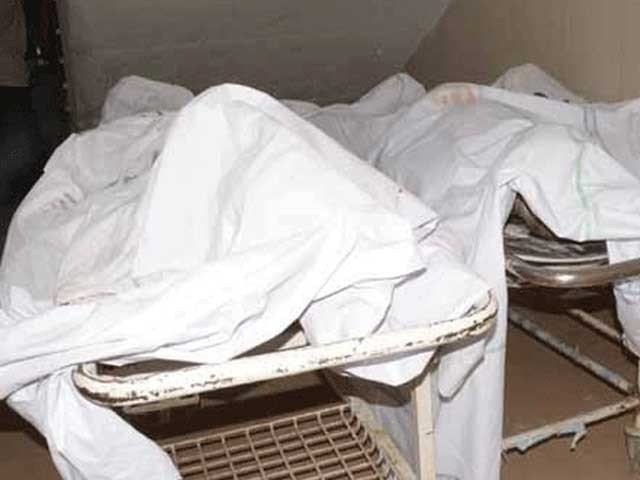 ---
QUETTA:
In another ruthless crime reported against minors, four children were killed by unidentified assailant(s) late on Monday night in the New Sariab area of ​​Quetta.
The children were reportedly found with their throats slit.
The father of the children, Attaullah, is employed as a junior clerk at the Directorate of Education and lived near the Ghulam Rasool Mengal Phatak in Sariab with his four children.
According to the police, the children, 10-year-old Aqsa, eight-year-old Zainullah, seven-year-old Kashmala, and five-year-old Hasnain, were home alone when the assailant struck.
Aqsa, Zainullah and Hasnain died on the spot, whereas Kashmala was severely wounded.
As per reports, the police was informed of the incident by a shopkeeper. The bodies of the deceased and injured children were taken to the hospital, whereas the house's domestic help was taken into custody for questioning.
Read Woman allegedly sets two children on fire in Mangamandi
Last month, a seven-year-old child was found dead on the outskirts of Peshawar.
Lodging a complaint with the local Rehman Baba Police Station, Masal Khan, resident of Achar village, stated that Abdul Azizi, seven, was his only male child. He was very fond of his uncle Najaf Khan and even slept with him every day.
"Abdul Aziz was with me during dinner after which I left for night prayers. I came back and slept soundly. Next morning (on Friday) I woke up early to offer prayers as per my daily routine
"When I reached home, children from the neighborhood told me that my son was lying dead in the graveyard. When I rushed there I saw him lying near the mosque in the graveyard. He had been shot," the father informed the police, saying he had no enmity with anyone and had no idea what happened to his son.
Talking to The Express Tribune, SP Waqar Khan said that the child was killed by a single bullet shot to his head. However, doctors confirmed that the child had not been raped prior to the murder.