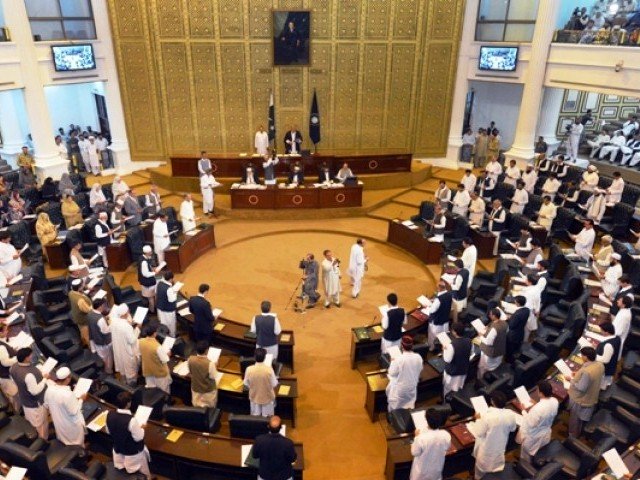 ---
PESHAWAR:
The annual budget deficit is likely to increase to an all-time high at Rs72 billion next fiscal year 2022-23 in the Khyber-Pakhtunkhwa province. As per the budget white paper of the provincial government this deficit is expected in the coming fiscal year and would put the government at a disadvantage as far as its Annual Development Program (ADP) and the development projects in ex-Fata are concerned. Talking to The Express Tribune official sources confirmed that the province was faced with a huge deficit for next fiscal year and this was yet another challenge for the PTI government in the province.
"In order to decrease this deficit the government is trying its best to consider all options including borrowing money from international donors," said the officials. The estimated revenue of the province stands at Rs871.70 billion while the expenses are at Rs944 billion, showing a huge deficit in the fiscal year 2022-23. "The province is faced with a shortfall of Rs72.29 billion which is the highest in its entire history which should worry the government," claimed the officials, adding that the K-P province faced a Rs28.87 billion shortfall back in the year 2018-19.
Read PM Imran terms food security Pakistan's biggest challenge
"In the fiscal year 2019- 20 the province presented a Rs900 billion budget in which the provincial expenses stood at Rs855 billion, showing a Rs45 billion surplus," they said, adding that in the fiscal year 2020-21 the government was able to present a balanced budget. "The white paper estimates a huge deficit which will ultimately impact the ADP reducing it from Rs221 billion to Rs209. This could also reduce the district ADPs from Rs44 billion to Rs39 billion," they added. "One thing that is worth mentioning is that revenue is less in the merged tribal districts and expenses are higher. Its revenue stands at Rs177 billion while the expenditures are estimated at Rs189 billion, showing yet another deficit at Rs12 billion," they said.
"These are estimates based on the previous years' data and are not final as budget is prepared after the transfer of funds from the federal government. The final budget is approved by the provincial cabinet. And once approved then it would be called the final one," they said, adding that Pakistan was in the middle of a severe financial crisis and it will also impact the province and the only relief will come in the shape of foreign loans which the center and the province both are seeking but loans are not the solution because the payment will have a negative impact in the future.