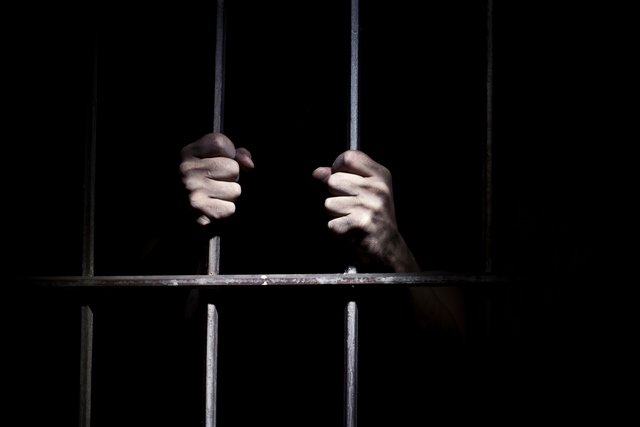 ---
RAWALPINDI:
As many as 11 staff members of Adiala Jail have been suspended following the incident of recovery of prohibited items from the inmates during a search operation conducted on Sunday, a spokesperson said.
All suspended officials have been directed to report to Inspector General Office in Lahore. The inquiry was launched after a brawl between two groups of inmates at the Adiala Jail hospital after which a grand search operation was launched. The police recovered cash and phone chargers along with other prohibited items from the possession of the inmates.
A team comprising three Deputy Inspector Generals (DIG) suggested disciplinary action against the staff members besides their suspension. In light of an inquiry report, Punjab Inspector General Jails suspended 11 jail officials, including two assistant superintendents identified as Aijaz Ahmed, deployed in Adiala Jail hospital Class-B and Zeeshan Cheema, who was recently transferred from Gujranwala Central Jail and deployed as Jail In-Charge Central Tower Block-3. The other officials suspended include head wardens Nasir Khan, Zulfiqar Ali, Sajid Yasin, Noor Amin, Yasir Afridi, Noorullah, Abid Mehmood, Waqar Bashir and Sohail Ahmed. Meanwhile, some 23 influential prisoners have been transferred to central jails of Mianwali, Faisalabad, Bhakkar and Attock.
Read Virus catches city police off guard in Lahore
These included Waqar Ahmed, Asad Javed, Tahir Butt, Noman Iqbal, Asif and a death row convict Raja Shahid Mehmood. Similarly, the convicts with life imprisonment, Raja Roidad Khan, Hakim Khan, Ikram Zeeshan, Sameer, Babar Ali Suleman, Naseer, and Sohail Masih have been moved to Mianwali Central Jail. Moreover, under the Extradition Act, convicts Abdul Kareem, Asif, Abdul Waheed, Muhammad Zubair, Sheikh Ahsan and Rahimzada have been transferred to Central Jail Attock.
In this regard, Rawalpindi DIG Jails Malik Shaukat Feroze confirmed to The Express Tribune that 11 officials of Adiala Jail have been directed to report to the IG office while inmates have also been transferred to different central jail over security reasons. On Sunday, A British Pakistani inmate sent photos to his father of wounds he sustained in a scuffle between two groups in Adiala Jail hospital, which resulted in an inquiry into jail protocols as the recipient forwarded the pictures to high government officials.
A search operation led by Feroze, Faisalabad DIG Saeedullah Gondal and Sahiwal DIG Jail Muhammad Kamran was conducted along with 150 personnel during which a number of prohibited items and gadgets were recovered.
COMMENTS
Comments are moderated and generally will be posted if they are on-topic and not abusive.
For more information, please see our Comments FAQ