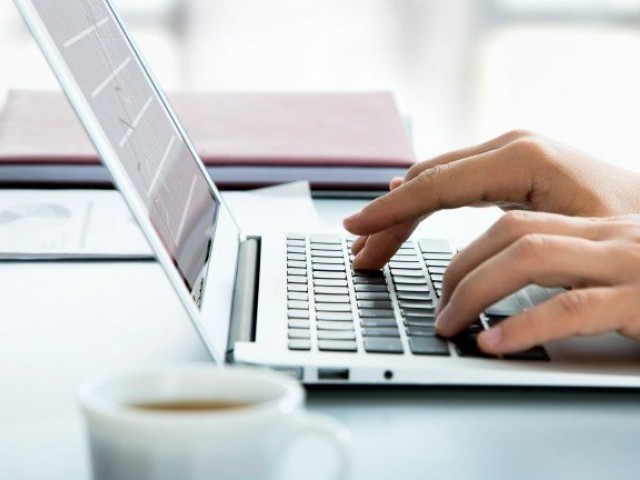 ---
KARACHI:
The pace of digitalisation has never been this fast – yet it'll never be this slow again!
If we take stock of the past decade and a half, film cameras existed but were slowly being taken over by digital cameras, there was no concept of online learning and internet wasn't the most trusted source for shopping.
Digitalisation started in the 1950s with the traditional computer and it took over 40 years to launch the worldwide web. Since then the pace has seen an upward trajectory and brought the world closer with quick reach to information and resources from any nook and corner of the world.
Our lifestyles have evolved over time and the underlying reason for that is the evolution of the way we communicate, work and govern. The riptides of digitalisation emanating from tech giants have engulfed all of the humanity.
I recall, staying in touch with the family living abroad back in the day used to be an experience requiring heaps of patience with most of the communication happening through letters and receiving and placing international calls through operators, which would cost an arm and a leg.
Today, it's all different – when we meet our nephews and nieces living away from us, we don't wonder anymore how they've grown, because we're connected with them all the time. The world is shrinking and an increase in information and easy communication has opened up limitless opportunities and possibilities to explore.
The way we travel, educate and manage our health along with many other things has transformed with the evolution of how we communicate. This has transitioned us from the age of industry to the age of information.
Today, we have smartphones and a multibillion-dollar industry in the form of apps and software, which is an entirely new stream that originated in the 21st century. These new streams emerging from digitalisation are just getting started!
Many years ago, there was no concept of remote working, however, today it has become a reality, especially with the past year pushing even those with limitations to yearn for more digital access to their work.
The integration of digital mediums into the workplace has made organisations more diverse, inclusive, innovative and efficient.
In this age of knowledge economy, skillsets are fast evolving and it is crucial for today's workforce to continue upskilling and soaking in all the knowledge and information they can find relevant to their streams. Where the future of work offers great autonomy, it also places and transfers greater responsibility to individuals.
The technological transformation we have witnessed in the past decade and a half is just the starting point. Extensive work has already started on a storm of technologies that will define the future and open even greater avenues.
Artificial Intelligence (AI) and Internet of Things (IoT) are emerging as the game changers in impacting the way businesses will operate. These intelligent technologies are data extensive and can improve efficiency, enhance risk management and make operational forecasts with heightened accuracy.
The basis of the future of digitalisation depends on how digitally well-equipped (read: connected) the masses are. Be it inventions in medicine, alternative farming techniques or autonomous vehicles, these technologies can exist and thrive only if there is an extensive digital ecosystem to sustain them.
Technology is going through a massive growth spurt that is expected to grow exponentially in the coming years. It is during this phase of growth that it is necessary to create a conducive business environment through regulations and policies that accelerates the pace of development and jet starts a sustainable future for the coming generations.
It has been 16 years of Telenor's journey in Pakistan and together we have seen digital advances in the way we communicate, operate and make transactions. Here's to the next decade and a half of digitally uplifting the society, supporting new technological streams and creating a sustainable future.
The writer is the CEO of Telenor Pakistan, Chairman Telenor Microfinance Bank and President of OICCI 2018-19. He holds a Master's degree in Mobile and Personal Communications from University of Westminster London UK
Published in The Express Tribune, March 15th, 2021.
Like Business on Facebook, follow @TribuneBiz on Twitter to stay informed and join in the conversation.