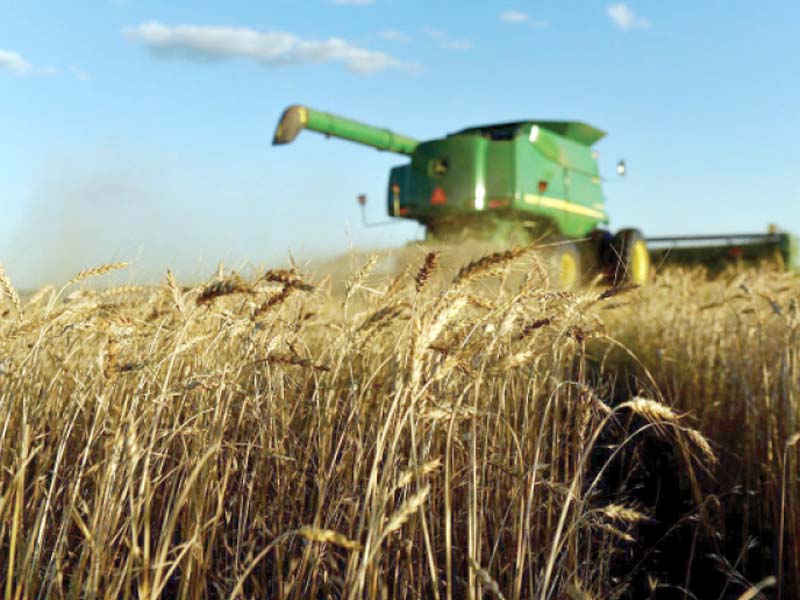 ---
KARACHI:
The business community has urged the government to accelerate agriculture growth by focusing on enhancing the per acre yield because import of just three main crops cost nearly $2 billion in foreign payments from July-February of the ongoing fiscal year.
Due to a drop in local production of wheat, cotton and sugar, the country had to import these commodities at a price of $1.95 billion, which placed additional burden on the current account, said Federation of Pakistan Chamber of Commerce and Industry (FPCCI) former president Mian Anjum Nisar.
In comments to The Express Tribune on Saturday, he said that Pakistan could reduce its import bill by uplifting agricultural production.
"The government should take immediate measures to curb cost of production in the agriculture sector to ensure food security through enhanced per acre yield," he stressed. "Due to lower produce of just three major crops, the import payments surged significantly."
Read: Agri sector expected to report modest growth
Nisar said that Pakistan's population was ballooning and it was imperative to raise agricultural production.
Giving recommendations on how to reduce the cost of production, he directed the government to support farmers in purchase of machinery, fertilisers, pesticides and other inputs.
"Infrastructure should also be developed to ensure farm-to-market access," he said. "The leadership should formulate a sustainable agriculture policy to ensure food security in the country."
Due to an alarming plunge in cotton production, Pakistan would need to import seven million bales worth $4 billion. He lamented that recently, cotton production of the country touched 30-year low in terms of volume.
"Government should take practical steps to increase cotton production in the country," Nisar emphasised.
After the 18th amendment, agriculture became a provincial subject, however, Sindh and Punjab seem inattentive towards increasing output given that they have not taken any positive steps so far, he said.
Nisar voiced fear that negligence of agriculture sector could lead the country towards a severe food crises and shortage of essential food items would increase inflation.
"Seed is the basic input for the agriculture sector and plays an imperative role in raising productivity," he said. "The world is focusing on the use of certified seed for enhancing agriculture productivity due to better profitability and international recognition."
Read more: Minister censures Centre over agriculture policies
He said that technology and farm mechanisation can accelerate the growth of agriculture sector. Since all the economic indicators are moving in a positive direction, the government should now divert its attention towards giving the benefit of this improvement to the general public, he added.
Endorsing his views, Pakistan Industrial and Traders Associations Front Chairman Mian Nauman Kabir said lack of investment in agriculture research, poor governance, bad planning and climate change have resulted in shortage of wheat, sugar and cotton.
FPCCI Senior Vice President Shahzeb Akram said that Pakistan's food security depends on production of essential crops that provide basic food and input for industrial production, however, the current performance of the agriculture sector does not guarantee self-sufficiency.
Published in The Express Tribune, March 14th, 2021.
Like Business on Facebook, follow @TribuneBiz on Twitter to stay informed and join in the conversation.
COMMENTS
Comments are moderated and generally will be posted if they are on-topic and not abusive.
For more information, please see our Comments FAQ