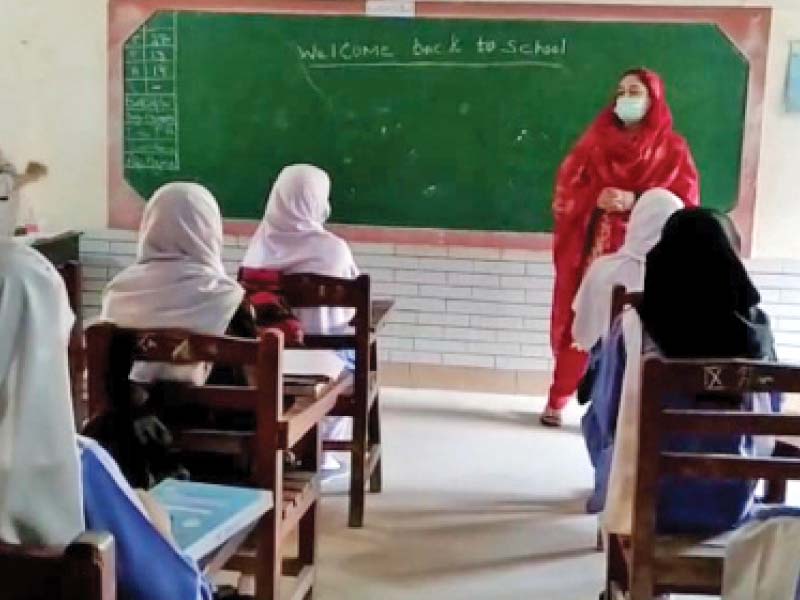 ---
PESHAWAR:
The Khyber-Pakhtunkhwa government has shut down schools, seminaries and tuition centers from March 15 till March 28 in view of rising coronavirus cases in the province.
Earlier, Federal Minister for Planning, Development, Reforms and Special Initiatives Asad Umar confirmed that the third wave of Covid-19 has started in the country. He attributed the rising number of cases to the United Kingdom virus strain. "Yes, there is no doubt that the third wave has started and basically, the phenomena that's driving it is the spread of the UK strain," Umar said while talking to a private news channel. When asked whether a third wave of the virus has started with the surge in the cases, Umar said that the uptick in cases was witnessed in districts where a large portion of the Pakistan British community lives.
Read Country records over 2,200 Covid-19 cases for first time since Jan 20
A notification issued on Friday by the K-P government ordered teachers and other staff to attend their schools and duties according to the standard operating procedures as devised by the government. It further warned that any negligence from citizens in this regard would be dealt with harshly. On the other hand, the Higher Education Commission has also issued directives of closure of school from the aforementioned dates while colleges and universities are allowed to operate with 50 per cent attendance in the provincial capital
The principals and administrators were also directed to observe all the SOPs themselves apart from making sure that all faculty members were observing and implementing them. Sources familiar with the matter said that the National Command Control Center (NCOC) is closely observing the trends of the prevailing coronavirus.
There is a high probability that NCOC might take tougher decisions over the next few days to control the virus spread. Earlier this week, the decisions to reopen marriage halls, cinemas and indoor dining on March 15 were also reversed. The total closure of colleges and universities will be announced after NCOC makes a final decision.