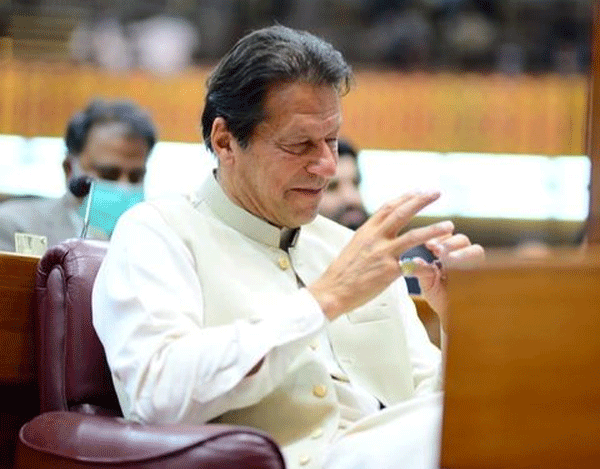 ---
Soon after the election of the ruling coalition's candidate, congratulatory messages have started pouring in after Sadiq Sanjrani re-elected as Senate chairman, defeating former prime minister and Pakistan Democratic Movement's (PDM) candidate Yousuf Raza Gilani.
Ninety-eight senators from the upper house of parliament exercised their right to vote today. Sanjrani received 48 votes while his opponent Gilani could only manage 42. Seven votes were rejected.
Addressing the media outside parliament, information minister Shibli Faraz came down hard on the combined opposition, saying: "They [opposition] are people who have manipulated law and did everything for the sake of money. They have mastered corrupt practices… but, despite all this they have met defeat and insult today".
"Today, they staged the drama of cameras. The votes that have been rejected can be re-checked through the screen footages."
Shibli said the government will conduct an inquiry into the "drama they staged and in which they failed". "They should be ashamed to have staged such propaganda," he said, adding, "The PPP has backstabbed PML-N.… the drama of cameras was staged by them. We have only used legal and moral measures to win today's elections."
Speaker National Assembly Asad Qaiser congratulated Sajrani on his Twitter handle soon after the results were announced.
Congratulations to Sadiq Sanjrani on being elected as Chairman Senate

— Asad Qaiser (@AsadQaiserPTI) March 12, 2021
Federal Minister for Planning and Development Asad Umar, while felicitating Sajrani, said that he has run the Senate well in the past and hoped that he will continue the good work in future.
صادق سنجرانی کو ایک دفعہ پھر سینیٹ چئیرمین منتخب ہونے پر مبارکباد. انہوں نے پہلے بھی سینیٹ کو احسن طریقے سے چلایا تھا اور امید ہے آئندہ بھی ایسے ہی کریں گے. بلوچستان زندہ باد، پاکستان پائندہ باد

— Asad Umar (@Asad_Umar) March 12, 2021
Speaking on the occasion, PTI Senator Faisal Javed said: "It is not only the victory of Sadiq Sanjrani, it is the victory of the whole of Balochistan.
"Today, the nation has to make a choice between two; one is [Prime Minister] Imran Khan, who does not want to mint money, and the second is the gang of corrupt and those who want to mint money."
The people have rejected the PDM, he said, because they would not save the corrupt.
"The PDM has been defeated and the PML-N is sent packing... Insha Allah we will also win the election of deputy chairman."
He also termed the results a victory of PM Imran and the people of Pakistan.
"This victory belongs to the whole Nation. Thanks for your prayers," he wrote on his official Twitter handle.
Alhamdulillah!!! Pakistan has won!!
Imran Khan has won!! Awam has won!!! Corruption has been defeated.... This victory belongs to the whole Nation. Thanks for your prayers!!!!!

— Faisal Javed Khan (@FaisalJavedKhan) March 12, 2021
Member of National Assembly Andleeb Abbas said that the doors of corruption in the highest public office are closed at least this time.
Chief Minister Punjab Usman Buzdar, taking jab at the opposition, said that those who offered money were defeated yet against despite their best efforts.
بولیاں لگانے والوں کو سر توڑ کوشش کے باوجود ایک بار پھر شکست ہوئی۔

صادق سنجرانی صاحب کے ایوان بالا کا چئیرمین منتخب ہونے پر اتحادیوں اور پاکستان تحریک انصاف کو مبارکباد!

— Usman Buzdar (@UsmanAKBuzdar) March 12, 2021
Special Assistant to the PM for Overseas Pakistanis Zulfi Bukhari lauded the "clear and loud victory of Imran Khan"
Congratulations to Sadiq Sanjarani for being re-elected as Chairman Senate.

Clear & loud victory for PM @ImranKhanPTI , Allah humesha naik niyaton key saath hota hai !

— Sayed Z Bukhari (@sayedzbukhari) March 12, 2021
COMMENTS
Comments are moderated and generally will be posted if they are on-topic and not abusive.
For more information, please see our Comments FAQ