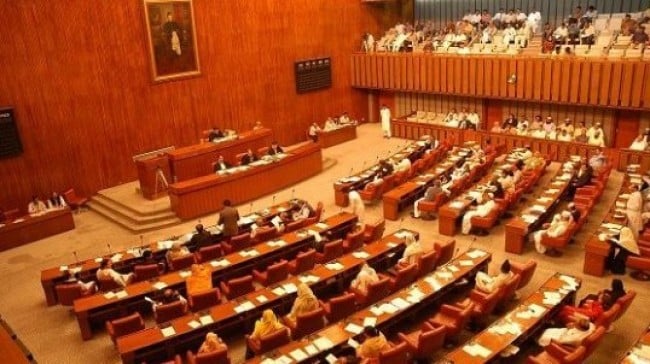 ---
ISLAMABAD:
Considering the rise in number of people affected by the coronavirus across the country, Senate Secretariat has formulated a strategy based on precautionary measures for oath taking ceremony of newly-elected members of the Senate and the election process for the top slots of the upper house of parliament.
Under the agenda, the standard operating procedures (SOPs) issued by the government would be strictly followed to curb the spread of the virus and the entry of guests inside the Parliament building would be restricted.
According to the directions, the newly-elected members of senate will be able to bring only one guest after issuance of cards in advance, while unnecessary gatherings will not be allowed inside the building.
Similarly, for media personnel additional session cards will not be issued as the cards earlier issued under SOPs will be valid for the session.
Earlier, the Senate and National Assembly Secretariats in consultation with the Press Information Department and the Parliamentary Reporters Association unanimously developed SOPs to deal with the coronavirus pandemic.
In the current situation, the SOPs would be strictly followed so that individuals and groups could play role in preventing the spread of the epidemic.
In a statement issued by the Senate Secretariat, it said that although a large number of people wanted to attend the swearing-in ceremony, some difficult decisions had to be made in view of the situation arising at the national level due to the pandemic.
COMMENTS
Comments are moderated and generally will be posted if they are on-topic and not abusive.
For more information, please see our Comments FAQ