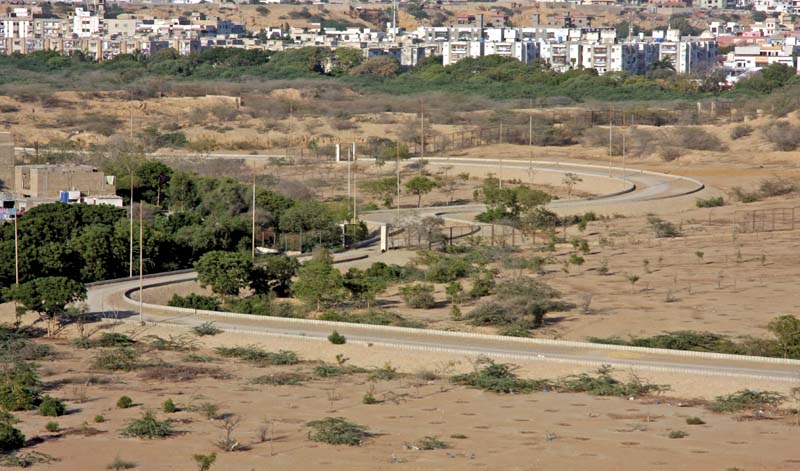 ---
KHUSHAB:
Punjab's third-largest and Sargodha division's first safari park was in disrepair due to a lack of government funding.
The fences and buildings of the safari park, which was built with grants of millions of rupees, were in a dilapidated condition. Reportedly, the park was last repaired due to the instructions and personal interest of former provincial forest minister Malik Asif Bhai. A zebra and a llama had died due to lack of proper care.
The safari park was deprived of fresh water due to improper selection of location. Fresh water was ordered from outside which is not sufficient. The contractor was given complete bills due to which it could not be handed over to the wildlife department.
Social activist Malik Mohammad Ijaz Mahil told The Express Tribune that the safari park was built to entertain the people of Joharabad, Khushab district. "This safari park is the third largest in Punjab and the first in Sargodha division. It covers 60 acres and its construction started in 2015 at a cost of Rs330 million."
Read more: Safari Park welcomes young residents
The park was to be completed in 2017 but it had not been inaugurated or completed to date, he added. "Inauguration dates have been given by the government several times but so far there has been no progress on the pretext of non-availability of funds."
Syed Asad Kazmi, a resident of Joharabad, said that the fences and boards of the park were broken and tall wild grass and herbs had grown. He further said that due to poor strategy of the district administration, animals and birds worth hundreds of thousands of rupees were initially placed in the unfinished safari park. "In Phase 1, four zebras, four llamas, six ostriches, one aryal, Holland's ducks and other beautiful birds were brought in.
However, not the animals are suffering due to starvation and a lack of proper care."
It is unfortunate that the government does not have enough funds to feed the animals and birds, he added. "Deductions are being made from the salaries of the hunting department for food and care which is unfair to employees."
Qalandar Abbas, a local resident, said that Joharabad city was built in 1950 as per the plan. "The city was declared an industrial estate in 1960. Joharabad is also known as the city of parks. However, all the parks, especially the safari parks, have been ruined due to the government's negligence and lack of funding."
People come from far areas to the safari park and return with disappointment, he claimed.
He demanded Punjab Chief Minister Sardar Usman Buzdar, Prime Minister Imran Khan, local MNAs and MPAs to immediately release funds so that construction and repair of safari park and provision of food for animals could be arranged.
Social figure Malik Qadeer Awan said that with the onset of summer, if proper feeding and care of animals and birds had not been done, more animals were likely going to die. He argued that the government is announcing funds for new projects but it was unreasonable to ignore this big project.
As per the details, in 2016, 40 employees were hired on contract to maintain the safari park. They were not paid their salaries on the pretext of funds and were dismissed.
Awan further said that the location of the safari park was wrong because the water in the area was bitter. "Fresh water has to be procured from outside or it is provided from a water supply which is not enough for animals or wild employees."
Engineer Faqir Hussain, in-charge of Shadab Construction Company, which took over the construction of the safari park, stated, "Our bills of Rs13.2 million have been unpaid. Apart from this, work of Rs.1.3 million has been done and further work of Rs0.8 million are underway."
When Phase 1 was started as it was a forest but the site was not cleared as it was owned by the forest department, he added.
The Department of Forests and Wildlife gave us less funds on which construction was last done in February 2017. "Around Rs15 million worth of work is left which could not be completed by the previous fixed date of April 3, 2017, due to which the project was delayed."
Published in The Express Tribune, March 9th, 2021.