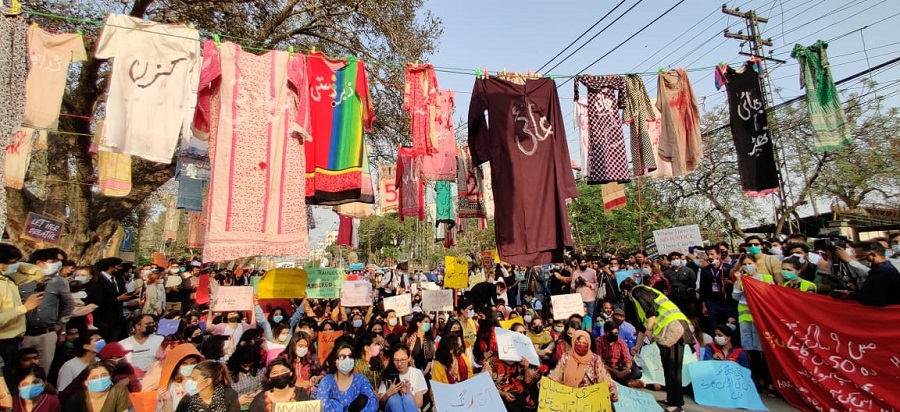 ---
ISLAMABAD/ HYDERABAD/ KARACHI/ LAHORE:
A large number of women took to the streets today as part of the Aurat March(es) being held across the country to mark the International Women's Day.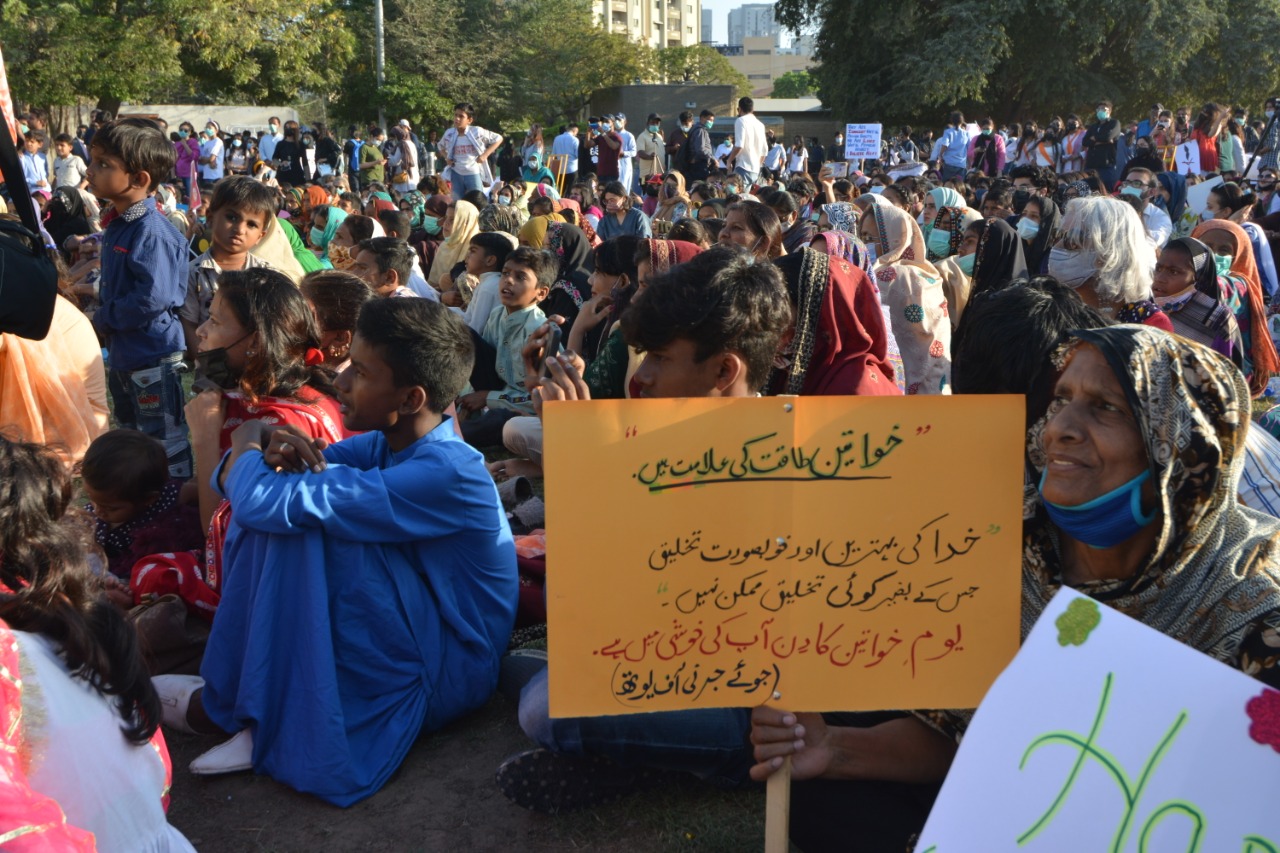 The purpose of the public gatherings was to highlight the plight of womenfolk in the Pakistani society.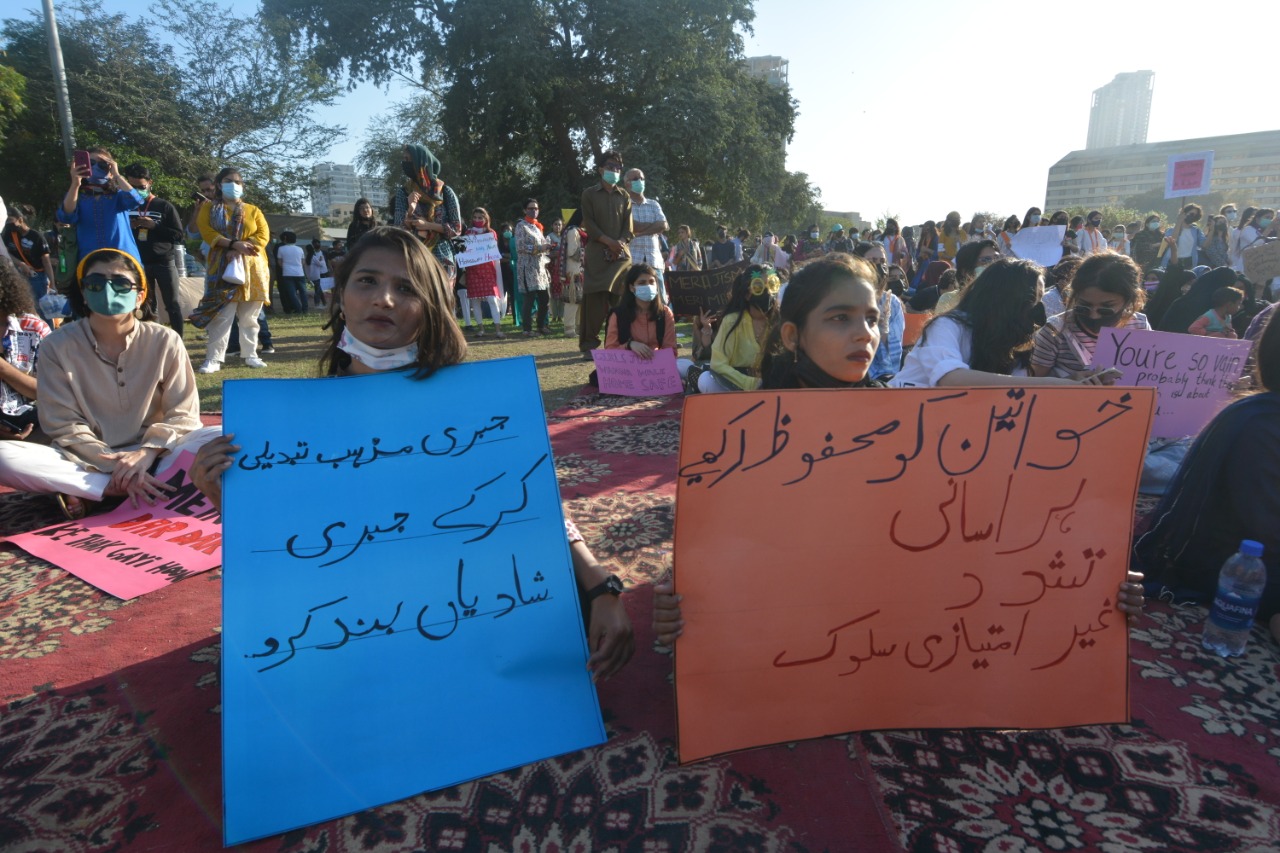 The first ever Aurat March was held in Karachi in 2018, that was later extended to other cities, including Lahore, Faisalabad, Larkana, Multan and Hyderabad. Keeping up with the tradition, these cities and several others are holding rallies dedicated to womens' issues this year too.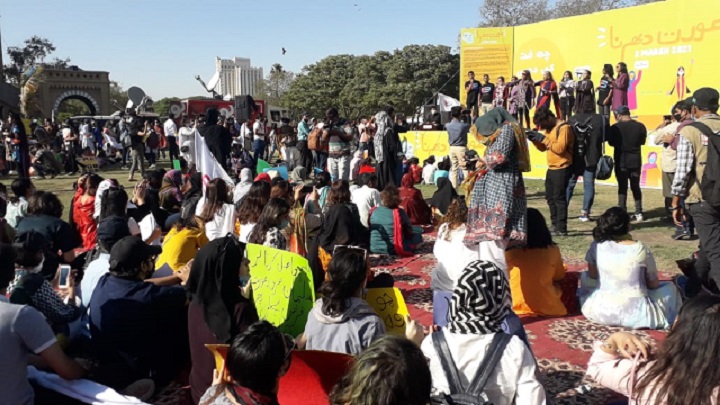 The main event in Karachi was held at Frere Hall amid strict guidelines issued to the participants to stay safe from coronavirus, including obseving social distancing. The Organisers also took measures to broadcast the event live in consideration of those who could not physically attend it.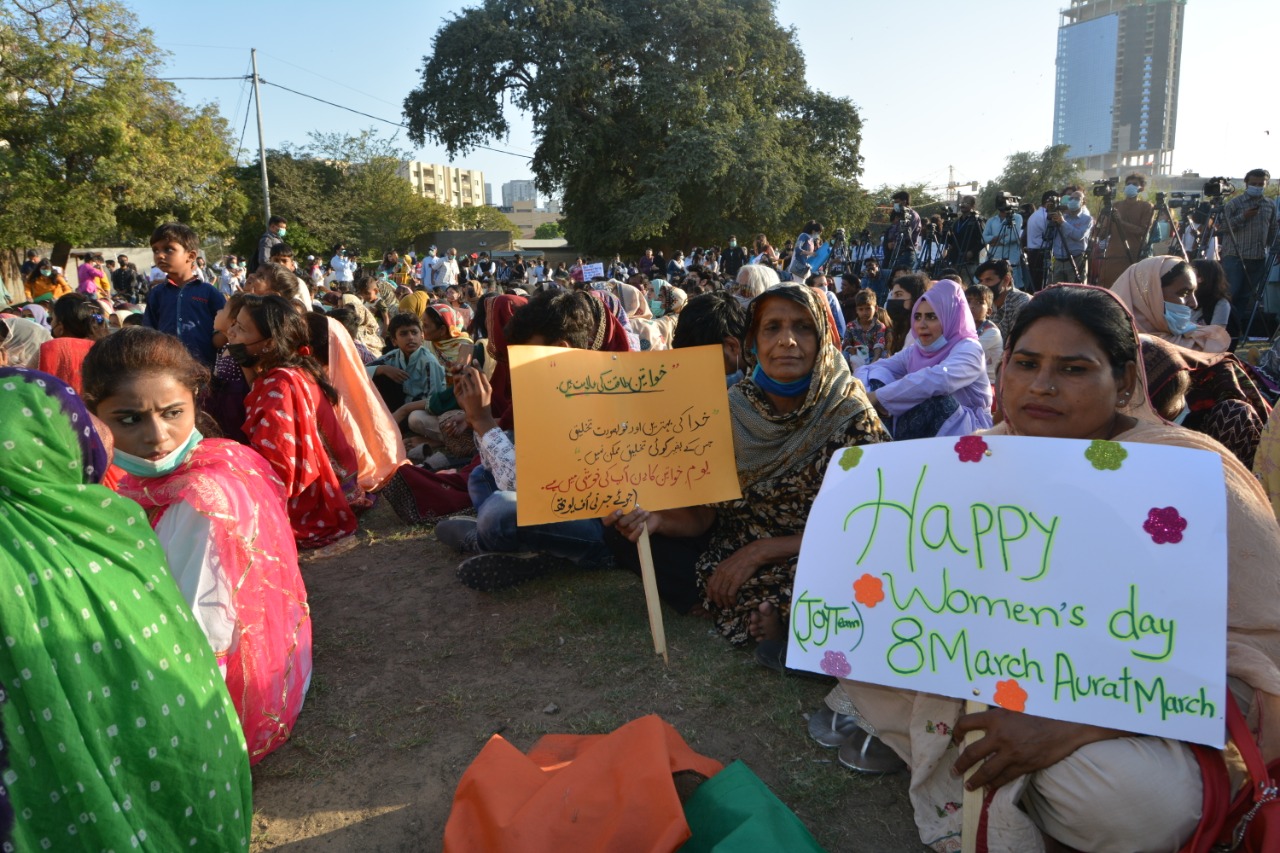 Likewise, in Lahore, the march commenced from Lahore Press Club, culminating at the Punjab Assembly.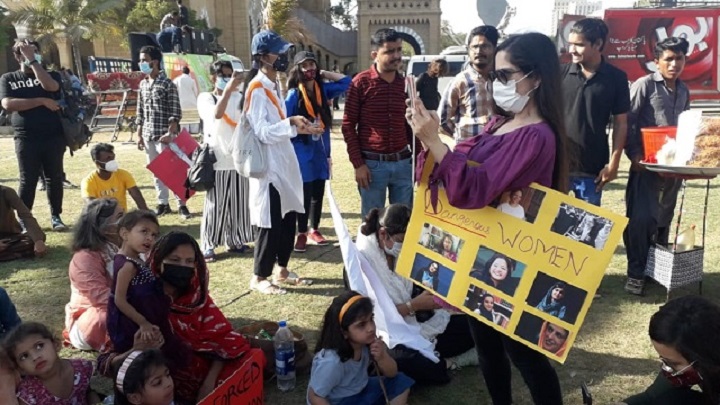 The organisers in the city put a "#MeToo blanket" on display, wherein women shared their experiences related to sexual abuse.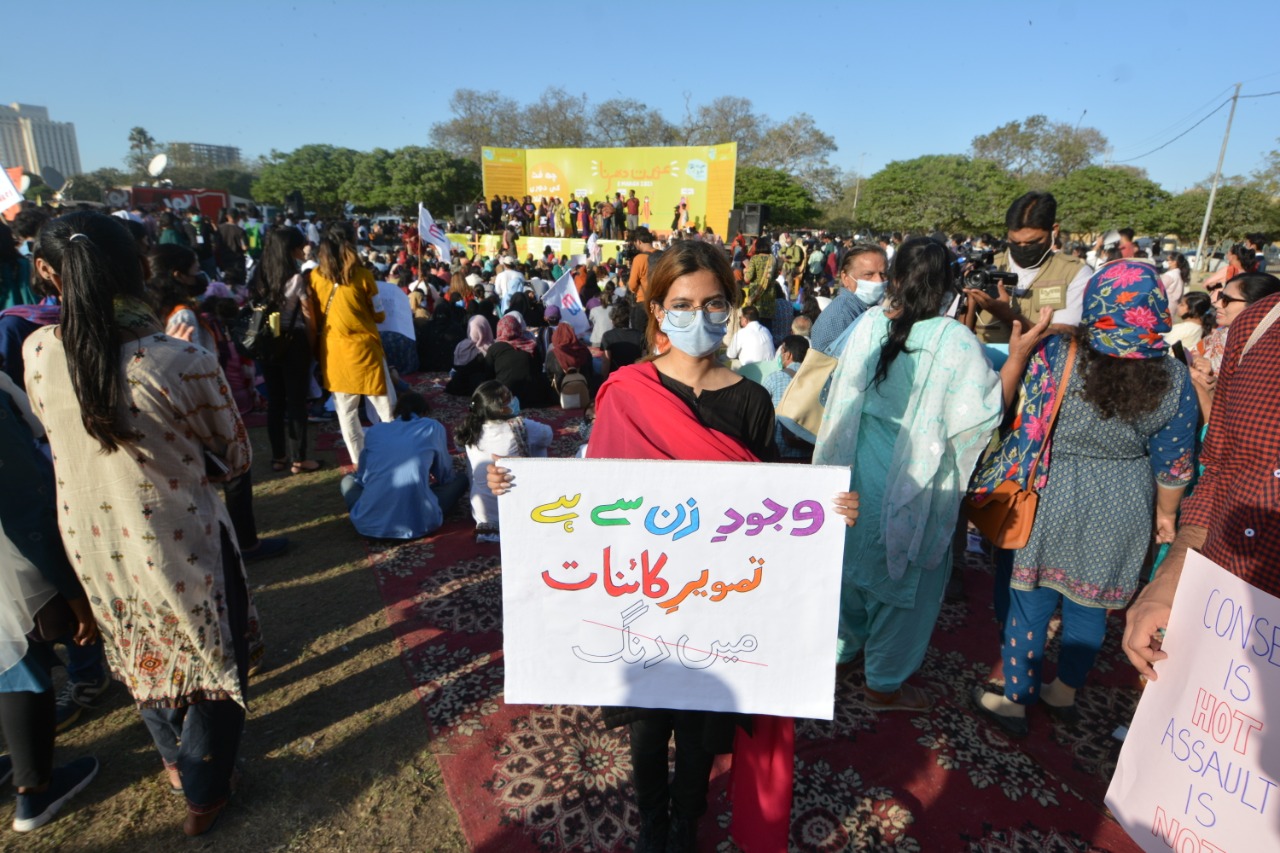 Read Suturing inequalities: Aurat March '21 and what it will entail
While the manifestos of all the chapters of the movement have some common demands, many have chosen to commemorate the day with separate themes.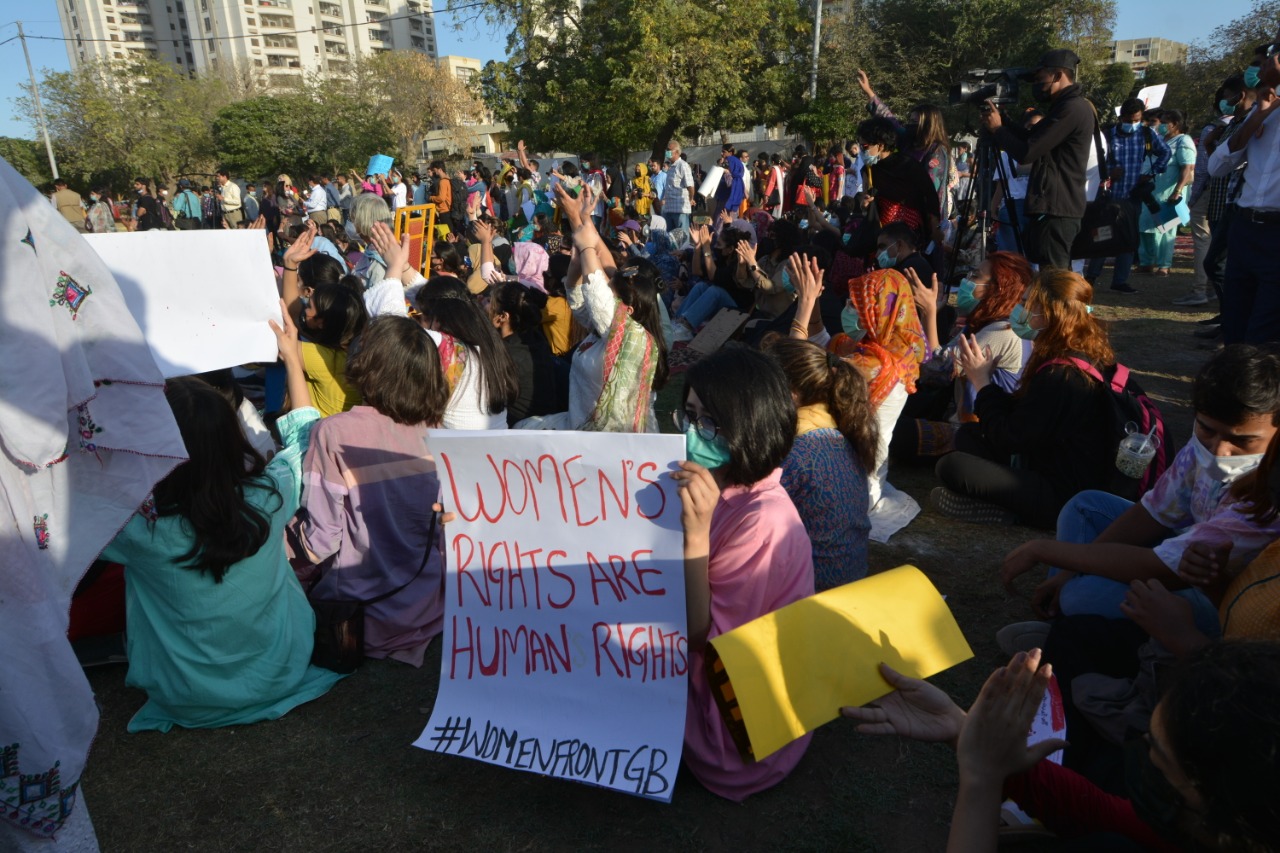 In Karachi, the focus is on patriarchal violence while in Lahore, emphasis has been laid on addressing the concerns of the healthcare workers and womens' health in general. Similarly, women in Islamabad are also highlighting the crisis of care.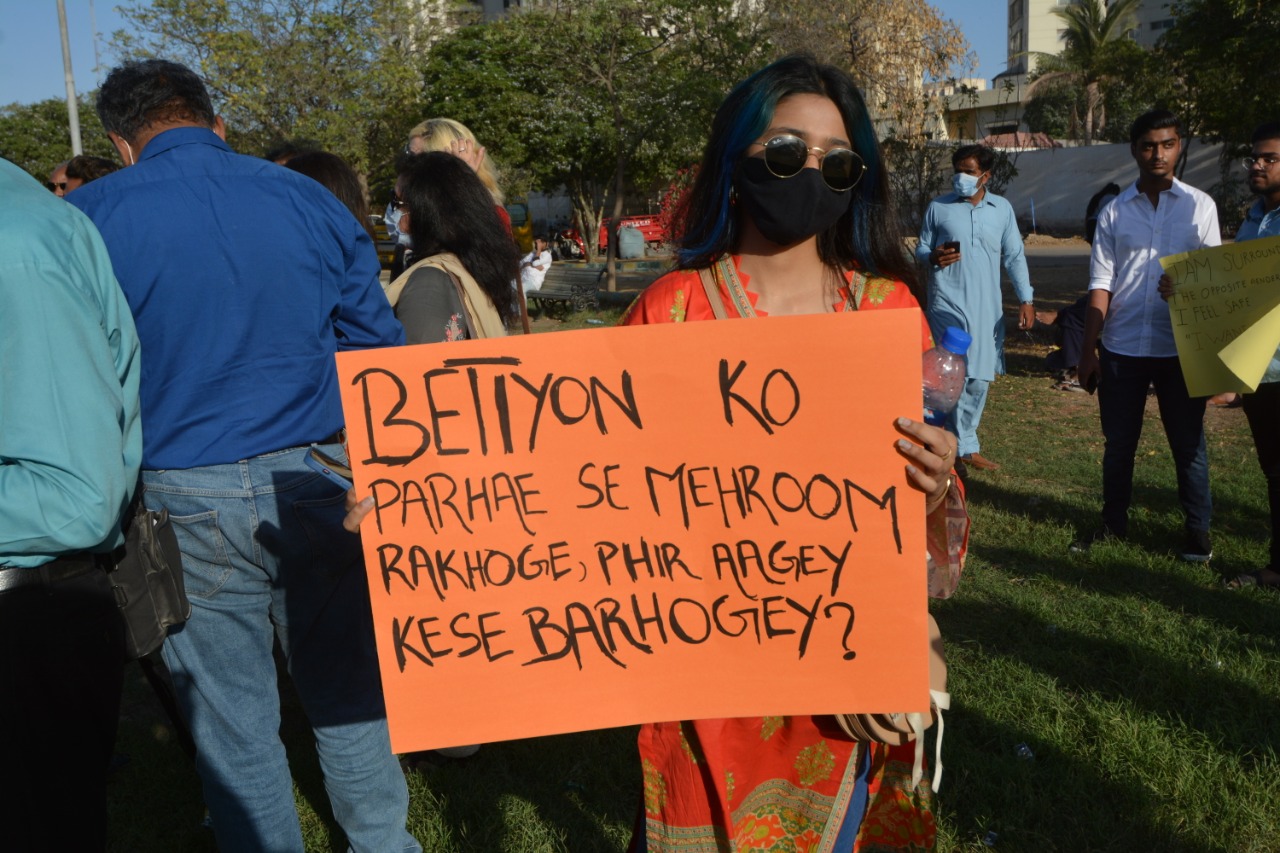 The collective demands include "end to gender-based violence by patriarchal forces as well as state-backed violence targeting activists, religious groups and communities and effective and transparent investigation of gender-based crimes and fair and expeditious trials".
The participants are also demanding criminalisation of virginity tests for victims of rape, setting up of gender-based cells to report violence in police stations, and bringing an end to sexual harassment.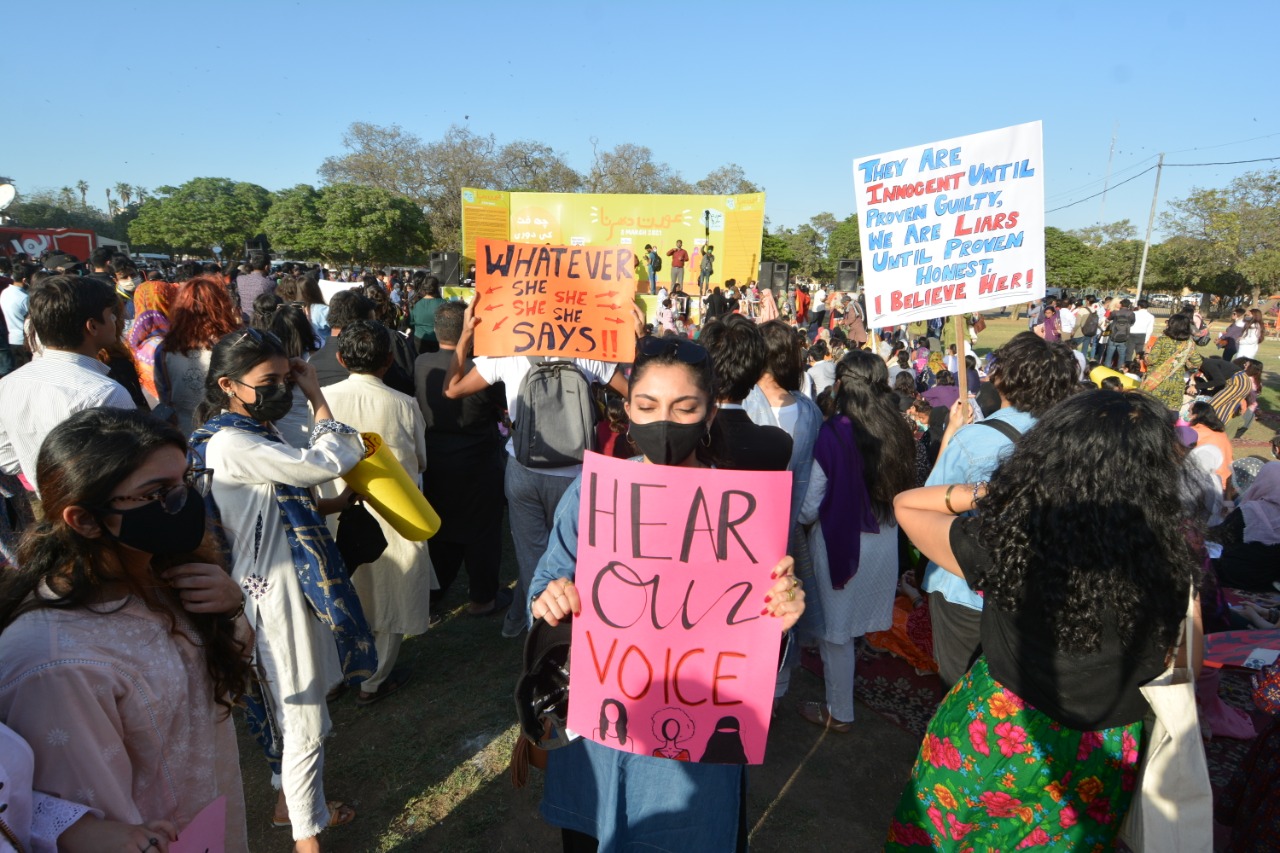 The Lahore chapter has stressed the need for providing equal healthcare opportunities to women, and aiding those suffering from various diseases, such as HIV AIDS.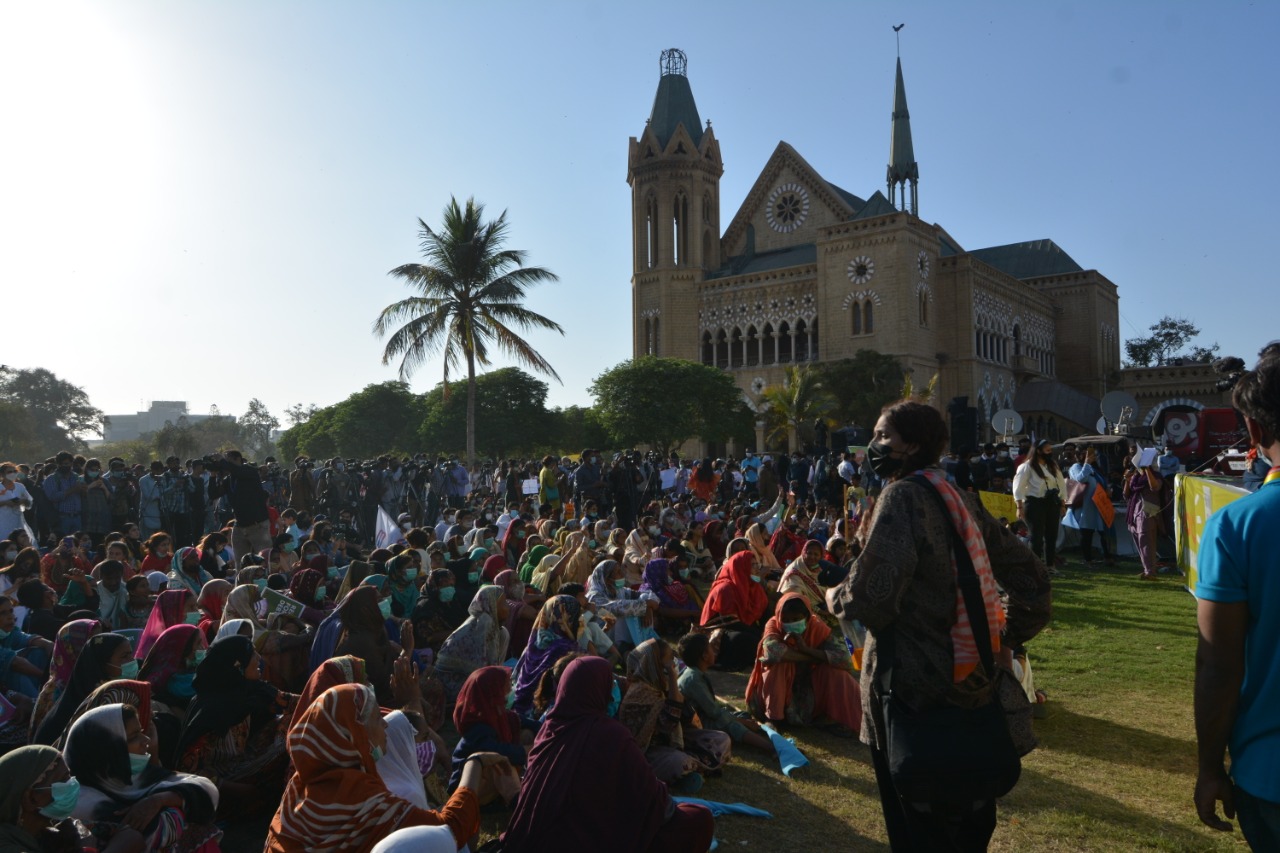 Politicians express solidarity
Meanwhile, notable personalities and politicians took to Twitter to express solidarity with the women marchers.
"Pakistani women contributed immensely 4 glory & honour of our nation. They are also @ forefront against COVID. Women in uniform have proved their mettle by contributing copiously in diverse fields serving the nation & humanity. They deserve our immense respect & gratitude" COAS

— DG ISPR (@OfficialDGISPR) March 8, 2021
معاشرے کو مہذب اور روشن خیال بنانے کےلئےخواتین کو بااختیار بنانا لازم ہے۔خواتین کو ترقی کے مساوی مواقع اور حقوق کی یقینی فراہمی سے معاشرے میں طاقتور اور محفوظ بنانا ہمارا پختہ عزم ہے۔ انفورسمنٹ آف ویمن پراپرٹی رائٹس خواتین کے وراثتی حقوق کو یقینی بنانے میں ممد و معاون ثابت ہوگا۔

— Senator Shibli Faraz (@shiblifaraz) March 8, 2021
A society without empowered women becomes dysfunctional. I dream of a Pakistan where women excel in every field and play leading roles. #InternationalWomensDay

— Maryam Nawaz Sharif (@MaryamNSharif) March 8, 2021
On this women's day I first pay homage to my late mother whose caring and prayers made everything possible and then to all the women who enrich my life; my wife, my daughters, my sisters, my colleagues at work and in politics/media. Thank you for making the world a better place

— Shafqat Mahmood (@Shafqat_Mahmood) March 8, 2021
On this #womensday2021 I want to urge all the girls there go for Science subjects change your destiny and change this Nations destiny, stay blessed .... more power to you

— Ch Fawad Hussain (@fawadchaudhry) March 8, 2021
Respect means respecting their liberty of making choices.

Let's encourage women of our families.

We as a society badly need educated, confident & courageous women.

AND

NO means NO #InternationalWomensDay

— Faisal Subzwari (@faisalsubzwari) March 8, 2021