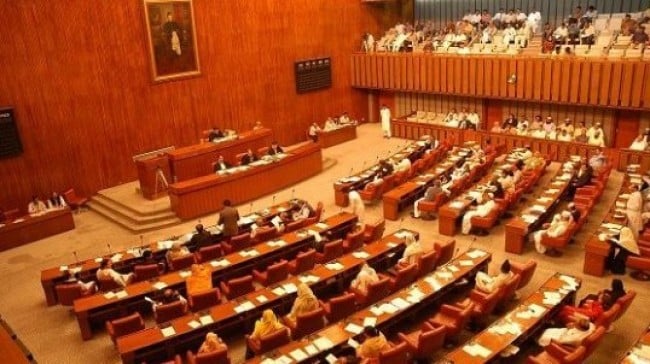 ---
PESHAWAR:
Opposition parties under the banner of Pakistan Democratic Movement (PDM) failed to show up a united front in the Senate elections and the result is evident as both the Pakistan Peoples Party (PPP) and Pakistan Muslim League-Nawaz (PML-N) failed to secure a seat along with Jamaat Islami (JI).
PDM had initially decided to field four candidates – two on general seats, one on technocrat seat and one on women seat.
Jamiat Ulma-e-Islam Fazal (JUI-F) was supposed to get one general seat, Awami National Party (ANP) one general seat due to the large number of their MPAs, Pakistan Peoples Party (PPP) technocrat seat and the women seat was supposed to go to PML-N.
PML-N, however, introduced its candidate Abbas Afridi and demanded a general seat for him after which all the parties decided to go their own way.
PPP's provincial president Humayun Khan, however, saved the day by inviting all the parties to his residence, including Jamat Islami, for a meeting. The allies reached an agreement after which the PML-N candidate was also adjusted and the women's seat was given to JI.
In Thursday's polls, however, PPP's Farhatullah Babar and PML-N's Abass Afridi both lost. Farhatullah Babar secured votes fewer than the PDM's woman candidate.
"JUI-F's Maulana Attaur Rehman got all the votes of the party's MPAs while ANP's Hidayatullah was able to get four votes of other parties making him victorious. But Farhatullah Babar's case is suspicious as he did not get all party votes," said an official of PDM while talking to The Express Tribune, adding that Abbas Afridi also failed to get the PDM votes and he only got seven votes of his party and four additional votes.
Maulana Attaur Rehman got 15 votes of his party and Hidayatur Rehman got 12 votes of ANP and four more votes to win his seat. Out of these, three votes possibly came from JI.
"There are chances that the ruling party provided some sort of support to these two winning candidates helping them win their seats," he said.
Farhatullah Babar got only 34 votes while JI's Inayat Begum got 36 votes. For the minority seat JUI-F and ANP supported their own candidates but JUI-F's Sardar Ranjit Singh was able to get 10 additional votes too.
"Opposition failed to show up a united front and one strategy because PML-N was more than confident that its candidate will win and this is the end product that out of their five candidates they got only two seats," said the official.
Published in The Express Tribune, March 5th, 2021.
COMMENTS
Comments are moderated and generally will be posted if they are on-topic and not abusive.
For more information, please see our Comments FAQ