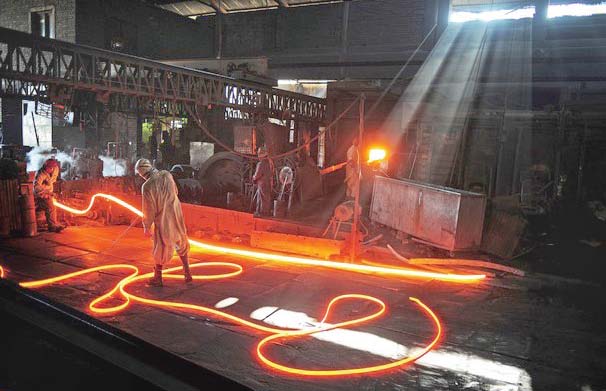 ---
ISLAMABAD:
Federal Minister for Privatization Mohammadmian Soomro has instructed the relevant authorities to take timely measures for revival of the country's largest industrial unit, the Pakistan Steel Mills (PSM).
"All the relevant ministries and departments are cooperating for the revival of the PSM," Soomro said on Wednesday while co-chairing – along with the Minister for Industries Hammad Azhar – an inter-ministerial weekly progress review meeting on the PSM.
According to a statement issued by the Ministry for Privatization, federal secretary for privatization, additional secretary industries and production and top officials of the PSM attended the meeting.
The PSM's chairman, the Port Qasim Authority (PQA) chairman and federal secretary for industries also participated in the confab through the video link.
The meeting discussed in detail the procedure to pay back the bank loans and utility bills outstanding against the industrial unit. It also discussed the proposal to use a corridor between the PSM and the Port Qasim Authority as well as a jetty to move the raw material as well as finished products.
It also pored over formation of a subsidiary organization of the PSM; carving out of the key operating assets (KoA) and the core land and the fair market valuation (FMV) of the plant and machinery.
The inter-ministerial meeting also deliberated on the PSM's stock-in-trade, bifurcation and certification of the KoA and completion of the audit of the plant's financial statements up to December 31, 2020.
The participants also weighed the proposal for renewal and transfer of utility connections to the new subsidiary and payment of the Sui Southern Gas Company's (SSGA) dues.