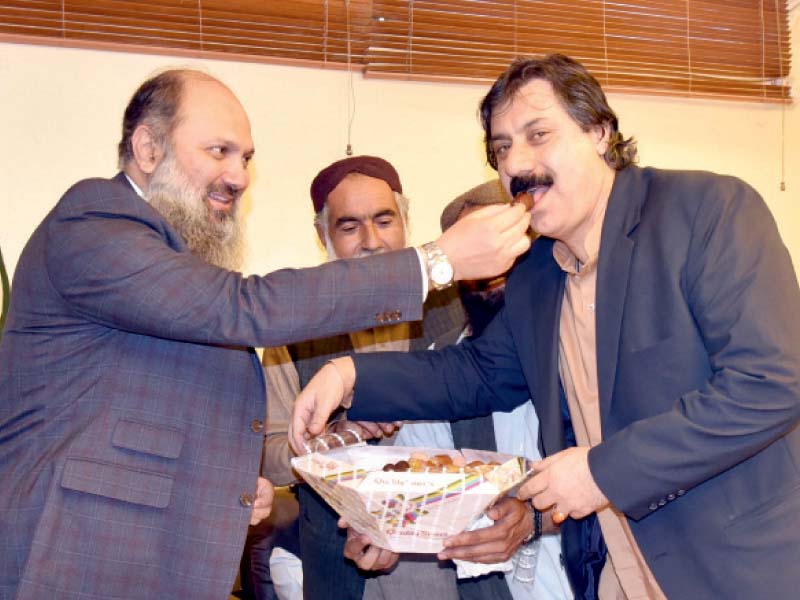 ---
QUETTA:
The incumbent Pakistan Tehreek-e-Insaf led government won 10 out of 12 Senate seats from Khyber-Pakhtunkhwa whereas the Balochistan Awami Party and its allies managed to win eight out of 12 seats in Balochistan.
The opposition parties in K-P proved to be a disappointment yet again by only winning two seats while the opposition in Balochistan only won four.
Khyber-Pakhtunkhwa
In K-P, Pakistan Muslim League Nawaz's (PML-N) candidate Abbas Afridi, who was considered to be a powerful contestant along with BAP candidate Taj Muhammad Afridi lost. PTI got five out of seven general seats, two women seats, two technocrat seats and one minority seat as well.
Pakistan Peoples Party's (PPP) candidate Farhatullah Baber lost the election for a technocrat seat by securing only 34 votes. 145 members of the provincial assembly used their right to vote.
Five PTI candidates that won their seats were Shibli Faraz, Liaquat Tarakai and Mohsin Aziz with 19 votes each while Faisal Saleem and Zeeshan Khanzada won their seats on point basis.
Similarly, Jamiat Ulema-e-Islam Fazal's (JUI-F) Maulana Attaur Rehman and Awami National Party's (ANP) Hidayatullah also won their general seats.
PTI candidates for technocrat seats Dost Muhammad Khan Wazir won by securing 59 votes and Dr Humayun secured 49 votes.
Special Assistant to Prime Minister on Poverty Alleviation and Social Safety Dr Sania Nishtar of PTI got 56 votes and Falak Naz Chitrali fetched 51 votes to win their seats. Jamaat-e-Islami's (JI) Inayat Begum was able to secure 36 votes only.
Sardar Gurdip Singh of PTI won the minority seat by securing 103 votes whereas ANP's Asif Bhatti got only 12 and JUI-F's candidate Sardar Ranjit Singh secured only 25 votes.
The polling began in the K-P Assembly building around 25 minutes late in the morning and it continued till 9pm.
Balochistan
The BAP led provincial government in Balochistan and its allies held their ground by winning majority Senate seats from the largest province of the country.
According to the Provincial Election Commission, the Senate election in Balochistan was held for 12 seats, including seven general seats, two technocrat and women seats apart from only one minority seat.
The most hyped candidate for the Senate election, Abdul Qadir managed to win his general seat and got elected as a Senator. He was backed by the government alliance and was a joint candidate of BAP and PTI.
Maulana Abdul Ghafoor Haideri (JUI), Qasim Ronjho (BNP-M), former Balochistan Home Minister Sarfaraz Bugti (BAP), Manzoor Kakar (BAP), Omar Farooq (ANP) and Prince Omar Ahmedzai (BAP) have also been elected as Senators on general seats from Balochistan.
BAP founder Saeed Hashmi secured his technocrat Senate seat along with Kamran Murtaza of JUI.
Naseema Ehsan, who recently joined BNP-Mengal has won a Senate seat of women from Balochistan whereas Samina Mumtaz Zehri of BAP also won her seat.
Sitting BAP MPA Dinesh Kumar has also been elected as a Senator and will tender his resignation from the Balochistan Assembly.
Chief Minister Jam Kamal, provincial ministers and BAP leaders congratulated the newly elected senators.
While speaking to the media, Kamal boasted how the BAP-led alliance managed to secure the targeted seats while the opposition just made claims. (With additional input from our correspondent in peshawar)
Published in The Express Tribune, March 4th, 2021.
COMMENTS
Comments are moderated and generally will be posted if they are on-topic and not abusive.
For more information, please see our Comments FAQ