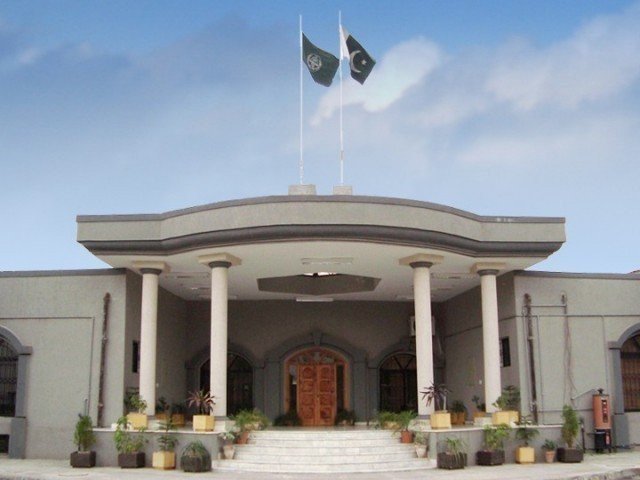 ---
ISLAMABAD:
The Islamabad High Court (IHC) on Tuesday suspended the licences of 21 lawyers for ransacking the chamber of Chief Justice Athar Minallah during a protest against the demolition of their illegal chambers at the Islamabad District Courts last month.
A three-member bench, headed by the IHC chief justice and comprising Justice Miangul Hassan Aurangzeb and Justice Lubna Saleem Pervaiz, presided over the case.
"We are of the opinion that the 21 respondents arrayed in the complaint in hand had committed grave acts of indiscipline and misconduct on February 8," read the order of the IHC.
The lawyers were also allowed to satisfy the court as to why complaints may not be referred to the respective regulatory authorities, including the Pakistan Bar Council and Islamabad Bar Council, for taking disciplinary proceedings against them.
The chief justice said that he had invited the new bar's body to clarify their position, however, no one justified the action of the lawyers. He maintained that he had not named anyone rather he expected the bar officials to point out the offenders.
The IHC suspended the licences of 21 lawyers namely Naseer Ahmed Kiyani, Tasadduq Hanif, Hammad Saeed Dar, Khalid Mehmood Khan, Ahsan Majeed Gujjar, Akhtar Hussain, Shaista Tabassum, Asad Khan, Faiser Jadoon, Hafiz Malik Mazhar Javed, Khalid Taj, Naveed Hayat Malik, Nazia Abbasi, Nusrat Parveen, Raja Amjad, Raja Khurram Farrukh, Zahid Mehmood Raja, Younas Kayani, Muhammad Umar and Moin Bazai, Pir Fida Hussain.
The 9-page order stated that Kiyani had termed the IHC chief justice responsible for the demolition of chambers. It added that the February 8 incident was unprecedented and unexpected as well as unpardonable.
The court further stated in the order that the answers submitted by two lawyers were not satisfactory, adding that IHCBA former president Zafar Mehmood Khokar was leading the mob that stormed IHC. The hearing of the case was adjourned until March 11.
On February 8, lawyers had barged into the senior-most judge's chamber and chanted slogans against the judiciary and the CDA for the action against the demolition of their alleged illegal chambers at the Islamabad District Courts. Justice Minallah was reportedly trapped inside his chamber following the incident.
The protesters also forced the rest of the judges out of their courtrooms. Talking to The Express Tribune, Additional Attorney General Tariq Mahmood Khokhar said that the storming of the Islamabad High Court by a mob of lawyers was an attack on the judiciary.
On February 9, a case was registered against 32 lawyers, including four women law practitioners. The FIR registered at the Ramna police station included Section 7 of the AntiTerrorism Act besides mob attack causing a threat to life, vandalism, disrupting peace and other relevant clauses of the Pakistan Penal Code.