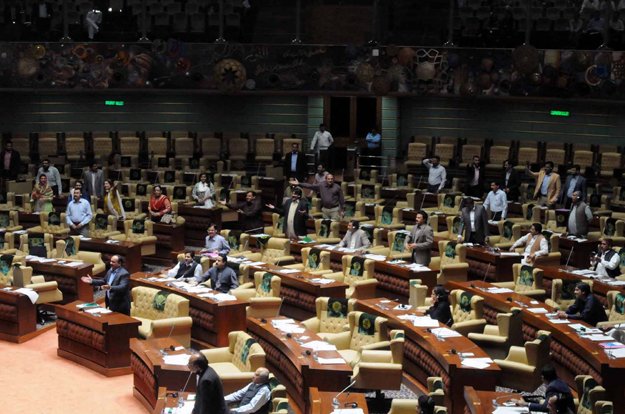 ---
KARACHI:
Disorder again marred the Sindh Assembly session on Friday after a spat erupted between members of the Pakistan-e-Tehreek Insaf (PTI) and Pakistan Peoples Party (PPP), with lawmakers from both parties getting involved in a heated exchange and using abusive language for each other.
The spat between the two parties started when PTI MPA Khurram Sher Zaman said "It looks as if nowadays the dog rules in Sindh" while requesting the speaker to recite a prayer for a two-year-old girl who died due to not the non-availability of the anti-rabies vaccine in Jamshoro, a constituency falling under the chief minister of Sindh, Syed Murad Ali Shah.
"Please ask him to control his language", retorted Mukesh Kumar Chawla, the PPP Parliamentary minister, followed by "Chal chal, ja ja. Chup kar". This resulted in members of both parties squabbling and using derogatory language.
The lawmakers from the two parties when the speaker requested decorum in the house. However, members of both parties soon intervened and calmed down the situation.
Sindh Assembly Speaker Agha Siraj Durrani then said that this was no manner to behave in the assembly and that too at the time of Friday congregation.
"Please go and fight outside the house if you are interested in violence", he added and stated that the session would be adjourned if members were not interested in continuing the proceedings.
"Please ask Chawla, who is also in charge of the excise and taxation ministry, to close the spurious wine shops in the province," said Zaman.
This once again created another uproar in the assembly, and in response, PPP's Chawla stated, "You should also stop supplying contaminated food that is being served at your restaurant".
The speaker once again controlled the situation by asking both members to return to their seats.