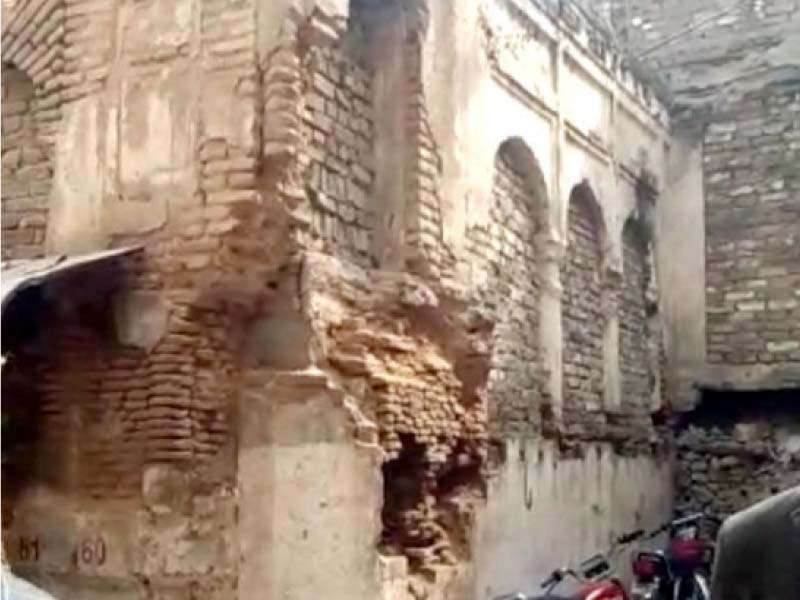 ---
RAWALPINDI:
Bells and bhajans will echo again in over a century-old temple of the Hindu community near the Lal Haveli in Bhabra Bazaar that had been occupied by encroachers for decades.
The Hindu community of Rawalpindi will be able to worship in the mandir near Lal Haveli after the eviction of encroachers and repairs, officials said.
The Rawalpindi district administration retrieved the century-old Hindu temple near Lal Haveli from encroachers on Monday.
The possession of the ancient worship site was handed over to the Auqaf department, which is responsible for the upkeep and management of religious sites.
The district administration officials said that the temple would be open for the Hindu community after repair work.
Rawalpindi City Assistant Commissioner (AC) Waqas Sikandari carried out an anti-encroachment operation with revenue officials and police.
The encroachers had set up a cloth market around the temple.
AC said that the old Hindu temple was enlisted as a worship site in the record of district administration. He added that the main building of the temple was damaged in 1960.
Sikandari said that the land mafia had encroached on the boundary walls and entrance gate of the historic building and built shops.
The officer said that the locals cooperated with the administration in the eviction of encroachers from the illegally occupied property.
According to AC Sikandari, the possession of the temple was being handed over to the Auqaf department for its repair. After the development work, the temple would be open for the Hindu community for worship, he said.
Read Decades old nurseries demolished in Lahore
AC said that massive action against land grabbers was underway in Rawalpindi on the directions of Prime Minister Imran Khan. He added that the restoration of the worship site would add to the beauty of the bazaar.
The official said that the temple was a historic heritage of Rawalpindi and tourists would also visit it after rehabilitation.
The Rawalpindi administration has decided to include seven small temples located within a kilometre of Sujan Singh Haveli in the restoration project of the old city area.
All temples would be restored and information about their historical status will be displayed in a prominent place. Eight historic buildings in the proximity of Sujan Singh Haveli have also been identified and their facades would be restored to antiquity as per a beautification and restoration plan for the city.
Published in The Express Tribune, February 23rd, 2021.