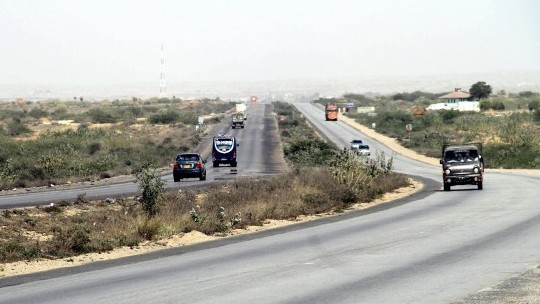 ---
ABBOTABAD:
The National Highways Authority (NHA) has extended its deadline for completion of about a seven-kilometre piece of Karakoram Highway in Abbottabad from February 28 to March 15.
The only main road of the tourism hub connecting travellers to Azad Jammu and Kashmir and Gilgit-Baltistan was in a dilapidated state due to delays in the repair of the stretch of KKH passing through the city.
Repair work on the only main road of Abbottabad from Piffers Chowk to Mirpur is under way but the slow pace of work is creating traffic problems for the locals as well as the inter-city commuters.
NHA Assistant Director Wasiullah Khan said the deadline of the project has been extended to March 15 as they have been trying hard to complete this project before time.
He said that as per documents the project completion date is May 21 but NHA is trying to complete it before time. He said the project was divided into three packages consisting of 1.8, 1.9 and 3.5 kilometres including the shoulders of the road which can be used for parking as well.
Read In pictures: Scenic Gwadar stadium hosts first-ever cricket match
Earlier NHA Deputy Director Masood Khan had said that the target time has been reduced from six months to three months by increasing machinery as well as labour on the road and the last week of February was a fixed deadline for completion of the project.
Wasiullah said that they never compromise on the quality of the project and have a strict check on every aspect of the construction.
The project executor UGALCO Construction Company has doubled the deployment of machinery as well as labour to speed up the construction work so that target time would be reduced.
The project worth Rs240 million, which includes carpeting of 7.2 kilometres road, laying of the drainage system and fixing concrete shoulders on each side of the asphalt road, has irked the citizens of Abbottabad.
Besides hours-long traffic snarls, people are worried about air pollution due to dust from road work hanging in the air.
The delay in roadwork has affected almost all the main and link roads of Abbottabad where people get stuck in a traffic jam for hours during schools and office opening and closing time.
During a survey of the construction site, the locals said that schoolchildren are the worst victims of the prolonged road repair project.
Students say they have to suffer the torture of sitting in vans for over an hour while crossing this seven-kilometre stretch of road that has been dug up for almost a year.
Published in The Express Tribune, February 23rd, 2021.