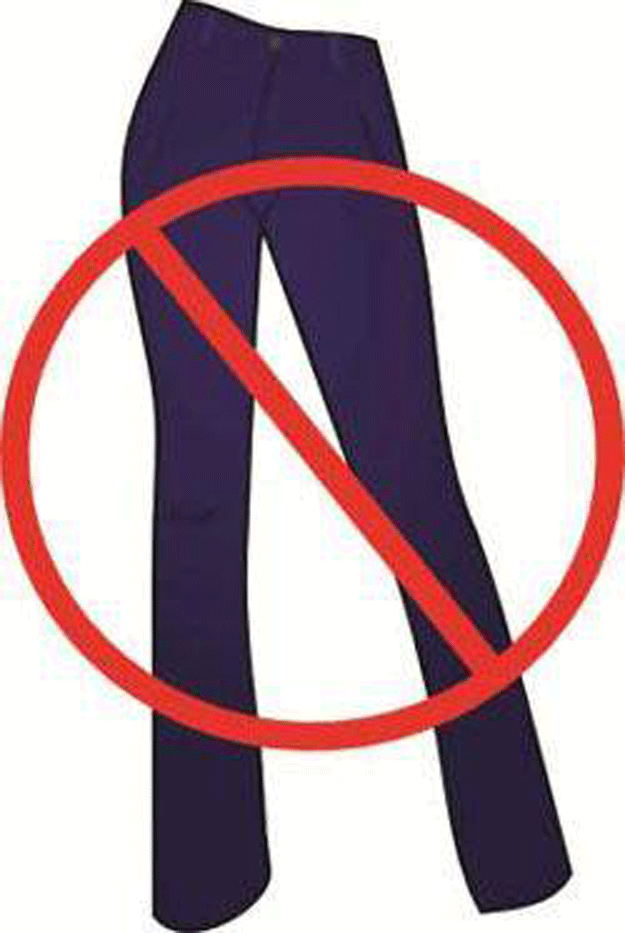 ---
PESHAWAR:
Acting upon instructions of provincial governor Shah Farman, two Khyber-Pakhtunkhwa universities have moved to issuing strict dress code policies, banning tight-fitted jeans, tee-shirts and makeup among other things.
The first to comply was Hazara University in Mansehra, which issued a notification on January 6, putting the order into effect. Per said notification, all university students, faculty and staff were thenceforth required to adhere to a new dress code policy, as prescribed by the university chancellor.
According to the policy, termed illiberal and austere by many students, girls were barred from wearing tee-shirts, fitted jeans, heavy makeup and jewelry on campus. They could also no longer carry fancy bags or purses. Boys on the other hand, were banned from sporting tight jeans, wrist chains, long hair, pony-tails and fashionable beard cuts, on university grounds.
Following suit, Bacha Khan University in Charsadda also passed a similar recommendation in its syndicate meeting; eventually adopting the same stringent dress code polices as Hazara University.
Speaking in the regard, Dr Khadim Hussain, a local educationist, said that the policies were reminiscent of the dark ages and had nothing to do with the quality of education being offered in the province.
"It's like we are going back to the days of radicalization and extremism; where mature university students are being put in abayas against their own will. Education is already inaccessible to great many of the province's youth and instead of making it accessible, the government is focusing on such polices and recommending universities to increase fee. Such actions are only deterring people from seeking education and increasing financial burden on students and parents," he said lamentingly.
"There was a case of harassment reported in Islamia College, but so far no action has been taken in the regard. On one side, our society is already struggling with destigmatising girls' education, on the other we keep mulling such regressive policies. None of this is helping the case for women's education, but only planting more negativity in the minds of parents, which may result in women losing what little access they have to education here," he added.
According to former Peshawar University Professor Dr Ijaz Khan, who holds more than 30 years of teaching experience, he has never heard of a policy like being enforced on university levels students in the developed world. "The university's aim should be to develop critical thinking skills; impart knowledge; foster creativity and welcome diversity among its student body. However, this new policy does nothing of the sort, and only limits students from taking part in healthy social activities. Going forward, such a mindset could stunt our youth's thinking capacity, which might take us back to the days of militancy and terrorism we have endeavored so much to escape," expressed Dr Khan.
On the other hand, Chief Minister's Advisor on Higher Education Kamran Bangash, while addressing the situation, failed to see any issues with the dress code policy, instead choosing to extol its virtues. "Universities have the right to impose such practices to eliminate differences between rich and poor. Following implementation of dress code policy, students will now focus on their education (as opposed to fashion), while it will also reduce the financial burden on their parents. Students and faculty both will be required to adhere to the dress code, which will foster a healthy environment, conducive to learning," he asserted.
Published in The Express Tribune, February 21st, 2021.