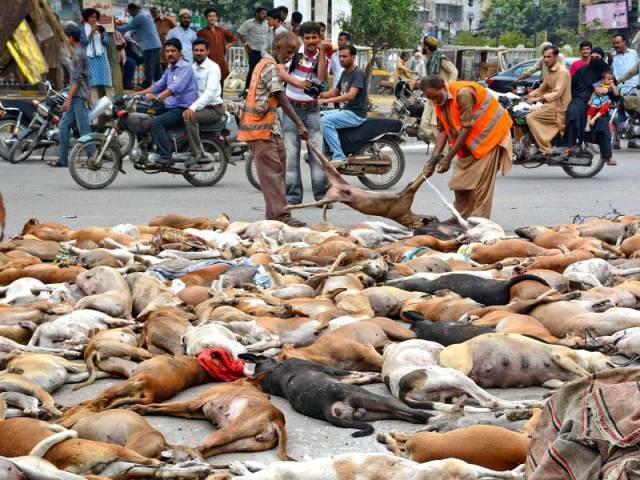 ---
RAWALPINDI:
Scores of stray dogs were poisoned to death on the first day of a dog-culling drive launched by the Rawalpindi Cantonment Board (RCB) on Friday.
Muhammad Najeeb, the supervisor of the campaign, said the drive would last for a week.
He said that on the first day of the campaign, scores of stray dogs were fed poisoned meat in Shaheenpura, Kamhar Mandi, Marble Market, Akbar market, Kamran Market, Nogza Market, Murair Market, Gawalmandi, Bank Road and Railway Station areas.
A few days back, four people, including three women, were attacked and bitten by a stray dog near the Rawalpindi Railway Station on February 7. As the victims came under attack, people present on the spot rushed to rescue them.
Eyewitnesses said the dog was killed by the crowd. The Rescue-1122 was called in and the injured were transported to the District Headquarters Hospital for medical assistance.
Among the victims was 70-year-old Muqaddas Yar who was critically injured. Two more injured were identified as 18-year-old Muqaddas Bibi and 62-year old Sahib Jan.
Following the incident, citizens expressed dismay over the increasing incidents of dog-bites in the country. People had demanded of the authorities to take concrete measures to control the population of stray dogs in a humane way and also ensure the safety of citizens.
Given the dog attack, RCB CEO Omar Malik took notice of the abundance of stray dogs and subsequently directed the sanitation department to launch a dog-culling drive.
Muhammad Najeeb said the sanitation staff was using specific vehicles to dump the dead dogs. "All the dead dogs are being buried underground," he added.