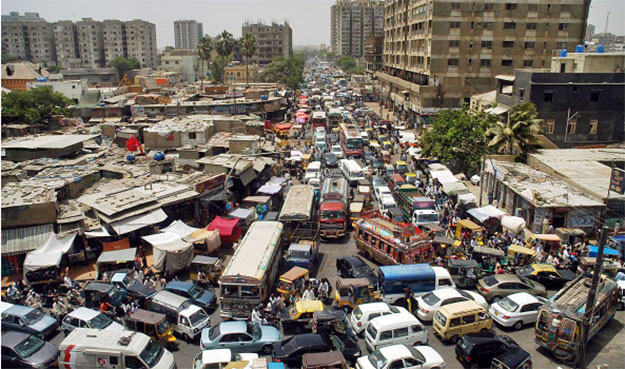 ---
KARACHI:
Karachi has braced itself for the worst that comes with cricket to the city - the gridlocks.
The metropolis will host the first Pakistan Super League (PSL) VI match today (Saturday) and while the National Stadium, the venue for the match - is expected to brim with excitement and exuberance, the rest of the city is likely to present a traffic nightmare, with no way out for troubled commuters stuck in a logjam.
Road closures
According to a traffic plan issued ahead of the tournament, only small vehicles are allowed on the roads in the vicinity of the National Stadium until the last PSL match in the city on March 7.
The movement of heavy vehicles and public transport on these arteries has been restricted until then.
The road leading from Liaquatabad to Hasan Square flyover and the National Stadium will remain closed for traffic during the matches.
Similarly, the patch of Sir Shah Suleman Road, beginning after a left turn from Aga Khan University Hospital, up to Liaquatabad will remain open only for small vehicles.
While University Road will remain open for traffic, a left turning from the road, leading toward the National Stadium, will be closed.
Besides, no vehicles will be allowed on the National Stadium flyover and only small vehicles will be allowed to travel from Sharae Faisal, Karsaz flyover and Habib Ibrahim Rahimtoola Road towards the National Stadium signal.
Heavy vehicles and public transport will also be barred from travelling from Rashid Minhas Road, Millenium Mall, Pir Sibghatullah Shah Rashdi Road and New Town intersection to the National Stadium signal. These tracks, however, will remain open for small vehicles.
Also read: Karachi traffic police issues diversion plan for HBL PSL
Heavy traffic will also be restricted from travelling on the tracks connecting Liaquatabad No10 to Hasan Square, Sohrab Goth to Nipa Chowrangi and Peoples Chowrangi and Mazar-e-Quaid to University Road.
These restrictions will be implemented during all PSL matches scheduled in the city from February 20 to February 22, February 24, February 26 to February 26 to March 1, March 3 to March 4 and March 6 to March 7.
A traffic police official, who asked not to be named, admitted while speaking to The Express Tribune that the traffic plan, which had been devised to address security concerns, would disrupt traffic flow in the city.
"It will cause inconvenience to not just spectators visiting the stadium, but also commuters across the city," he said.
The official said some routes would be kept open for small vehicles owing to the fact that Aga Khan University Hospital was located in the stadium's vicinity. He added, however, that restrictions on heavy vehicles and public transport would trouble citizens in any case.
According to the official plan, during the closure of roads, traffic will be diverted to MA Jinnah Road, Sharae Faisal, Sharae Pakistan, Nishtar Road, Rashid Minhas Road and other thoroughfares.
He said no diversion plan, however, had been prepared for small link roads located in the vicinity of the National Stadium.
Added trouble
Already facing troubles in commuting, citizens are further inconvenienced by the ban on nine-seater and 12-seater qingqi rickshaws. Speaking to The Express Tribune, some citizens voiced these concerns and lamented that they were forced to pay higher amounts in fares to private transporters.
COMMENTS
Comments are moderated and generally will be posted if they are on-topic and not abusive.
For more information, please see our Comments FAQ